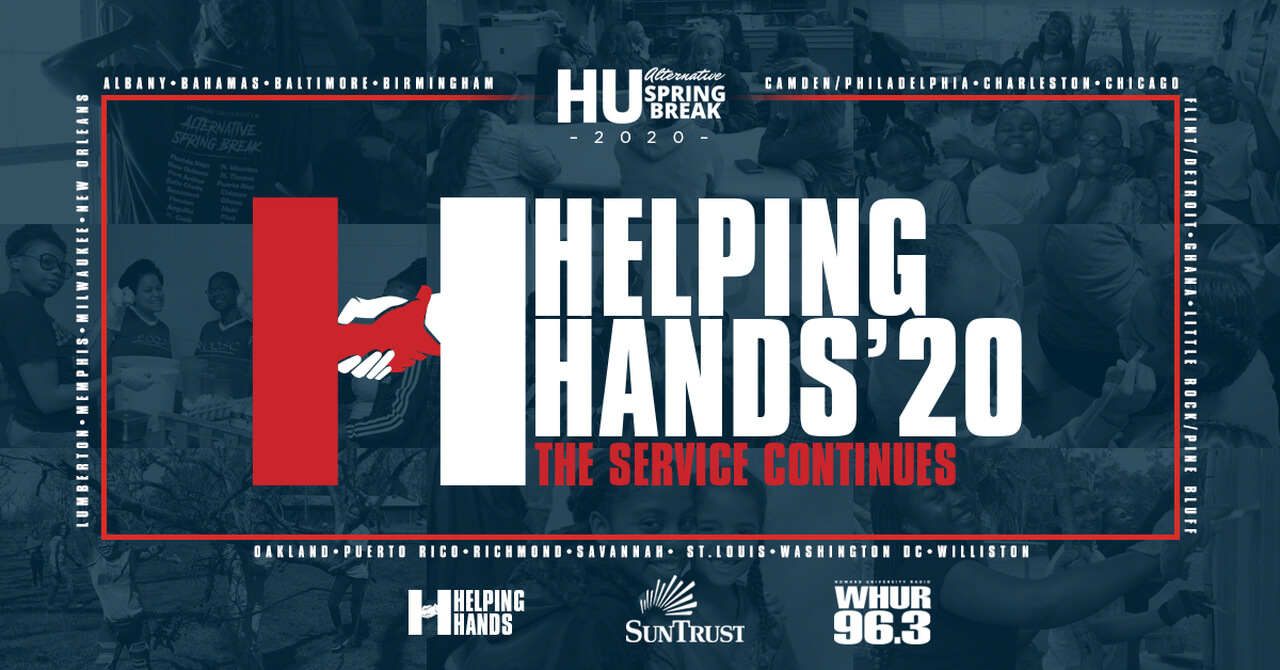 WASHINGTON – This year more than 1,100 students will serve the community for Alternative Spring Break (ASB) to achieve over 100,000 service hours. Celebrating 26 years of service through the Office of the Dean of the Chapel, ASB offers an enriching experience for volunteers for one week. In preparation, 96.3FM WHUR Radio will team up with ASB to help raises funds for student travel and supplies during the annual Helping Hands Radiothon. The fundraiser is scheduled Sunday, March 1 from 6 a.m. to 6 p.m. Supporters may also support ASB by visiting https://giving.howard.edu/alternativespringbreak to make a donation.
This year participants will serve in 22 communities, including Richmond, Va., and Oakland, Ca., as well as three international locations; Ghana, Bahamas, and Puerto Rico. As a tradition, students lead the initiatives at each site with the support of faculty and staff as advisors.
"Being a student leader is a very humbling experience," said Sydney Montgomery, a junior political science and sociology major from Chino Hills, California, who will serve as the site coordinator for Williston, South Carolina. "I never imagined leading over 1,100 students to serve in our university's largest community service program. Leading my peers has been such a growing experience and I'm truly grateful to have been given this opportunity to share my gift and passion to serve with the rest of Howard University."   
This year's focus will be on a variety of important issues for communities of color, including education, youth and community empowerment, gun violence, poverty, homelessness, literacy, environmental and social injustice, community restoration and cultural exploitation.
"Student leaders are the voice of Alternative Spring Break (ASB)," said Bernard Richardson, Ph.D., dean of the Chapel. "Our students conduct research each year to identify disadvantaged cities across the world that will benefit from the immediate assistance of Howard University students who serve selflessly, reflect on the challenges prevalent in communities throughout society, and answer the call. Our student leaders are purpose-driven and commit themselves to offer a helping hand and listening ear. The selection of sites is a strategic process that requires students to make critical leadership decisions. ASB is a learning lab that challenges students' growth as leaders and requires that they recommit to finding their purpose in the service of others."
# # #
About Howard University
Founded in 1867, Howard University is a private, research university that is comprised of 13 schools and colleges. Students pursue studies in more than 120 areas leading to undergraduate, graduate and professional degrees. The University operates with a commitment to Excellence in Truth and Service and has produced one Schwarzman Scholar, three Marshall Scholars, four Rhodes Scholars, 11 Truman Scholars, 25 Pickering Fellows and more than 70 Fulbright Scholars. Howard also produces more on-campus African-American Ph.D. recipients than any other university in the United States. For more information on Howard University, visit www.howard.edu
Media Contact: Imani Pope-Johns, Imani.popejohns@howard.edu