WASHINGTON – Join Howard University, in partnership with the United Nations Entity for Gender Equality and the Empowerment of Women (U.N. Women), for a special fireside chat on Friday, April 30 at 10 a.m. Howard University President Wayne A. I. Frederick and United Nations Under-Secretary-General and Executive Director of U.N. Women Phumzile Mlambo-Ngcuka will discuss the pivotal role of Howard University in leading the charge for HBCUs in the global fight for gender equity.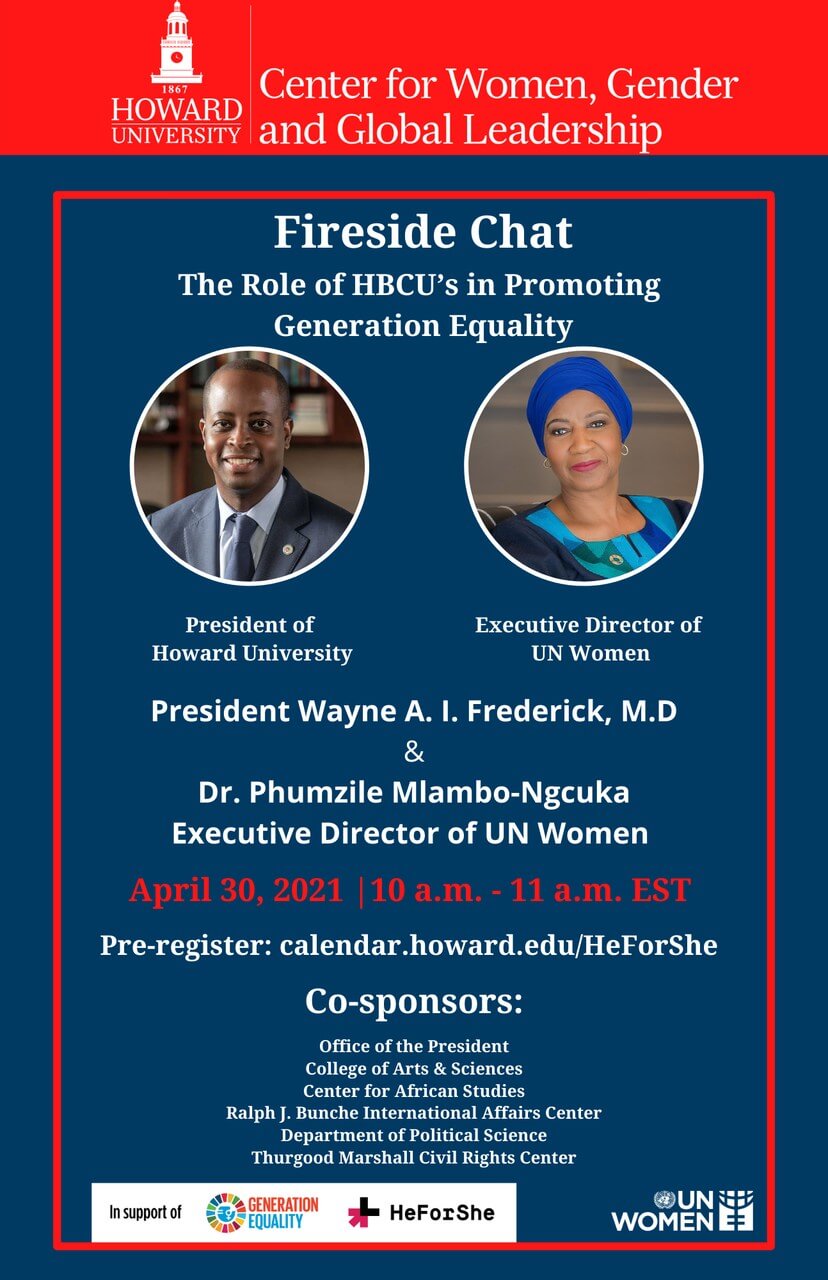 The fireside chat is part of the global dialogue series by the new Howard University Center for Women, Gender and Global Leadership, which spearheaded Howard University's commitment as a member of the UN Women HeForShe Campaign. The campaign was launched by U.N. Women Global Goodwill Ambassador Emma Watson as a solidarity movement and an international platform to engage men and boys as allies of the women's movement and to ultimately create an equal world for all.
To watch the fireside chat, register here.
About Special Guest Phumzile Mlambo-Ngcuka:
Phumzile Mlambo-Ngcuka is the United Nations under-secretary-general and executive director of U.N. Women. She has devoted her career to issues of human rights, equality and social justice, and has worked in government, civil society and the private sector. She also was actively involved in the struggle to end apartheid in her home country of South Africa.
From 2005-2008, she served as deputy president of South Africa, overseeing programs to combat poverty and bring the advantages of a growing economy to the poor, with a particular focus on women. Prior, she served as minister of minerals and energy from 1999-2005 and deputy minister in the Department of Trade and Industry from 1996-1999. She was a member of parliament from 1994-1996 as part of South Africa's first democratic government.
Mlambo-Ngcuka began her career as a teacher and gained international experience as a coordinator at the World YWCA in Geneva, where she established a global program for young women. She is the founder of the Umlambo Foundation, which supports leadership and education. As a longtime champion of women's rights, she is affiliated with several organizations devoted to education, women's empowerment and gender equality.
She earned her doctoral degree in education and technology at the University of Warwick, United Kingdom.
# # #
About Howard University
Founded in 1867, Howard University is a private, research university that is comprised of 13 schools and colleges. Students pursue more than 140 programs of study leading to undergraduate, graduate and professional degrees. The University operates with a commitment to Excellence in Truth and Service and has produced one Schwarzman Scholar, three Marshall Scholars, four Rhodes Scholars, 12 Truman Scholars, 25 Pickering Fellows and more than 165 Fulbright recipients. Howard also produces more on-campus African-American Ph.D. recipients than any other university in the United States. For more information on Howard University, visit www.howard.edu.