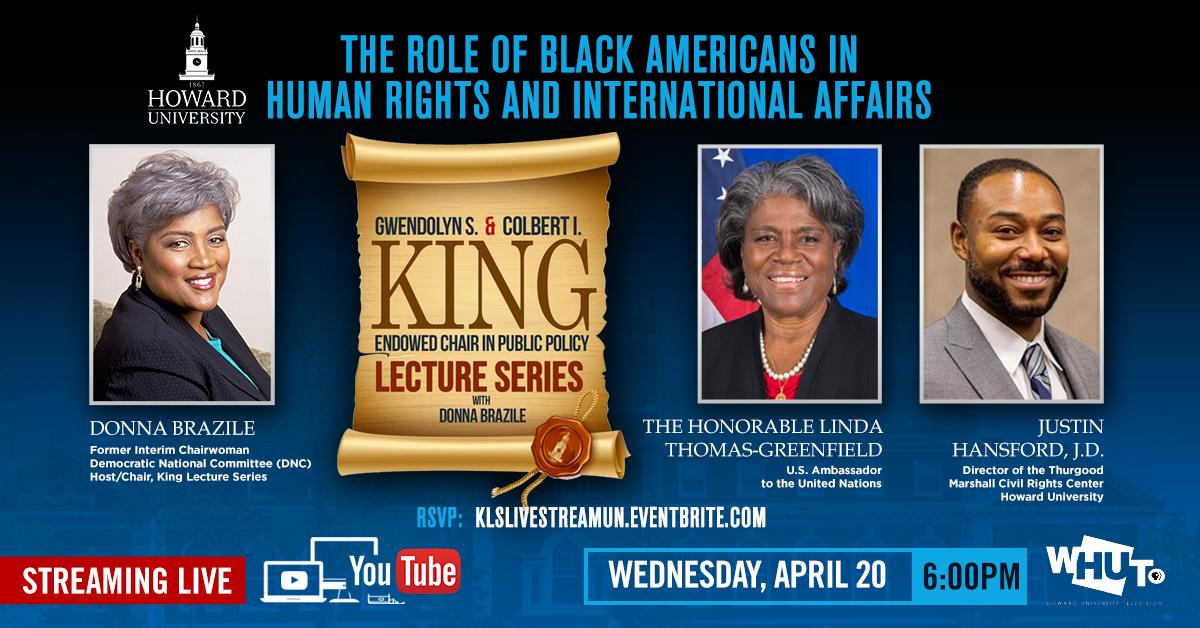 WASHINGTON – The 2021-2022 Gwendolyn S. and Colbert I. King Endowed Chair in Public Policy Lecture Series, chaired by political strategist and author Donna Brazile, returns Wednesday, April 14 at 6 p.m. EST online via YouTube. The conversation will focus on the role of Black people in international affairs.
Brazile will be joined by Linda Thomas-Greenfield, U.S. ambassador the United Nations, along with Justin Hansford, director of the Thurgood Marshall Civil Rights Center and newly elected member of the U.N. Permanent Forum on People of African Descent.
A graduate of Louisiana State University and the University of Wisconsin, Thomas-Greenfield is a career diplomat. For 35 years she worked for the U.S. Foreign Service where she served as an ambassador to Liberia and completed postings in Switzerland, Pakistan, Kenya, The Gambia, Nigeria and Jamaica. From 2013 to 2017 she served as the Assistant Secretary of State for African Affairs, where she led the bureau focused on the development and management of U.S. policy toward sub-Saharan Africa.
In January 2021, Thomas-Greenfield was nominated by President Joe Biden to be the Representative of the United States of America to the U.N. as well as the Representative of the United States of America in the Security Council of the U.N. She was confirmed by the U.S. Senate on February 23, 2021, and sworn in on February 24, 2021, by Vice President Kamala Harris.
Hansford, a graduate of Howard University and Georgetown University, is a leading scholar and activist in the areas of critical race theory, human rights, and law and social movements. In the wake of the killing of Michael Brown in Ferguson, Missouri, Hansford worked to empower the Ferguson community through community-based legal advocacy. He accompanied the Ferguson protesters and Mike Brown's family to Geneva, Switzerland, to testify at the United Nations in 2014.
Hansford has been elected to the United Nations newly established Permanent Forum on People of African Descent for the 2022-2024 term. As a member of the General Assembly Hansford will represent the U.S. and Canada to address issues of reparations and social justice for people of the African diaspora.
To register for the King Lecture Series on April 20, please click here.
About Howard University
Founded in 1867, Howard University is a private, research university that is comprised of 14 schools and colleges. Students pursue more than 140 programs of study leading to undergraduate, graduate and professional degrees. The University operates with a commitment to Excellence in Truth and Service and has produced one Schwarzman Scholar, three Marshall Scholars, four Rhodes Scholars, 12 Truman Scholars, 25 Pickering Fellows and more than 165 Fulbright recipients. Howard also produces more on-campus African American Ph.D. recipients than any other university in the United States. For more information on Howard University, visit www.howard.edu.
Media Contact: Brittany Bailer; brittany.bailer@howard.edu