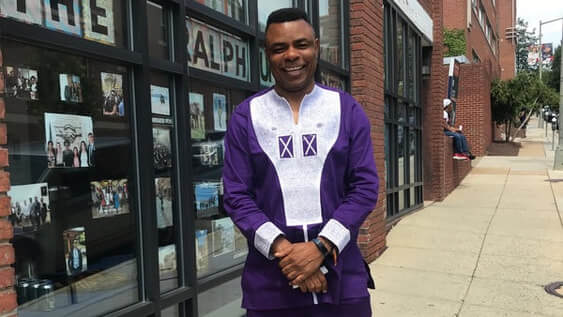 WASHINGTON – Howard University's Kehbuma Langmia, Ph.D., professor and chair of the Department of Strategic, Legal and Management Communications is the 2020 recipient of the Orlando L. Taylor Distinguished Scholarship Award in Africana Communication, presented by the National Communication Association (NCA). The award will be presented virtually on November 21 at the NCA 106th Annual Convention.
The award honors a scholar whose body of work demonstrates a sustained commitment to either or both the study of African American and the African Diaspora communication and culture. Langmia's scholarly accomplishments are evidenced through a record of prolific scholarship in Africana Communication studies.
"This award has confirmed the urgent need for Black and Africana Communication scholars to continue the path of decolonizing our minds through theorizing the communication studies beyond the West," says Langmia. "This has been my quest since the publication of our book, 'Black and Africana Communication Theory' by Palgrave Macmillan."
Langmia, a graduate of the Communication and Media Studies Program at Howard University, has extensive knowledge and expertise in information communication technology, intercultural, cross cultural and international communication, Black diaspora communication theory, decolonial media studies, social media and afrocentricity.
"We are pleased and excited to hear about Dr. Langmia receiving this national award from NCA," says Gracie Lawson-Borders, dean of the Cathy Hughes School of Communications. "It is befitting that he is the 2020 recipient of the Orlando L. Taylor Distinguished Scholarship Award. Dr. Langmia is teacher, scholar, coach and exemplar to others of what a sustained body of scholarship contributes to the discipline."
Since 2006, he has authored, co-authored and edited 13 books, published 17 book chapters, and  peer-reviewed 10 journal articles with national and international recognition. In November 2017, he was awarded the prestigious Toyin Falola Africa Book Award in Marrakesh, Morocco by the Association of Global South Studies for his book, "Globalization and Cyberculture: An Afrocentric Perspective."
For five years, Langmia has been the scholar coach for the Howard University Summer Writing Academy. In 2019, he was selected one of 35 USA professors chosen to serve in the Visiting Professor Program at Fordham University in New York organized by Association of National Advertisers.
Langmia has been invited to provide keynote speeches on information communication technology, Black diaspora mediated communication, and social media at prominent national and international universities, including the Library of Congress, the National Intelligence University (Department of Defense, USA) and National Defense University (Department of Defense, USA); Morgan State University and Bowie State University in Maryland; Melbourne University (Australia); Buea University (Cameroon), Madras Institute of Technology, (India); ICT University, (Cameroon) and Covenant University (Nigeria), Makerere, University Business School, MUBS, (Uganda) and Temple University in Pennsylvania.
 In 2019, he served as the keynote speaker for the Communication Educators' Association Conference at Winneba, Ghana, and in 2017, he was the Maryland Communication Association keynote speaker at College of Southern Maryland, in Waldorf, Maryland.
###
About National Communication Association
NCA is the largest Communication association in the United States. We serve the scholars, teachers, and practitioners who are our members by enabling and supporting their professional interests in research and teaching. For more information, visit natcom.org, follow us on Twitter at @natcomm, and find us on Facebook.
About Howard University
Founded in 1867, Howard University is a private, research university that is comprised of 13 schools and colleges. Students pursue studies in more than 120 areas leading to undergraduate, graduate and professional degrees. The University operates with a commitment to Excellence in Truth and Service and has produced one Schwarzman Scholar, three Marshall Scholars, four Rhodes Scholars, 11 Truman Scholars, 25 Pickering Fellows and more than 165 Fulbright recipients. Howard also produces more on-campus African-American Ph.D. recipients than any other university in the United States. For more information on Howard University, visit www.howard.edu.
Media Contact: Imani Pope-Johns, imani.popejohns@howard.edu