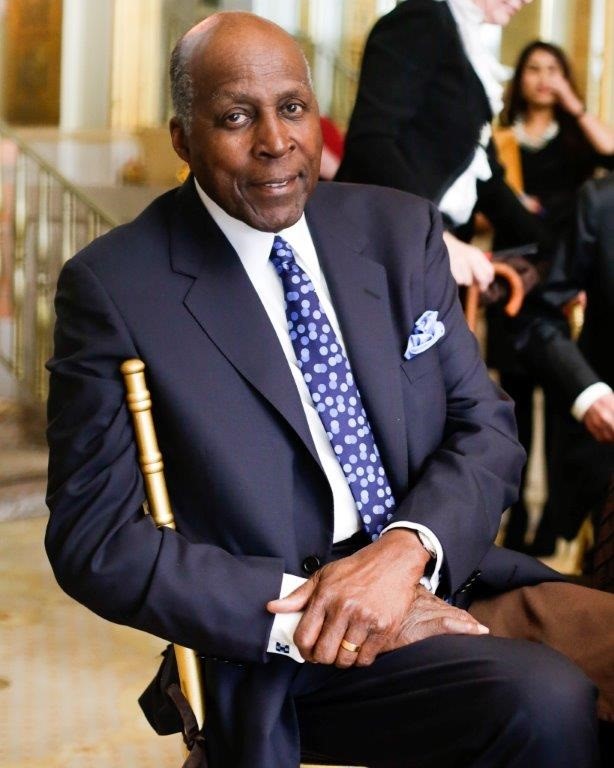 Dear Howard University Community,
It is with a heavy heart that I share the passing of a Howard and American giant, Vernon E. Jordan Jr., Esq. A proud graduate of the Howard University School of Law, Mr. Jordan served on the Board of Trustees from 1993 to 2014. 
Mr. Jordan was senior managing director of Lazard Frères & Co. LLC in New York, where he worked with a diverse group of clients across a broad range of industries. Prior to joining Lazard, he was a senior executive partner with the law firm of Akin Gump Strauss Hauer & Feld LLP, where served as senior counsel. While there, he practiced general, corporate, legislative and international law in Washington, D.C.
Before his tenure at Akin Gump, Mr. Jordan held the following positions: president and chief executive officer of the National Urban League, Inc.; executive director of the United Negro College Fund, Inc.; director of the Voter Education Project of the Southern Regional Council; attorney-consultant for the U.S. Office of Economic Opportunity; assistant to the executive director of the Southern Regional Council; Georgia field director of the National Association for the Advancement of Colored People; and an attorney in private practices in Arkansas and Georgia.
Mr. Jordan's presidential appointments include: the President's Advisory Committee for the Points of Light Initiative Foundation, the Secretary of State's Advisory Committee on South Africa, the Advisory Council on Social Security; the Presidential Clemency Board, the American Revolution Bicentennial Commission, the National Advisory Committee on Selective Service and the Council of the White House Conference entitled "To Fulfill These Rights." In 1992, Mr. Jordan served as the chairman of the Clinton Presidential Transition Team. His corporate and other directorships include: American Express Company (senior advisor); Asbury Automotive Group, Inc.; Howard University (trustee emeritus); Lazard Ltd.; Xerox Corporation (senior advisor); and International Advisory Board of Barrick Gold.
Mr. Jordan was a graduate of DePauw University and the Howard University School of Law, and he holds honorary degrees from more than 60 colleges and universities in America. He was a member of the bars of Arkansas, the District of Columbia, Georgia and the U.S. Supreme Court. He is a member of the American Bar Association, the National Bar Association, the Council on Foreign Relations and the Bilderberg Meetings.
Mr. Jordan authored the book, "Vernon Can Read! A Memoir" (Public Affairs, 2001) and "Make It Plain, Standing Up and Speaking Out" (Public Affairs, 2008).
He blessed us through his annual sermon at Rankin Chapel, sharing lessons gleaned from the richness of his life and the remarkable role he played in movements to win civil and human rights at home and abroad. In his final appearance in April 2019, he reminisced about "four old men" who shaped his life and told a story of the changes he both witnessed and participated in through the years.  
To illustrate how slavery and Jim Crow had constrained the sense of possibility among so many, he recounted a 1947 conversation with his grandfather, Jim Griggs, who shared his life's highest aspiration was to "be able to go to the bathroom indoors in a warm place once before I die."  
To call on a new generation of leaders to take up the baton and serve, Mr. Jordan shared his experience working as the chauffeur for former mayor of Atlanta Robert Maddox. Upon seeing Mr. Jordan on television years later working as a lawyer to integrate the University of Georgia, Maddox reportedly remarked: "I always knew he was up to no good."  Mr. Jordan then called to all in the congregation "I've come to ask you today: to get up to 'no good'. The good kind of 'no good' that my friend John Lewis called 'good trouble'… in the days of Jesus it was simply called 'ministry'. The kind of 'no good' that at its core is defying oppression for the sake of justice. 'No good' for the greater good."
To prove his belief that our common humanity can transcend even the sharpest differences, he recalled his interaction with former Alabama Governor George Wallace. Wallace was the first to send well wishes after the 1980 assassination attempt that almost took Jordan's life. When they met at an event years later, Governor Wallace said, "Mr. Jordan: will you do something for me? Vernon Jordan will you reach down and hug me?"  In this time of deep polarization, Mr. Jordan remained convinced that "the road may be long, but we can bring about change in this country in our laws and in the hearts of others."
The final "old man" he described in his sermon was himself. In what would ultimately be his final address to Rankin Chapel, Mr. Jordan reflected on the words of Psalm 71: "Even when I am old and gray, do not forsake me, my God, till I declare your power to the next generation, your mighty acts to all who are to come." His declaration to current and future generations was that, in an age of immediacy, we must remember that the work of justice takes time, and it is important to find your "your rock" – a consistent source of inspiration to weather the moments of doubt and difficulty that will surely come. I was not deserving of his kindness or his love. I will forever remain in gratitude that he was more father than mentor. He never told me what to do or how to do it, but rather he answered my queries with stories of his lived experiences that guided me ever so gently but purposefully. Howard University's Rankin Chapel was his rock, and Mr. Jordan remained faithful and focused on lifting up others and our community throughout his lifetime and encouraged us all to continue on in this important work.  
His legacy as a Civil Rights activist and influential advocate for social justice will live on through the lives of the numerous students he mentored. Throughout the mountains and valleys of my presidency, Mr. Jordan has been a consistent support, offering both sage advice and constant encouragement. His love for this institution and our community are difficult to overstate. I have ordered flags across the Hilltop to be flown at half-mast in honor of this great man, who was also a father figure to me. Our thoughts and prayers are with the family and friends of this fallen Bison hero.
The Jordan family has asked that individuals and corporations interested in continuing Mr. Jordan's legacy at Howard University consider supporting the endowed chair at the Law School, which Mr. Jordan established to continue supporting our future leaders.  To do so, please visit https://giving.howard.edu/vernonjordan or contact Ms. Ragan Royal at (847) 644-0128 or by email at ragan.royal@howard.edu.
Excellence in Truth and Service,

Wayne A. I. Frederick, M.D., MBA
Charles R. Drew Professor of Surgery
President