WASHINGTON - Howard University's Homecoming Step Show, themed "Nostalgia," was a night to remember, filled with electrifying Disney-themed performances that transported the audience through time. 
The step show, a staple of the University's Homecoming celebration, brought together students, alumni and guests – all who packed Burr Gymnasium for the sold-out event.  
Along with the Divine Nine fraternities and sororities, the Quad Step Team and Howard University Step Team did not disappoint, especially the winning teams of the Beta Chapter of Alpha Phi Alpha Fraternity, Inc. and the Alpha Chapter of Alpha Kappa Alpha Sorority, Inc., both earning the $3,000 grand prize for their respective chapters.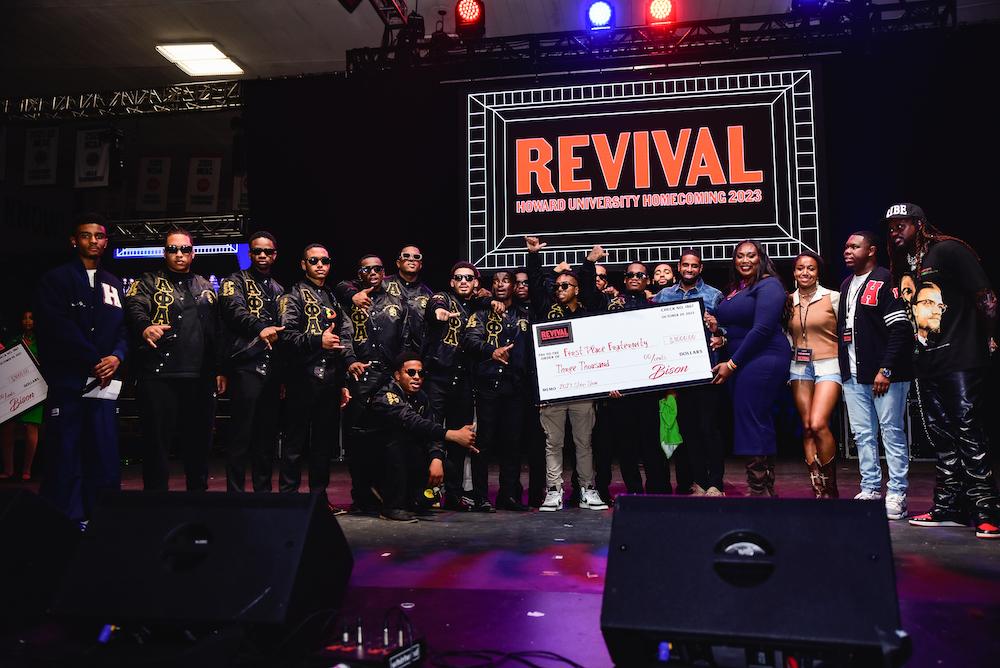 Melvin Crenshaw, a member of Alpha Phi Alpha and a junior sports medicine major from Upper Marlboro, Md., was excited about his team's performance and what it means to the chapter. 
"It felt good to put in a lot of hard work and see that work turn into a win," Crenshaw said. "This win wasn't just a financial reward; it was a testament to our dedication." 
Howard University's Homecoming Step Show wasn't just a mere display of talent, but a celebration of tradition, unity, and the rich history of step in the African American community. The show allowed the audience to appreciate the roots of these performances, making it an unforgettable experience that left a lasting impact. 
This event serves as a reminder of the importance of preserving and honoring the legacy of step while embracing the future with enthusiasm and creativity.
The Howard University Quad Step Team perform during their segment of then Howard University 2023 Homecoming Step Show (Credit: Creative4812)
With the Homecoming Step Show's theme "Nostalgia," members of Phi Beta Sigma's Alpha chapter portray the fan-favorite flick Aladdin during their performance. (Credit: Larry J. Sanders)
Sisters of the Sigma Gamma Rho Sorority Inc.'s Alpha Phi chapter perform during the 2023 Howard University Homecoming Step Show as Toy Story dolls under the night's theme of nostalgia. (Credit: Larry J. Sanders)
Disney's 'The Incredibles' arrives at the Mecca with Alpha Phi Alpha Fraternity Inc.'s Beta chapter members performance during the 2023 Homecoming Step Show (Credit: Larry J. Sanders)
A Goofy Movie transformed into a Que Dawg Movie as Omega Psi Phi Fraternity Inc.'s step team channels the Disney Channel classic during their 2023 Homecoming Step Show performance (Credit: Larry J. Sanders)
"We're twins!" The Alpha Chapter of Alpha Kappa Alpha Sorority, Inc. portray the Disney Channel Movie "Twitches" during their winning performance in the 2023 Homecoming Step Show. (Credit: Larry J. Sanders)