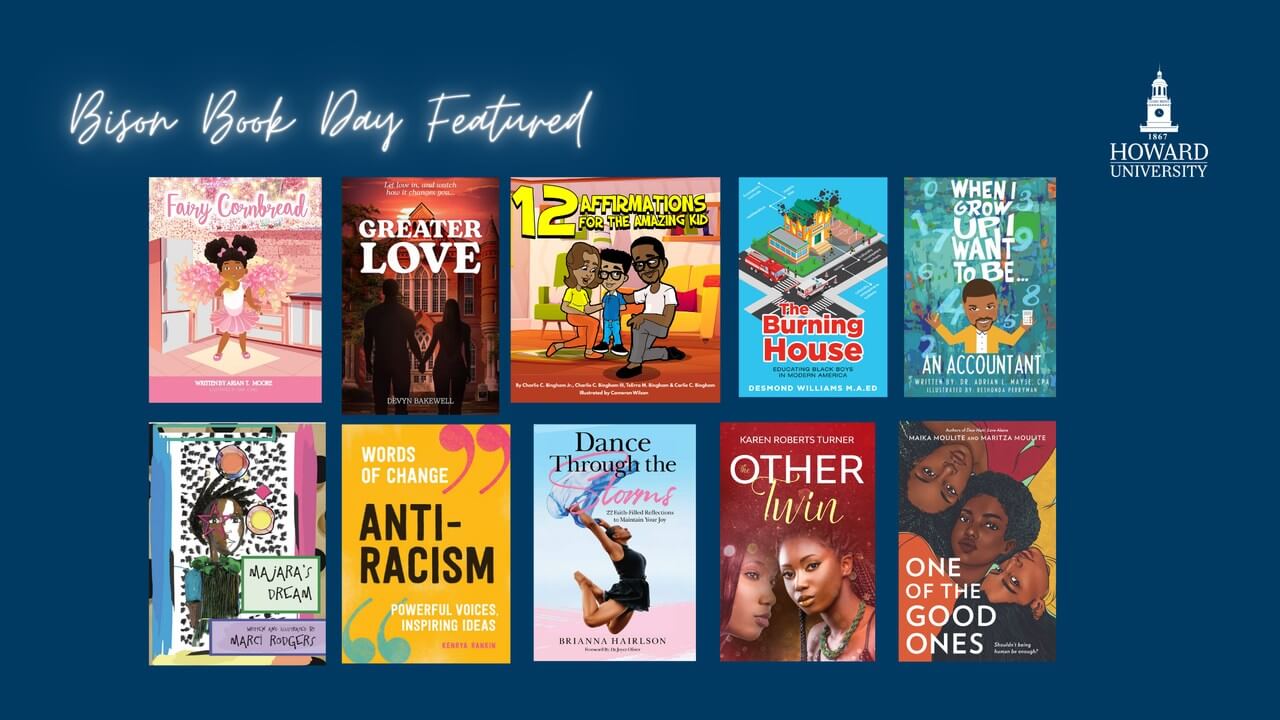 WASHINGTON – For the past two years, Howard University has showcased alumni, faculty, student and staff authors during the first week of March for World Book Day, naming it "Bison Book Day." This past year may have presented the best opportunity for many of our Bison to write and publish books – some even published a few in that time frame.
This year for Bison Book Day, nearly all the author submissions focused on Black youth development from kindergarten to college. Bison poured into their storytelling and research passions focusing on youth personal development, higher education, fun activities and inspiration. Many of the books were self-published; several were published with independent publishing houses.
Check out 10 of the most unique selections below; the full list can be viewed here. All books showcased met the criteria of publishing dates between February 1, 2020 and May 31, 2021.
12 Affirmations for The Amazing Kid
Published: April 2020

Author: Charlie Bingham Jr. (alumni)
About: "12 Affirmations for the Amazing Kid" is an early reader's book that depicts children of color. It's designed to connect with young diverse readers through colorful illustrations and encourage them to walk in purpose. This book will help remind readers to remember who they are and whose they are.


Anti-Racism: Powerful Words, Inspiring Ideas
Published: February 2020

Author: Kenrya Rankin (alumni)
About: This colorful gift book introduces readers to the anti-racist movement through the stirring words of leaders, including the new generation of heroes building social justice and racial equity in the 21st century. A great way for teens, young people, and those new to anti-racism to learn the core ideas and principles of the movement, this vibrant collection of quotes centers today's BIPOC voices from current activists such as Alicia Garza, Ibram X. Kendi, Serena Williams, Darnell Moore, and Jason Reynolds to heroes of the past like Bayard Rustin and Ida B. Wells. Their words will make you think and inspire you to take action!
Published: March 2020

Author: Brianna Hairlson (alumni)
About: "Dance Through the Storms" will provide inspiration and guidance to readers who may feel like there is no hope during or after the storm. Hairlson also wants her readers to hold fast to the promises of God, and believe that on the other side of the storm, there is a beautiful testimony.
Dear Child, People May Hate You
Published: November 2020

Author: Savannah Walker (alumni)
About: This book is a conversation tool for parents and educators to use with their children to have open and honest discussions about hate in this world. Discussing trivial topics like racism and prejudice doesn't have to be daunting thanks to this book. It breaks down the nuisances surrounding hate and ignorance and puts into a context that children can easily digest. This children's book is truly a love letter to our nation's children and will hopefully change the world. Perfect for ages 0-12 years.
Published: October 2020

Author: Arian T. Moore (alumni)
About: Follow the magic. Follow the pink. "Fairy Cornbread" brings readers into Zoe's world, introducing concepts of family, giving and courage, all with a drop of magic and a sprinkle of suspense. It's a fun and engaging picture book featuring a modern day African-American family. It's a dose of culture, tradition and love.
Greater Love: Let Love In and Watch How It Changes You
Published: December 2020

Author: Devyn Bakewell (student)
About: "Greater Love" shares the story of Ryan McKnight, a recent high school graduate who leaves for New York with one plan in mind – to leave her hometown, family and friends completely behind her. With the excitement of going to college and moving across the country, she believes that diving headfirst into work and school will win her the golden ticket to achieving her dreams. Between juggling school, two jobs and friends who quickly become family, Ryan is sure that these new opportunities will lead to a new life. However, she quickly finds out that forgetting where you come from isn't as easy, even when traveling over a thousand miles to escape it.

 
Published: August 2020

Author: Marci Rodgers (alumni)
About: This book is about Marci Rodgers' life as a child growing up and loving art. She heads off to college to pursue a degree in business, however, she still seeks the world of creation. Through her journey, she never gives up her faith, and through determination and practice, she becomes one of the world's youngest and most sought-after African-American costume designers. This book is great for young readers
Published: February 2021

Author: Maika Moulite (Ph.D. student)
About: When teen social activist and history buff Kezi Smith is killed under mysterious circumstances after attending a social justice rally, her devastated sister Happi and their family are left reeling in the aftermath. As Kezi becomes another immortalized victim in the fight against police brutality, Happi begins to question the idealized way her sister is remembered. Perfect. Angelic.
Published: February 2021

Author: Karen Roberts Turner, Esq. (staff)
About: Growing up, Ebony Morgan and her sister, Essence, were textbook twins. From their appearance, to the way they walked and talked, Ebony and her sister were indistinguishable. But as they got older, Essence emerged as the leader of the two, and Ebony became less of a mirror image and more like a shadow. Now at college, Essence is no longer interested in "twinning." In fact, she wants nothing more than to put distance between her and Ebony. That desire leads Essence down a troubling path. Devastated at her sister's abandonment, Ebony is trying to build a life of her own. But Essence's "mean girl" attitude may prove more than she can handle. When heartache and heartbreak enter their lives, both girls find themselves navigating adversity that could turn their worlds upside down. Can their twin bond withstand the ultimate test?
When I Grow Up I Want To Be... An Accountant
Published: February 2021

Author: Adrian L. Mayse, CPA (faculty)
About: This children's fiction picture book exposes children to the world of accounting. This book allows children of diverse backgrounds to see themselves on the pages through creative and colorful artwork. This book is written for the future accountants. The author hopes that students at an early age hear about accounting and can see themselves.
###
About Howard University
Founded in 1867, Howard University is a private, research university that comprises 13 schools and colleges. Students pursue more than 140 programs of study leading to undergraduate, graduate and professional degrees. The University operates with a commitment to Excellence in Truth and Service and has produced one Schwarzman Scholar, three Marshall Scholars, four Rhodes Scholars, 11 Truman Scholars, 25 Pickering Fellows and more than 165 Fulbright recipients. Howard also produces more on-campus African-American Ph.D. recipients than any other university in the United States. 
Media Contact: Imani Pope-Johns, Imani.popejohns@howard.edu