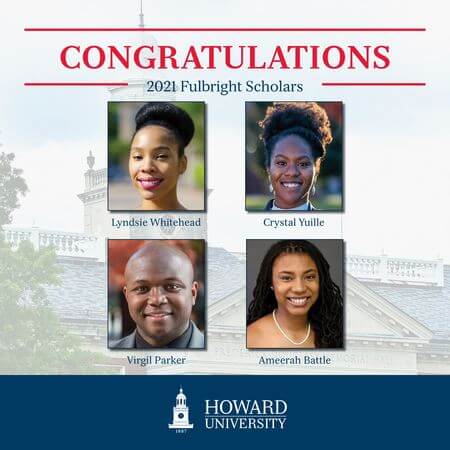 WASHINGTON – Howard University is proud to announce that four Howard University students have received esteemed Fulbright U.S. Student Program awards and other research grants for the 2021–2022 academic year. The awardees include Ameerah Battle, Fulbright English Teaching Assistant for Taiwan; Virgil Parker, Fulbright Research for Canada; Crystal Yuille, Fulbright Research for Colombia; Lyndsie Whitehead, Fulbright-Nehru Research for India; and Diavion Beckford, Fulbright English Teaching Assistant for Botswana (not pictured).
As of January 1, 2021, Fulbright has tailored its COVID-19 safety strategies on a country-by-country basis to resume in-person exchanges for U.S. participants based on the operating status of the host institutions and the administrative resources in place at the U.S. Embassy or Fulbright Commission to support participants while on their program.
"My sincerest congratulations to this year's accomplished Fulbright grant recipients," says President Wayne A. I. Frederick." I applaud the recipients for their commitment to pursuing scholarship, advancing knowledge across communities and improving lives around the world."
The Fulbright U.S. Student Program is the largest U.S. exchange program, offering opportunities for students and young professionals to undertake international graduate studies, enhance their research and explore teaching in more than 140 countries worldwide. Recipients are selected based on academic and professional achievement as well as their record of service and leadership potential in their respective fields. 
Those selected for English Teaching Assistant (ETA) Programs are placed in classrooms to help teach the English language while assisting as cultural ambassadors for the United States. The age and academic level of the students vary by country, ranging from kindergarten to university.
The Fulbright Research Award allows young professionals, recent graduates and graduate students to conduct collective research projects and work with advisers at foreign universities or other institutes of higher education. This program encourages academic mobility and integration while setting the basis for advanced academic collaboration and fostering interdisciplinary studies that address different needs or challenges internationally. 
U.S. Fulbright Student Program Grant Recipient:
Ameerah Battle from Phoenix, Arizona, graduated this year with a Bachelor of Science in biology. While at Howard, she held positions in the Bisonette Dance Ensemble, College of Arts and Sciences student council, Health Professions Society and Beta Kappa Chi Scientific Honor Society. Battle has been selected for the English Teaching Assistance Program in Taiwan. During her grant period, she hopes to gain a better global perspective by participating in community engagements, service, dance and health care. 
U.S. Fulbright Research Grant Recipients:
Virgil Parker from Rochester, New York, graduated this year with a Bachelor of Arts in journalism. Parker is adding the U.S. Fulbright Student Program in Canada to his long resume of accomplishments. He aspires to have a strong impact in the realms of philanthropy and social responsibility. During his time as a Fulbright scholar, he strives to discover methods to strengthen the communication and bond between U.S. women-owned and minority-owned companies in trade with Canada.
Crystal Yuille is a young professional from Maryland, whose interests in transnational solidarity and gender issues in the African diaspora brought her to Howard University. Yuille is currently a political science graduate student and the program coordinator of the Patricia Roberts Harris Public Affairs (PRH) Fellowship. As a Fulbright Research Grant recipient, Yuille will travel to Cali, Colombia to research Latin America's largest Afro-culture festival, the Petronio Álvarez Festival. Her research aims to uncover the limitations and possibilities of the festival to shape a more racially inclusive national identity and enhance Afro-Colombians' sense of belonging.
Lyndsie Whitehead from Pittsburgh, Pennsylvania, is a doctoral student who strives to focus on the push-pull factors that influence international student mobility while researching in the Fulbright-Nehru Fellowship. India has the world's second-largest higher education system, with more than 800 universities, 39,000 colleges and a capacity of enrolling more than 20 million students. Through her research, Whitehead aims to explore approaches for policymakers, administrators and faculty to better understand the decision-making process of international students studying abroad.
Diavion Beckford from Brooklyn, NY, graduated summa cum laude this year with a Bachelor of Science in biology. Beckford plans to become a physician for women and children's health globally. Through the Fulbright ETA Program in Botswana, she is eager to serve as a cultural ambassador while providing students with the tools to accomplish their English language goals. She is hopeful that through community outreach in Botswana, she will acquire the knowledge necessary to be a more effective physician. 
# # #
About Howard University
Founded in 1867, Howard University is a private, research university that is comprised of 13 schools and colleges. Students pursue studies in more than 120 areas leading to undergraduate, graduate and professional degrees. The University operates with a commitment to Excellence in Truth and Service and has produced one Schwarzman Scholar, three Marshall Scholars, four Rhodes Scholars, 11 Truman Scholars, 25 Pickering Fellows and more than 165 Fulbright recipients. Howard also produces more on-campus African-American Ph.D. recipients than any other university in the United States. For more information on Howard University, visit www.howard.edu
Media Contact:  Aaliyah Butler, aaliyah.butler@howard.edu