WASHINGTON – On October 28, 2019, the Howard University Speech and Debate Team, participated in the Connecticut NAACP tenth annual "Great Debate" along with Harvard University during the Connecticut NAACP 54th Annual State Convention at the XL Center in Hartford, Connecticut. Nearly 10,000 people were in attendance of this public exhibition, including seventh through 12th grade students.
The performance team consisted of four students, senior Virgil Parker, juniors Michael Franklin and David Edgerton, III, and freshman Nadrat Amos.
"The Howard versus Harvard debate was an extraordinary experience that I hope inspired its listeners to pay more attention to issues affecting civil society," said Parker.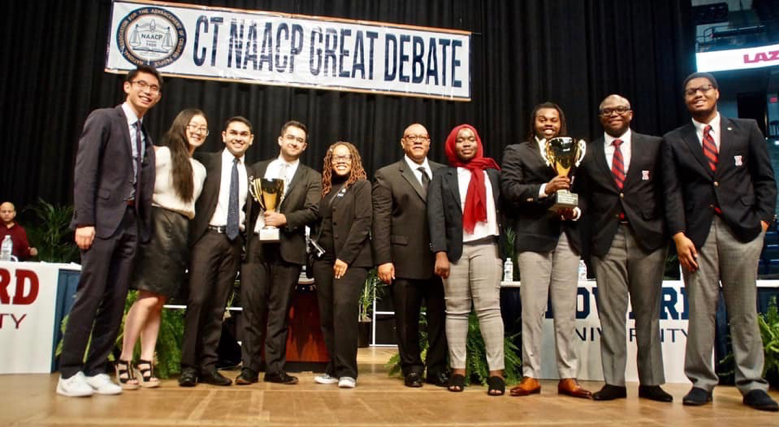 The entire team is led by Angela Minor Esq., an associate professor in the Cathy Hughes School of Communications and director of the Martin Luther King, Jr. Forensics Program.
"When Howard University debates Harvard University it always renders amazing talent from both teams!" said Minor, who is also the coach of the Mock Trial and Speech and Debate Teams.
The false reporting of Howard University beating Harvard University twice was a miscommunication.
"This event is not a collegiate competition," stated President of the CT NAACP Scot X. Esdaile. "There were no judges or officials that determined a winning team for this debate. This was a mutually beneficial learning opportunity to support the nearly 10,000 students, teachers and administrators that were in attendance enjoying the intellectual exhibition."
Agreeing with President Esdaile's comments, Minor stated, "It is my distinct honor and privilege to coach the Howard University Speech and Debate Team. These types of events allow Harvard and Howard to showcase their intellectual prowess and argumentation on matters concerning all Americans, regardless of race, creed or color!"
At debate exhibitions, students debate on subjects without a declared winner. This year the following resolutions were delivered:
Resolution #1: 

Resolved: This house believes that the House of Representatives should pursue the impeachment of President Donald J. Trump
Resolution #2: 

Resolved: This house believes Roc Nation, the business affiliated with Jay-Z should not have entered into a contract with the NFL.
# # #
(Photo: Howard University (right) and Harvard University (left) at Connecticut State NAACP 54th Annual State Convention on October 28, 2019 - credit to CT NAACP)
About the Howard University Debate Team
The Howard University Debate Team competes primarily in the parliamentary debate format. Parliamentary debate is recognized internationally and is based in part on the deliberative discussions in the British House of Commons and differs from other forms of competitive debate. Parliamentary debates focus more on a student's oratorical and analytical abilities and are easier for general audiences to enjoy and understand.
Professor Angela D. Minor is the Director of the Dr. Martin Luther King, Jr. Forensics Society and is a faculty member in the Department of Strategic Legal and Management Communication. For general inquiries or information on how your contribution can assist the teams, please feel free to contact Professor Minor via e-mail at angela.minor@Howard.edu or by phone at 202-806-6369. For more information, visit http://communications.howard.edu/programs/forensics-and-debate/
About Howard University
Founded in 1867, Howard University is a private, research university that is comprised of 13 schools and colleges. Students pursue studies in more than 120 areas leading to undergraduate, graduate and professional degrees. The University operates with a commitment to Excellence in Truth and Service and has produced four Rhodes Scholars, 11 Truman Scholars, two Marshall Scholars, one Schwarzman Scholar, over 70 Fulbright Scholars and 22 Pickering Fellows. Howard also produces more on-campus African-American Ph.D. recipients than any other university in the United States.  For more information on Howard University visit www.howard.edu
Media Contact: Imani Pope-Johns, Imani.popejohns@howard.edu