During the Charter Day festivities, President Wayne A.I. Frederick began his traditional address to the attending members, but paused to speak to a special member of Howard's faculty and staff.
Frederick surprised the Howard University School of Law's dean Danielle Holley with the President's Medal of Achievement.
In shock and in front of her standing ovation, Holley graciously accepted the award which celebrates community members who embody the excellence of Howard's commitment to truth and service beyond their roles. Holley has served for nine years as dean and will become Mount Holyoke's 20th president when the academic year concludes.  
"I'm really grateful to Dr. Frederick and the Board for recognizing me," Holley said. "I was shocked, did not expect it at all. I love Howard so much and I think the last nine years have been transformative for me." 
"In the program, it said that this institution is the biggest collection of Black scholars in the world, and the truth is, our law school is the biggest producer of Black lawyers in the history of the United States and around the world. We really have that legacy."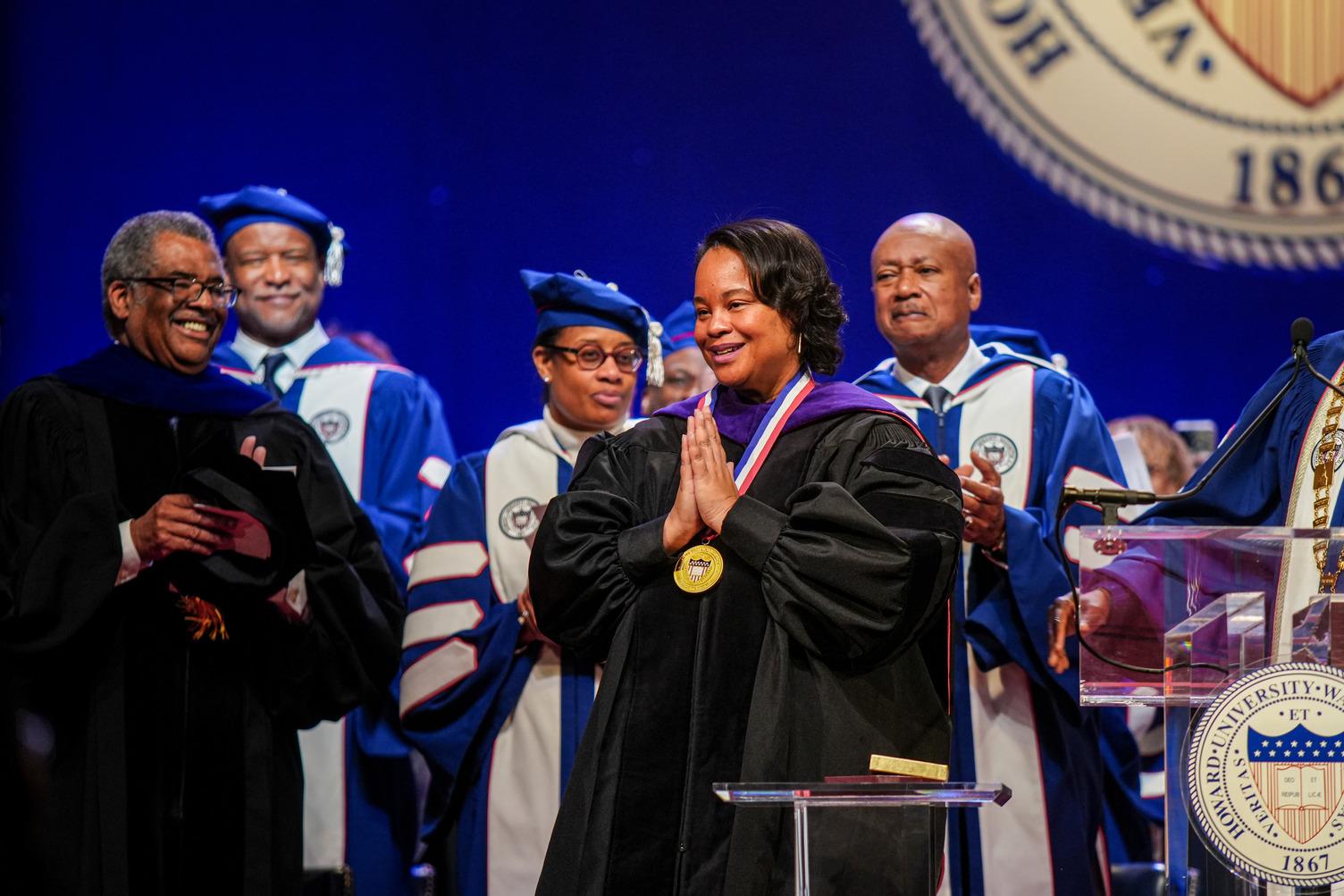 During her time as dean, Holley led the School of Law in its founding of the Thurgood Marshall Civil Rights Center while significantly raising the school in the US News and World Report rankings. The law school currently sits at no. 98. Holley also served as a board member of the Howard Middle School for Mathematics & Science. 
"She's going to make an excellent president," Frederick said after adorning Holley with the gold medal. "She's an excellent dean of our law school, so we sincerely wish her luck." 
After the convocation ceremony, Holley mingled with fellow dean Ranti Okiyode PhD, who sits at the helm of the School of Pharmacy. When asked about being gifted the presidential medal, Holley's face still glowed humbly with surprise in Chadwick A. Boseman School of Fine Arts' conference room. 
"It has been the honor and privilege of a lifetime to be able to lead not just a historic institution, but a law school is just as important today as it was 154 years ago when it was founded," Holley said.  
Though serving as dean for the past nine years, Holley credited her time as a teaching professor as her fondest members at the School of Law. She taught seven of those nine years. Her aura is a bubbly, warm embrace brightened with the intention of building the next generation of Black law professionals.  
"I'm really grateful for what I've learned here from my decanal colleagues, my cabinet, but what I learned from my students," Holley said. "I taught a lot of first year law students and when I'm in my classroom, that's when I'm the happiest."  
While sitting onstage during the Charter Day Convocation, Holley beamed with pride as she saw one of her former students, Brent Drenon, JD, serving on the Board of Trustees.  
"I'm just so proud of the work that they're doing," she said. "From corporate law to environmental law, to Constitutional law, they are really this generation's trailblazers in the legal profession and I am tremendously proud of them."  
In a Howard blue ball gown, Holley attended the Charter Day dinner to commemorate the 156th anniversary of University's founding. It will be her last on staff, but her legacy of improving the School of Law speaks to the overall, longstanding greatness that Howard exudes throughout the world, including her ability to flourish as Mount Holyoke's new president.  
"We have a few more in the pipeline, so the rest of the country better get ready." Frederick joked but with firm assurance.