WASHINGTON – February 9, 2019 – On Thursday, more than 70 Howard University students had the chance of a lifetime to learn from Howard Alumna Taraji P. Henson during the Washington, DC premiere of her new movie, What Women Want – in theaters now. Several of the journalism students also had the opportunity to interview Henson, the movie's producer Andy Shankman and President Wayne A.I. Frederick on the red carpet.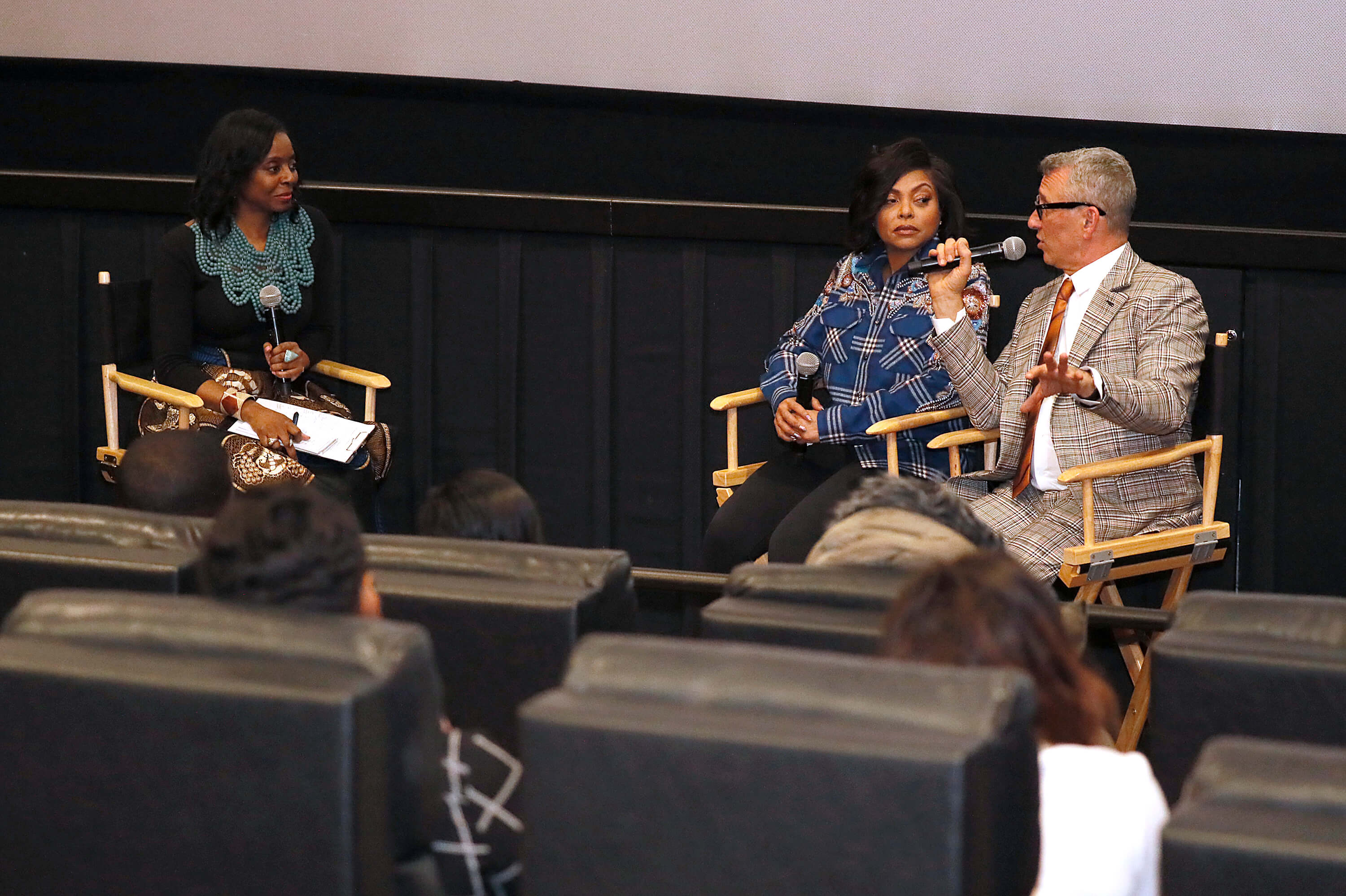 During a panel moderated by Howard Alumna Jennifer Thomas, a broadcast journalism professor in the Cathy Hughes School of Communications, Henson discussed her rise from Howard to Hollywood with candor. She stated that she had the time of her life while in undergrad and was thankful for the theatre arts professors that taught her.
"I was afforded the luxury of portraying anything in the world, where if I did not go to an HBCU, then maybe I would be stuck playing a maid or whatever Black character there was in the script," said Henson. "At Howard I was taught to think and believe that I could play any character… I went out to Hollywood fearless."              
Thomas questioned Henson about her time at the University, decisions she was made during her youth, how Hollywood has changed and the expectations aspiring actors and actresses should consider out of college. Henson told students not to give up because of their life's purpose. She noted that taking time was the best lesson for her and that students should make the best of each moment.
After expressing her love for Howard and her mantras to life, she mentioned one regret – never going abroad in college. She asked the audience how many were exchange students, and only a few raised their hands.
"I don't have many regrets in life, but if I had one thing to do over, I would have studied abroad. I would have done a play in London.," said Henson.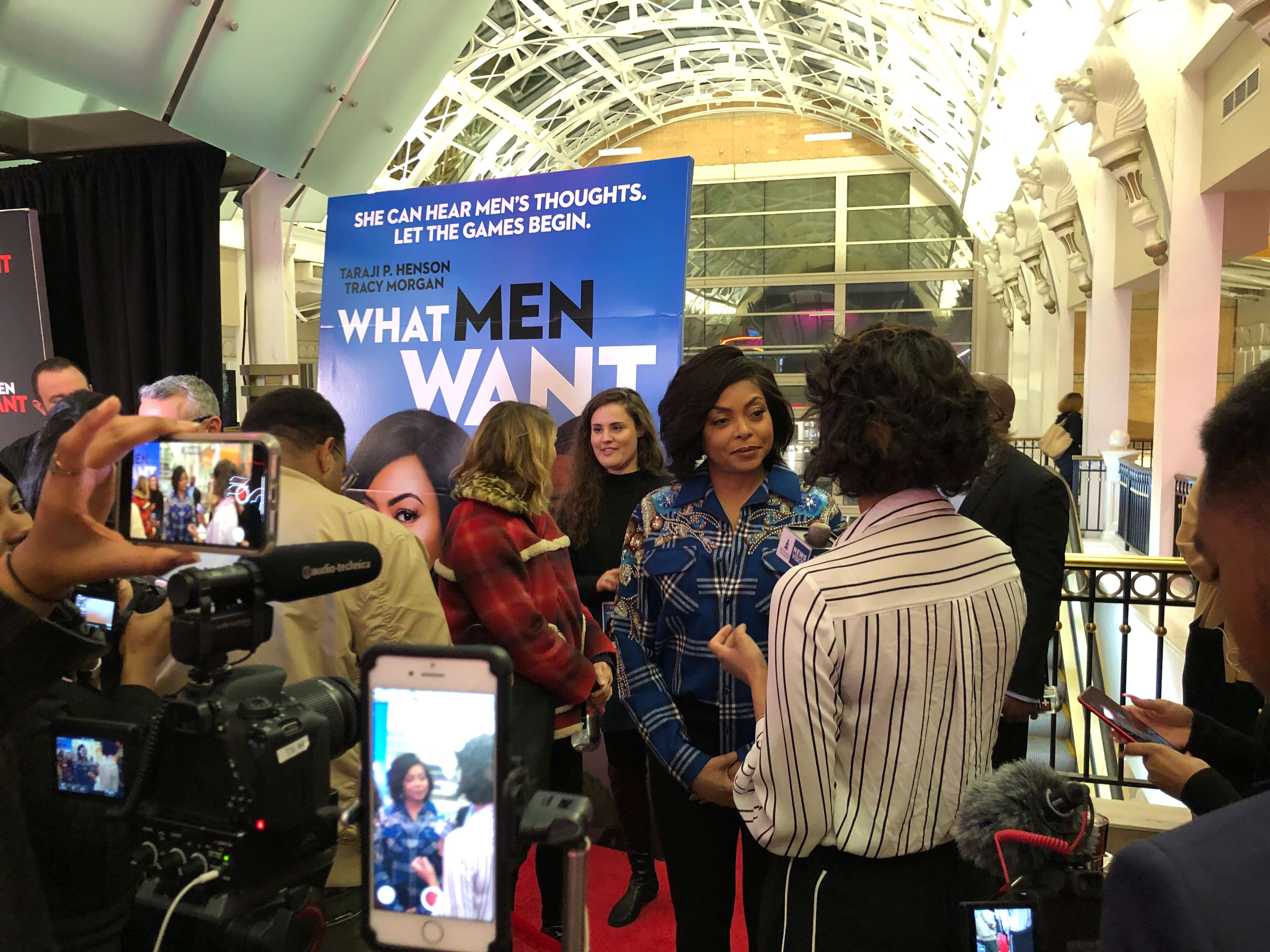 That evening was also the first red carpet media experience for WHUT/News Vision student reporter, Amber Tucker, a junior studying broadcast journalism, hailing from Richmond, Va. It was also a moment that made her mark in the industry.
"It was an amazing experience interviewing Taraji. I have never done anything like that before, so for me, it was such an honor, yet it was a lot of pressure," said Tucker.
Tucker prepared and used techniques she learned by Professor Thomas in the classroom for that moment – delivering one of her best personal reels. "I knew this was my first of many big interviews. In order to prepare, I looked at other interviews related to the movie. I didn't want to have the exact same questions as others and I wanted my questions to pull some of her humor out. Overall, it was an amazing experience, she was super nice and intuitive. In conversation, you could tell that she was genuinely a super nice and supportive person."
# # #
(Pictured first: Howard University's Jennifer Thomas, Taraji P. Henson and Andy Shankman - courtesy of Allied Global Marketing. Pictured in featured image and above: Amber Tucker, Howard University broadcast journalism student interviewing Taraji P. Henson - via Imani Pope-Johns of Howard University and allied Global Marketing)
About Howard University
Founded in 1867, Howard University is a private, research university that is comprised of 13 schools and colleges. Students pursue studies in more than 120 areas leading to undergraduate, graduate and professional degrees. The University operates with a commitment to Excellence in Truth and Service and has produced four Rhodes Scholars, 11 Truman Scholars, two Marshall Scholars, one Schwarzman Scholar, over 70 Fulbright Scholars and 22 Pickering Fellows. Howard also produces more on-campus African-American Ph.D. recipients than any other university in the United States.  For more information on Howard University visit www.howard.edu
Media Contact: Imani Pope-Johns, Imani.popejohns@howard.edu