WASHINGTON – Howard University graduate student, Reuben Vassar, CW3, MI, GEOINT TECH, is taking the extra step in the field of atmospheric science for those he serves. As an active-duty soldier with more than 21 years in the Army, currently as a geospatial intelligence technician, his studies and fieldwork in the atmospheric science program at Howard University will aid in advancing his career and his service.
"I hope to use this degree in two aspects. The first is to better understand atmospheric impacts on our satellites and ground-based sensors. Secondly, I am very interested in humanitarian assistance and disaster relief (HADR) efforts provided domestically and to our foreign counterparts. I was on a HADR team while stationed in Hawaii and saw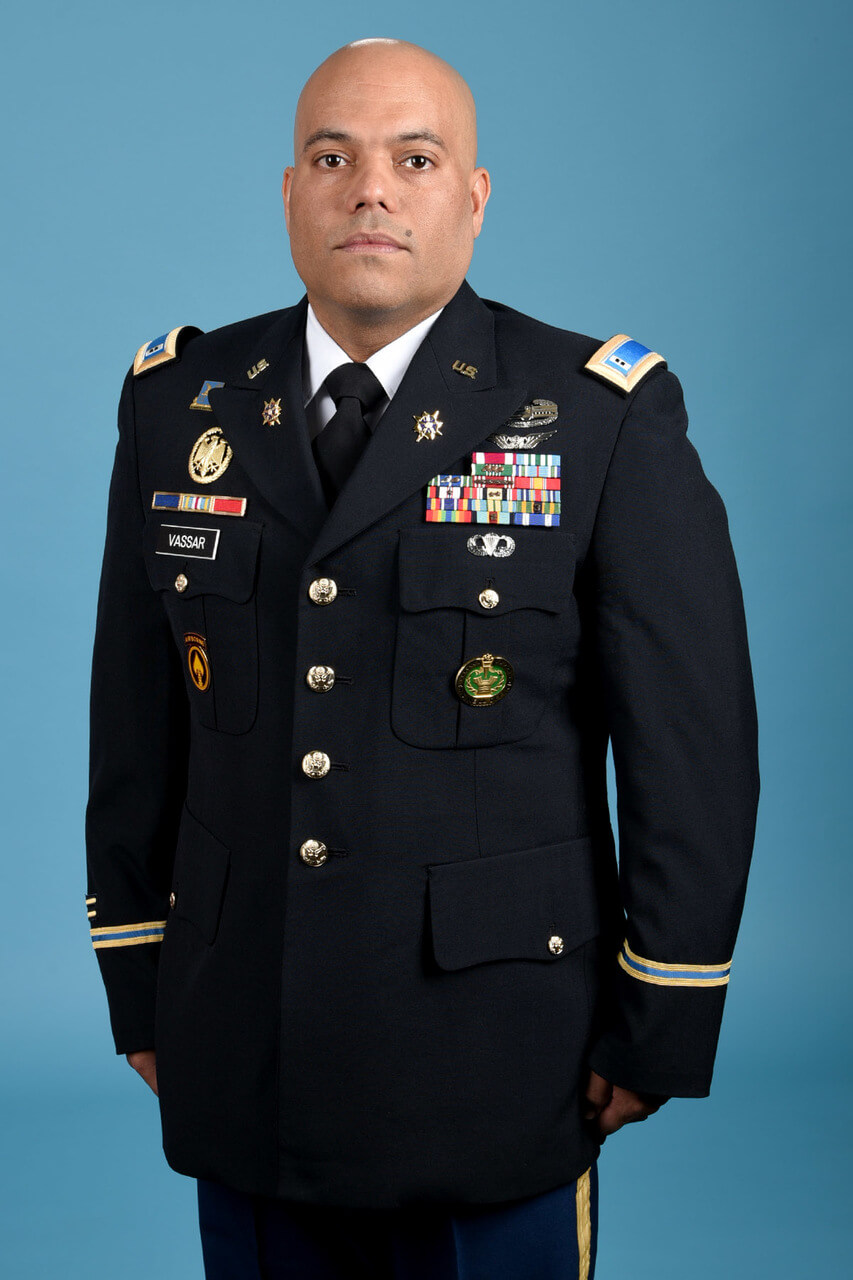 firsthand the benefits of helping the Nepalese government during the 8.1 magnitude earthquake in 2015 that impacted their communities. I briefed our Southeast Asia partners on best practices and lessons learned during a HADR event," said Vassar, who is 43 years old and from Newport News, Virginia.
"We exploit and disseminated imagery products from space-based, air and ground-based sensors and provide actionable intelligence to commanders," Vassar continued. "During operations we often found delays or degradation in missions due to weather constraints. My intent was to better understand atmospheric conditions that caused the aforementioned and assist in the collection process. The use of these sensors helps save lives during HADR efforts. To add: This field along with every other should be diversified, and to disagree would be close-minded. I am proud to part of that."
This year, Vassar shared his research presentation, "Feasibility of Inferring Albedo Using the Multi-Filter Rotating Shadowband Radiometer and Radiative Transfer Modeling" at the 20th Annual American Meteorological Society (AMS) Student Conference and won the Outstanding Student Conference Poster Award: Graduate. The award was a testament to the hard work he committed to and the obstacles he overcame at home and work.
"My mother was diagnosed with dementia about eight years ago, and I lost my father in 2008 to complications from exposure to agent orange during his time at war in Vietnam. At the time, I was in military training. Prior to the loss of my father, I lost my grandfather in 2004 while I was deployed to Iraq," said Vassar.
For Vassar to be by his mother's side he needed to find an alternative way to continue to serve in the Army. His mentor and friend Marlon Howard encouraged him to apply for the Army Advanced Civil Schooling, which would allow him to take care of her.
"As the human resource manager for the Army's Military Intelligence Warrant Officers (population: 1,500 officers and their families) from March 2017 to April 2019, I had the privilege of recruiting a talented and exceptional junior Army warrant officer, Reuben Vassar, for the highly competitive Army Advance Civil Schooling (ACS) Program. Reuben had the total package of education [and] pristine character, and [he] set the example of living the Army values that made him stand out above his peers. I am proud to see that his resilience and perseverance has paid dividends for Howard University and for the Army," said Howard.
Vassar also leaned on the support of his fellow classmates and the assistant dean of the Howard University Graduate School, Linda G. Jones, Ph.D. Jones was the key component to his success at Howard University when he was selected for the highly competitive opportunity in the United States Army, Advanced Civil Schooling (ACS), which paid for his attendance.
"As a former military officer, I recognize this honor and investment in personnel. I am so pleased he chose the Howard University Graduate School to pursue the atmospheric science program because he could have gone anywhere," said Jones. "I have observed his scholastic growth from his first semester to this outcome of receiving an award as a scientist. I am proud of his accomplishments, and I look forward to what the future holds for Reuben."
# # #
(Photo credit Reuben Vassar)
About Howard University
Founded in 1867, Howard University is a private, research university that is comprised of 13 schools and colleges. Students pursue more than 140 programs of study leading to undergraduate, graduate and professional degrees. The University operates with a commitment to Excellence in Truth and Service and has produced one Schwarzman Scholar, three Marshall Scholars, four Rhodes Scholars, 12 Truman Scholars, 25 Pickering Fellows and more than 165 Fulbright recipients. Howard also produces more on-campus African-American Ph.D. recipients than any other university in the United States. For more information on Howard University, visit www.howard.edu.