WASHINGTON – The 2020-2021 Gwendolyn S. and Colbert I. King Endowed Chair in Public Policy Lecture Series, chaired by political strategist and author Donna Brazile, is ending with a two-part discussion titled "Preserving Our Democracy." See below to register for these upcoming events.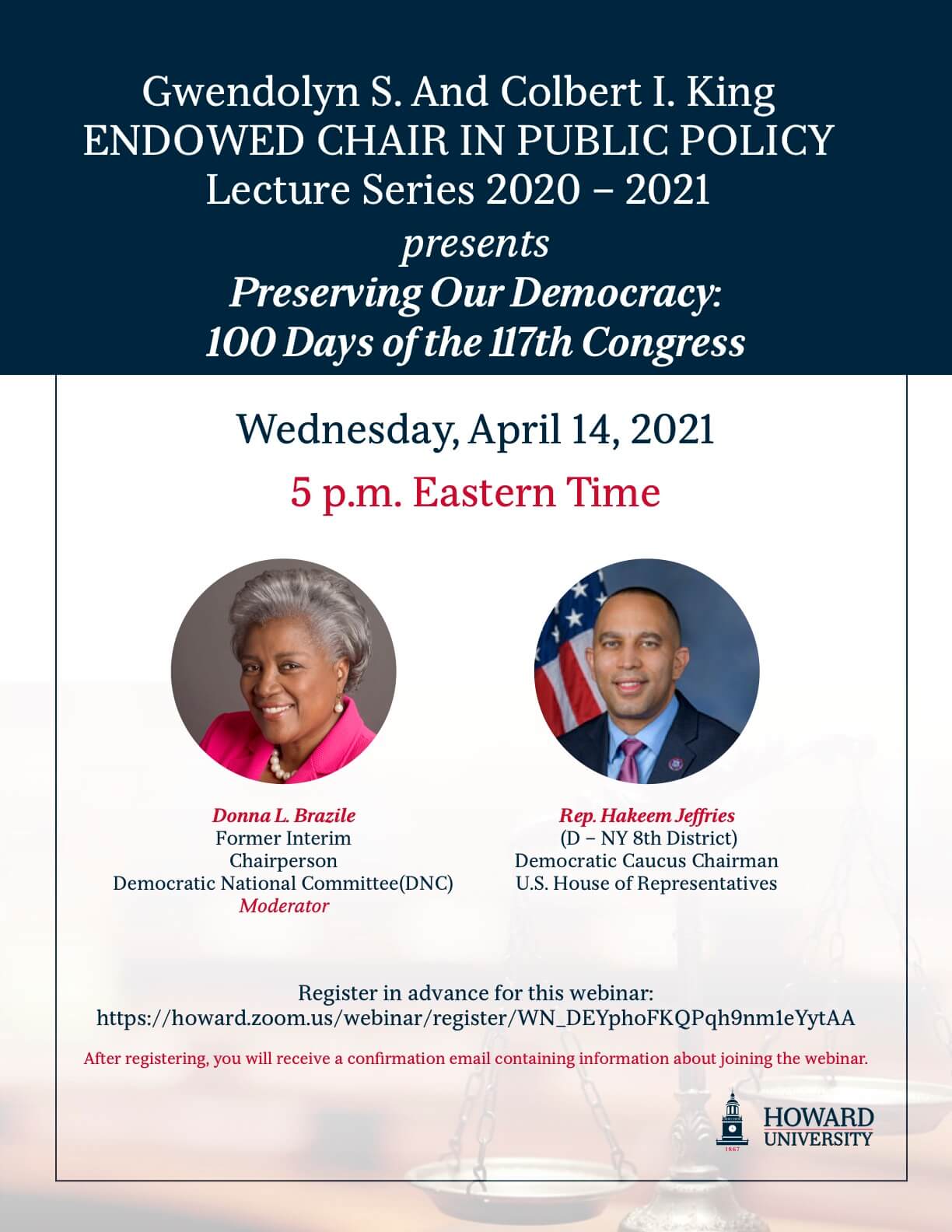 Preserving Our Democracy: 100 Days of the 117th Congress on April 14
The first event will be held Wednesday, April 14 at 5 p.m. EDT online via Zoom meeting and will feature the Honorable Hakeem Jeffries, chair of the House Democratic Caucus.
Jeffries represents the diverse 8th Congressional District of New York, an area that encompasses large parts of Brooklyn and a section of Queens. Serving his fifth term in the United States Congress, Jeffries is a member of the House Judiciary Committee and House Budget Committee. As chairman of the House Democratic Caucus, having been elected to that position by his colleagues in November 2018, he is the fifth highest-ranking Democrat in the House of Representatives. He is also the former whip of the Congressional Black Caucus and previously co-chaired the Democratic Policy and Communications Committee, where he helped develop the "For The People" agenda.
Jeffries is a tireless advocate for social and economic justice. He has worked hard to help residents impacted by the devastation of the COVID-19 pandemic, reform our criminal justice system, improve the economy for everyday Americans and protect our health care from right-wing attacks. Jeffries has a bachelor's degree in political science from the State University of New York at Binghamton, where he graduated with honors for outstanding academic achievement. He also received a master's degree in public policy from Georgetown University and attended New York University School of Law, where he graduated magna cum laude and served on the Law Review.
Register here for the King Lecture Series on April 14.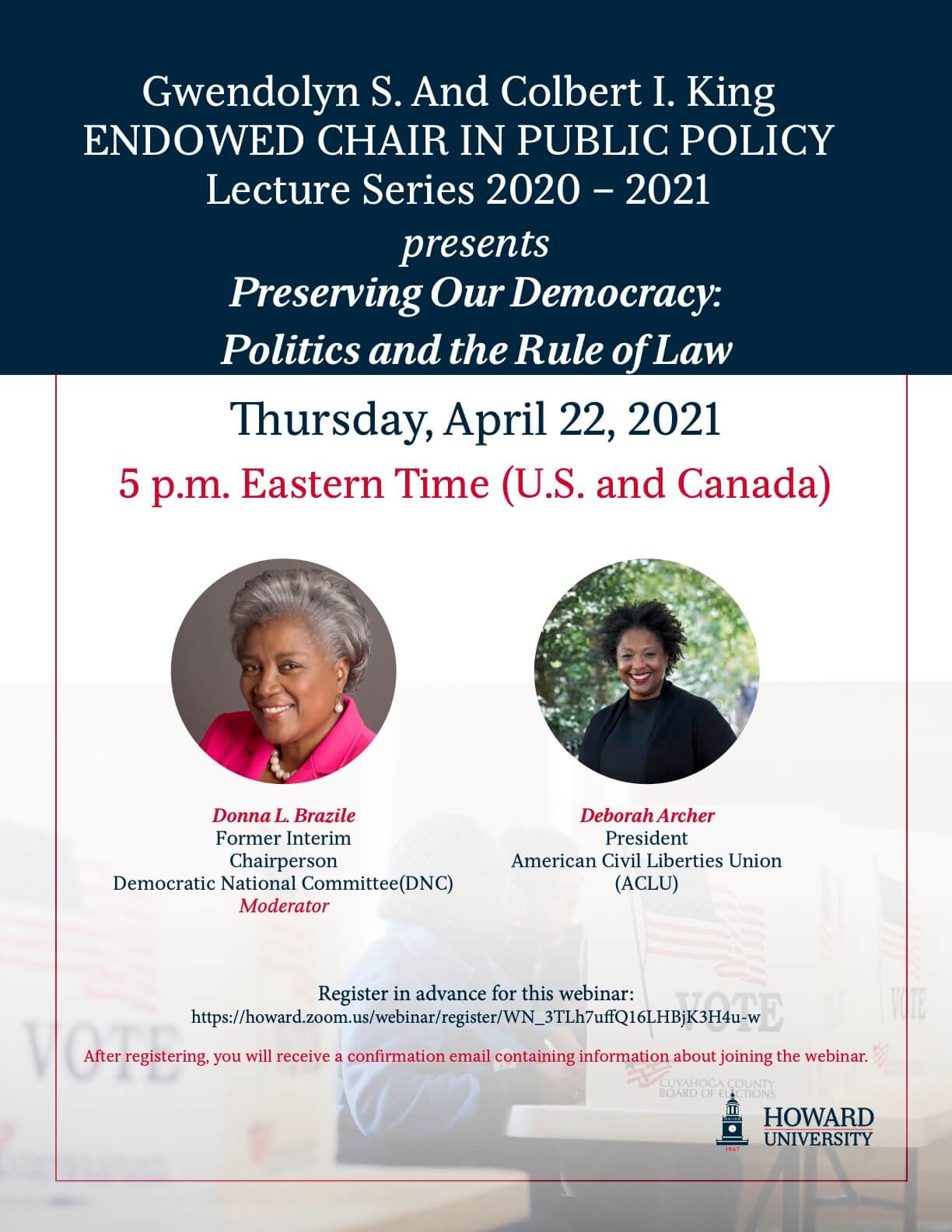 Preserving Our Democracy: From the Ballot Box to the Rule of Law on April 22
Part two of the two-part discussion will be held Wednesday, April 22 at 5 p.m. EDT online via Zoom meeting and will feature Deborah N. Archer, national president of the American Civil Liberties Union (ACLU), a nationally recognized expert in civil rights, civil liberties and racial justice.
Archer is the Jacob K. Javits professor at New York University, professor of clinical law and co-faculty director of the Center on Race, Inequality and the Law at NYU School of Law. She previously worked as an attorney with the American Civil Liberties Union and the NAACP Legal Defense and Educational Fund, Inc., where she litigated in the areas of voting rights, employment discrimination and school desegregation. She is a former chair of the American Association of Law School's Section on Civil Rights and Section on Minority Groups. She previously served on the New York City Civilian Complaint Review Board, the nation's oldest and largest police oversight agency, and the 2018 New York City Charter Revision Commission. She was recognized by the New York Law Journal as one of New York's Top Women in the Law. Archer is a graduate of Smith College as well as Yale Law School, where she was awarded the Charles G. Albom Prize.
Register here for the King Lecture Series on April 22.
# # #
About Howard University
Founded in 1867, Howard University is a private, research university that is comprised of 13 schools and colleges. Students pursue more than 140 programs of study leading to undergraduate, graduate and professional degrees. The University operates with a commitment to Excellence in Truth and Service and has produced one Schwarzman Scholar, three Marshall Scholars, four Rhodes Scholars, 11 Truman Scholars, 25 Pickering Fellows and more than 165 Fulbright recipients. Howard also produces more on-campus African-American Ph.D. recipients than any other university in the United States. For more information on Howard University, visit www.howard.edu.


Media Contact: Misha Cornelius, misha.cornelius@howard.edu