Dear Howard University Community,
 
On July 1, 2021, the University embarked on a momentous shift by implementing Workday, a multiyear technology initiative, to help transform our behind-the-scenes business systems. The year-to-date success of Workday at Howard is a result of your support. As you know, digital transformation requires a shift in mindset and culture, and we appreciate your willingness to propel Howard forward by embracing a new approach to operational excellence as we address the need for ongoing improvements. Greater efficiencies in research grant management, employee evaluation, and financial reporting are highlights of the inaugural anniversary of Workday's launch at Howard University.
 
As the administrative leadership for Workday, it has been a pleasure to bear witness to the valiant efforts of our colleagues in human resources, ETS and across the University spectrum who have worked tirelessly to help us meet measurable goals aligned with our strategic plan. In April, we announced that Warren Petty was joining the University as vice president and chief operating officer. Petty, a workforce management and human resources expert, is charged with enhancing a culture of excellence in service at Howard, including the implementation and execution of Workday to better support employees, and building relationships with managers and teams to strengthen the University's leadership development pipeline.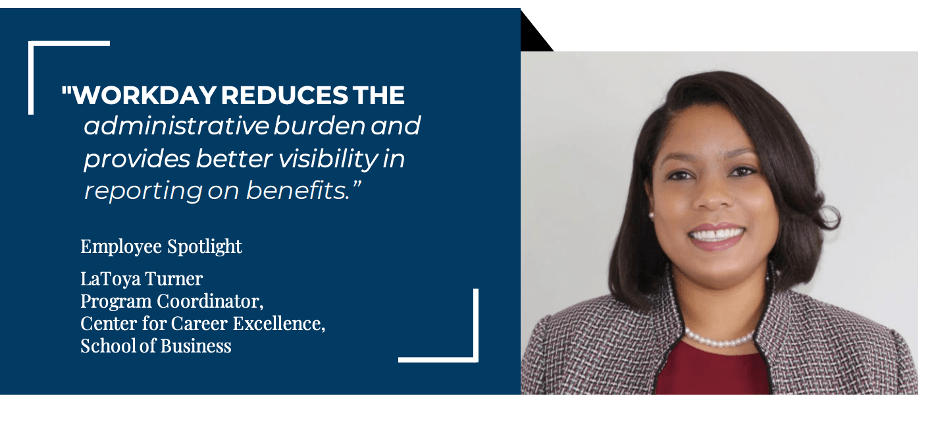 Officials and managers at the University say that the system offers greater transparency and access to critical operational details and will be a key element of the University's commitment to hiring and retaining talent as well as achieving good customer service for stakeholders. 
Integrated as an element of the Howard Forward 2024 strategic plan for improving system effectiveness, the platform delivers a range of financial administrative functions across the University, including departmental budgeting, integrated payroll and human resources activities, procurement, and distribution of grant funding. Since its launch, Howard's 2,900 employees have accessed the system more than 30,000 times for training, custom reports, and financial outlook analyses. 
 
By reducing the volume of processes that are completed outside the Workday ERP, our data integrity and efficiency have significantly improved. We are fiscally leaner via the reduction of administrative costs, more efficient with the use of our time and "greener" in our environmental profile through the reduction in our paper consumption. We can now use a system of measurement to inform our decision-making more aptly, and that is a long-term benefit to the University's profiles as an employer and as a training ground for professionals and experts.
 
For a deeper look into the strides we've made together over the last year, check out the Workday @ Howard Newsletter Archives. There remain several exciting initiatives on the horizon for us, including Workday Student. Together we will continue to listen, learn and improve.
 
If you have any questions, please email workday@howard.edu.
 
Excellence in Truth and Service,
Tashni-Ann Dubroy, Ph.D.
Executive Vice President and Chief Operating Officer
 
Stephen Graham 
Sr. Vice President and Chief Financial Officer