WASHINGTON – Howard University Vice President for Research Bruce Jones, Ph.D. sat down with the 18th President of Rensselaer Polytechnic Institute, Shirley Ann Jackson, Ph.D., for "An Evening with Shirley Jackson," a conversation on her distinguished career and what it means to be an underrepresented minority in the sciences. The event was coordinated by the National Science & Technology Medals Foundation (NSTMF), and supported by Rensselaer Polytechnic Institute and the Howard University Office of Research. Jones moderated the conversation inside the Founders Library Browsing Room before an audience of Howard University students and faculty, and visiting science, technology, engineering and mathematics (STEM) experts.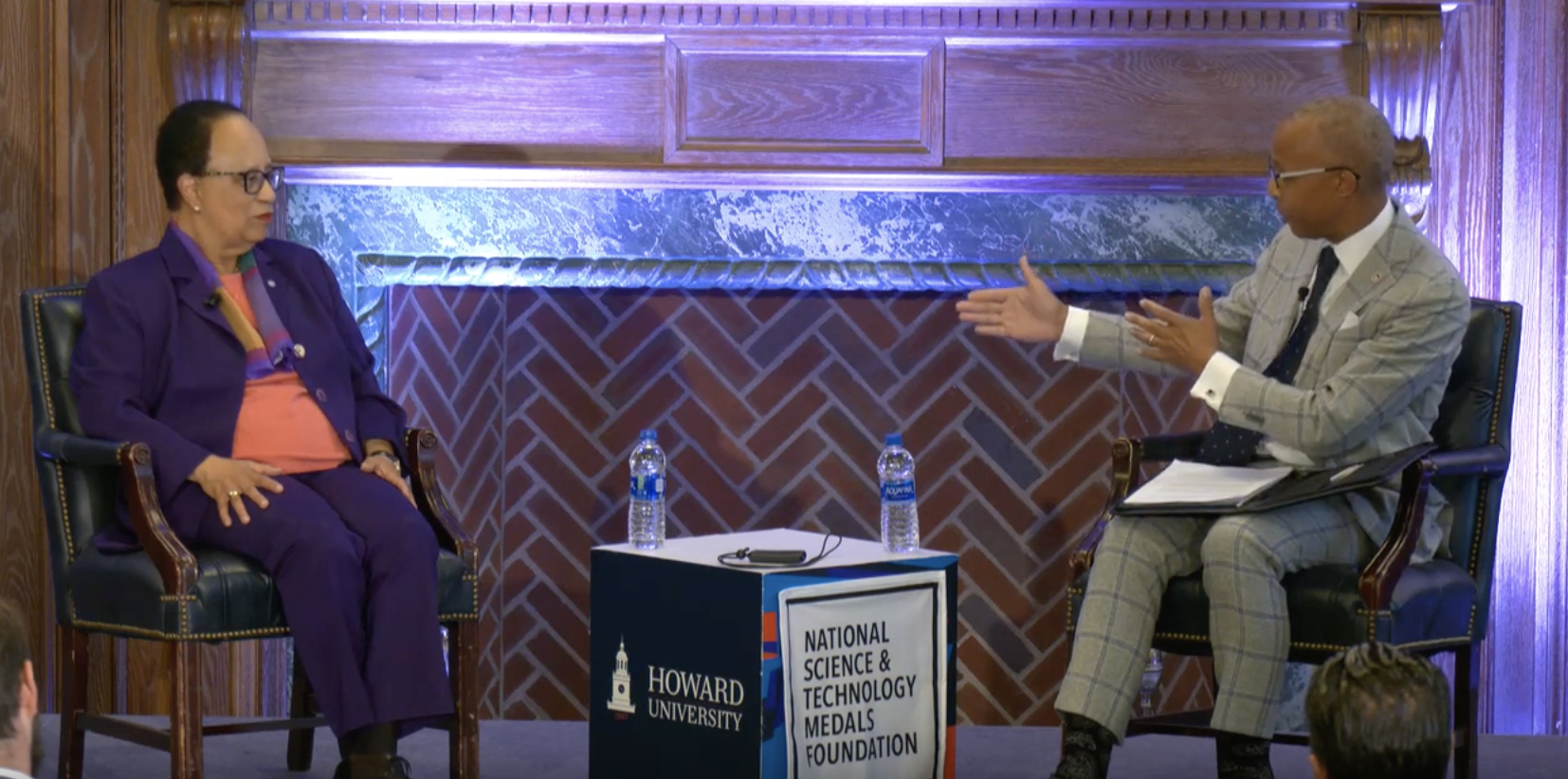 "When we think about defying the odds, we usually think about achieving the impossible. We usually think about greatness and excellence, not just in theory, but in practice. When you usually think about individuals who are capable of engaging positive transformative change – you are the personification of what is meant by defying the odds," said Jones. "We are so grateful that you are here on this campus and appreciative that you can share that experience and wisdom with us."
Jackson is widely known as the first African American woman to earn a Ph.D. from MIT. She's also the first African American woman to be awarded the National Medal of Science, which Jones cited the award as the nation's highest honor in science and engineering. President Barack Obama presented the award to Jackson in 2016 for her work in condensed matter physics and particle physics, and for science-rooted policy achievements. It's a celebrated award that Jackson considers her highest accolade. 
"President Obama really appreciated the importance of bringing science into public policy, decision-making and addressing major challenges and opportunities for our country and the world," said Jackson.
The conversation touched a range of points, from the significance of her time at MIT to a detailed look at the noteworthy experiences that shaped her career, such as serving as chairman of the U.S. Nuclear Regulatory Commission (NRC) from 1995-1999. Jones says Jackson found her way to the top of a field that has traditionally been driven by white males. Also, doing so during a time of deep racial divisions among Americans. Out of her freshman class of 900 students, Jackson says seven students were black. A faculty member once told her, "colored girls should learn a trade."
"I was rather demoralized," she said. "Then I said, 'well, I guess my trade needs to be physics."
While Jackson capitalized on similar incidents to take ownership of her intelligence,  some argue decades later misrepresented groups are still fighting for recognition. Jones referenced a report released by the National Academies of Science Engineering and Medicine, titled, "Minority Serving Institutions: America's Underutilized Resource for Strengthening the STEM workforce." Jackson commented on the report's mention of intentionality, regarding efforts to add more women and minorities into STEM fields. 
"Women and underrepresented minorities have been disadvantaged in this field. I've always articulated that we were facing a quiet crisis. Mainly, that talent comes in all ethnicities, genders, religions, national origins, etc. If one does not tap the complete talent pool, then one is not going to be able to solve great problems." 
Jackson is confident that there has been great progress relative to women and minorities in STEM fields, but remains hopeful of continued advancement. At Rensselaer Polytechnic Institute, Jackson says there are intentional efforts to seek women and minority talent, which she refers to as the "underrepresented majority."
"It's not just bringing them in, it's graduating and launching them into great careers."
Young students, according to Jackson, should be given an opportunity develop an appreciation for the sciences. An example being familiarizing African American students with the important work in the fundamental sciences done by African Americans in the United States. Jackson says it is important to reverse negative trends, like the recent dip in minority representation in computer and physical sciences, through education and opportunity. 
"Many of the great inventions and steps that have taken this country forward have actually come from African Americans," she said. "And we need to tell more of those stories."  
To view a full recording of "An Evening with Shirley Jackson," visit https://www.youtube.com/c/nstmf and https://www.facebook.com/NSTMF.
###
ABOUT THE NATIONAL SCIENCE AND TECHNOLOGY MEDALS FOUNDATION
The NSTMF is a nonprofit organization working to build a future of scientific and technological excellence in the United States by connecting students to National Medal of Science and National Medal of Technology and Innovation Laureates and other STEM experts. To learn more about the Foundation, visit www.nationalmedals.org. 
ABOUT RENSSELAER POLYTECHNIC INSTITUTE
Founded in 1824, Rensselaer Polytechnic Institute is America's first technological research university. Rensselaer encompasses five schools, 32 research centers, more than 145 academic programs, and a dynamic community made up of more than 7,900 students and more than 100,000 living alumni. Rensselaer faculty and alumni include more than 145 National Academy members, six members of the National Inventors Hall of Fame, six National Medal of Technology winners, five National Medal of Science winners, and a Nobel Prize winner in Physics. With nearly 200 years of experience advancing scientific and technological knowledge, Rensselaer remains focused on addressing global challenges with a spirit of ingenuity and collaboration.
ABOUT HOWARD UNIVERSITY
Founded in 1867, Howard University is a private, research university that is comprised of 13 schools and colleges. Students pursue studies in more than 120 areas leading to undergraduate, graduate, and professional degrees. The University operates with a commitment to Excellence in Truth and Service and has produced four Rhodes Scholars, 11 Truman Scholars, two Marshall Scholars, one Schwarzman Scholar, over 70 Fulbright Scholars, and 22 Pickering Fellows. Howard also produces more on-campus African American Ph.D. recipients than any other university in the United States. For more information on Howard University visit www.howard.edu
PHOTOS: National Science & Technology Medals Foundation
MEDIA CONTACT: Ramzey Smith, Office of University Communications, Ramzey.smith@howard.edu