WASHINGTON – Vice President Kamala D. Harris, returned to her Alma Mater, Howard University, to promote a Greater Washington Partnership event touting $4.7 billion in new regional economic investments.
Vice President Harris, who has led in the White House on helping small businesses in underserved communities, delivered remarks and shared ways that the Biden-Harris administration is supporting small business growth. The Greater Washington Partnership investments are designed to lift underserved communities and minority businesses from Richmond to Baltimore.
"When small business owners have the support, they drive innovation, inspire innovation and grow our entire economy," Harris said. "Let us continue to work together to address the inequities that stand in the way of the ambitions and aspirations of our communities."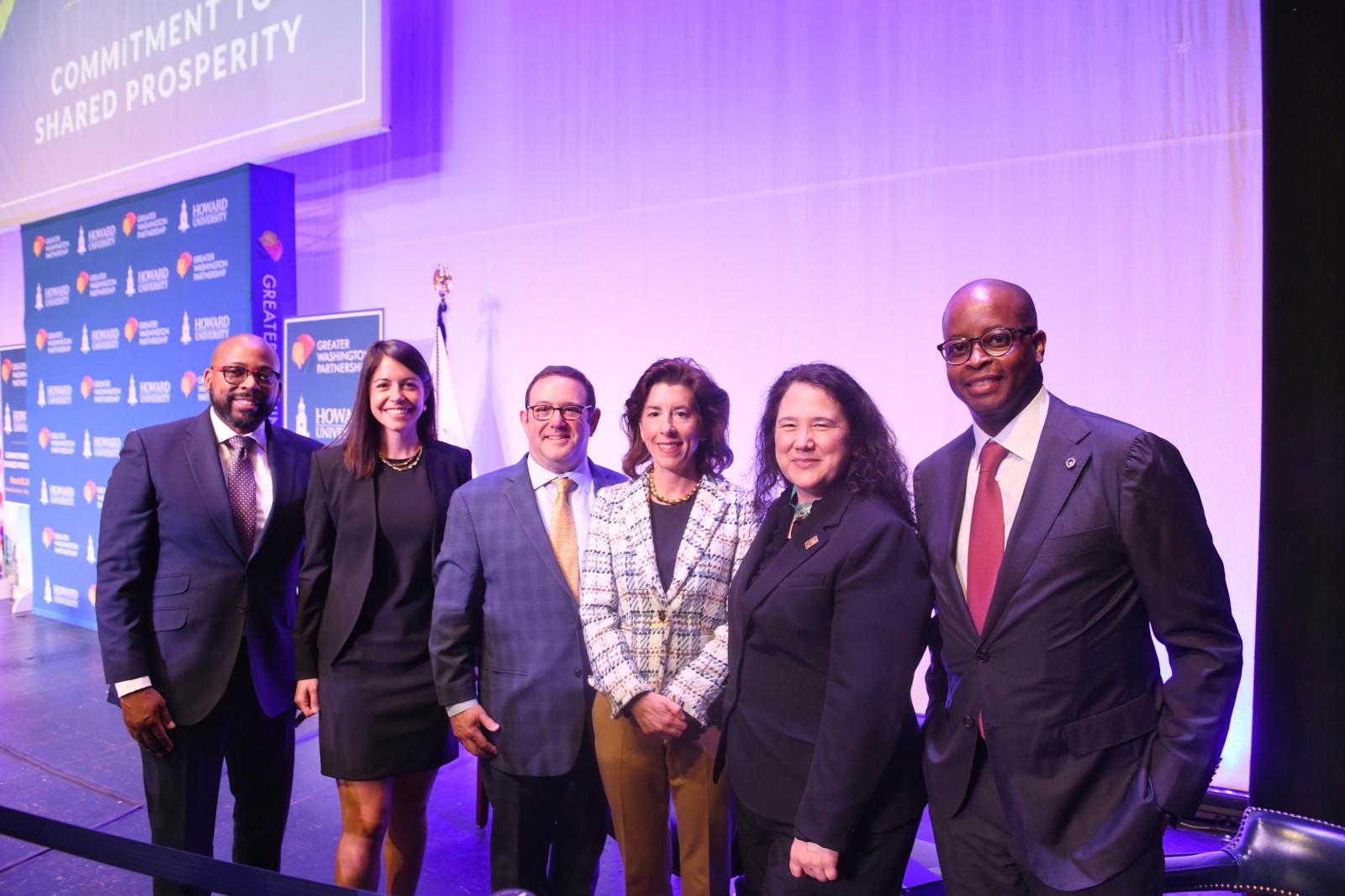 Wednesday's event at Howard University featured U.S. Secretary of Commerce Gina Raimondo, and U.S. Small Business Administration Administrator Isabella Guzman. The event was hosted by Howard University President Dr. Wayne A. I. Frederick.
"Today's announcement from the Greater Washington Partnership is fully related to the DNA of this institution, creating opportunity and prosperity that uplifts all members of our region, including historically marginalized communities," Dr. Frederick said.
The Greater Washington Partnership is a civic alliance of business and community leaders who are committed to helping scale up support for minority business and to making the capital region a global center for commerce. The $4.7 billion effort will be directed in three ways: supplier diversity, racial equity and access to capital.
At the event, Harris and Guzman also announced new improvements and expansions  to the Small Business Community Advantage Pilot Program, which targets access to capital for small businesses in underserved markets. The Howard University School of Business has long hosted a Small Business Development Center on campus.
Howard University is entering into an unprecedented period of growth. Dr. Frederick has announced $785 million in real estate construction initiatives are ongoing at the University, which include three new multidisciplinary academic facilities and major renovations.
Howard is also advancing plans to revitalize Howard University Hospital and is set to receive $100 million in federal funding for the project. The 600,000-square-foot project – part of the University's campus master plan – would establish a 225-bed teaching hospital with a Level 1 Trauma Center on the University's campus. Howard University Hospital is a major employer in the region and serves as a training center for half of the nation's Black doctors.
About Howard University 
Founded in 1867, Howard University is a private, research university that is comprised of 14 schools and colleges. Students pursue more than 140 programs of study leading to undergraduate, graduate and professional degrees. The University operates with a commitment to Excellence in Truth and Service and has produced one Schwarzman Scholar, three Marshall Scholars, four Rhodes Scholars, 12 Truman Scholars, 25 Pickering Fellows and more than 165 Fulbright recipients. Howard also produces more on-campus African American Ph.D. recipients than any other university in the United States. For more information on Howard University, visit www.howard.edu.