WASHINGTON, D.C. — Tuesday evening (April 25), U.S. Vice President Kamala Harris (B.A. '86) addressed DC-area students during the Fighting for Reproductive Rights event in Howard University's Cramton Auditorium.  
Her remarks at the reproductive rights rally were her first since the announcement of her 2024 reelection bid alongside President Joe Biden. 
"Fundamental freedoms are under attack in our country today, and it is the tradition of this University, and dare I say the tradition of our country, to fight for freedom, to fight for rights, to fight for the ability of all people to be who they are and make decisions about their own lives and their bodies," Harris said.  
"Fighting for Reproductive Rights," co-sponsored by NARAL Pro-Choice America, EMILYs List, Planned Parenthood Action Fund, and the American Civil Liberties Union (ACLU), was held in the aftermath of the stay granted by the U.S. Supreme Court in Alliance for Hippocratic Medicine v. FDA, which temporarily blocked a lower court's ruling restricting access to mifepristone, the medication used in medication abortion. 
Vice President Harris was introduced by Brittany House (B.S. '12), a patient advocate with the Planned Parenthood Action Fund. House shared her journey and the myriad reasons she once chose to obtain a medical abortion. Now a Master of Public Health candidate, House hopes to soon become a gynecologist, and said her sights are set on being appointed to U.S. Surgeon General.  
"Banning abortion affects everyone, and the sooner people realize that, the better," House said. 
Taking the stage around 7:00 p.m., Vice President Harris addressed the packed and lively auditorium for nearly 25 minutes, first reminiscing on her days as a Howard student before decrying the Supreme Court's decision to overturn Roe v. Wade in June 2022. 
"In our recent memory, the highest court of our land – Thurgood's court – took a constitutional right that had been recognized from the people of America, from the women of America," Harris said. 
Vice President Harris emphasized the stay granted last week is temporary, and if the Supreme Court stands by the lower court's ruling, "it will in effect be a national ban on abortion." She further cautioned that the attack on reproductive rights is emblematic of a broader extremist agenda, asking the audience to understand "with a sense of clarity and purpose" the stakes of the moment. "When you love something, you fight for it, and we will fight for the ideals of this country," Harris concluded.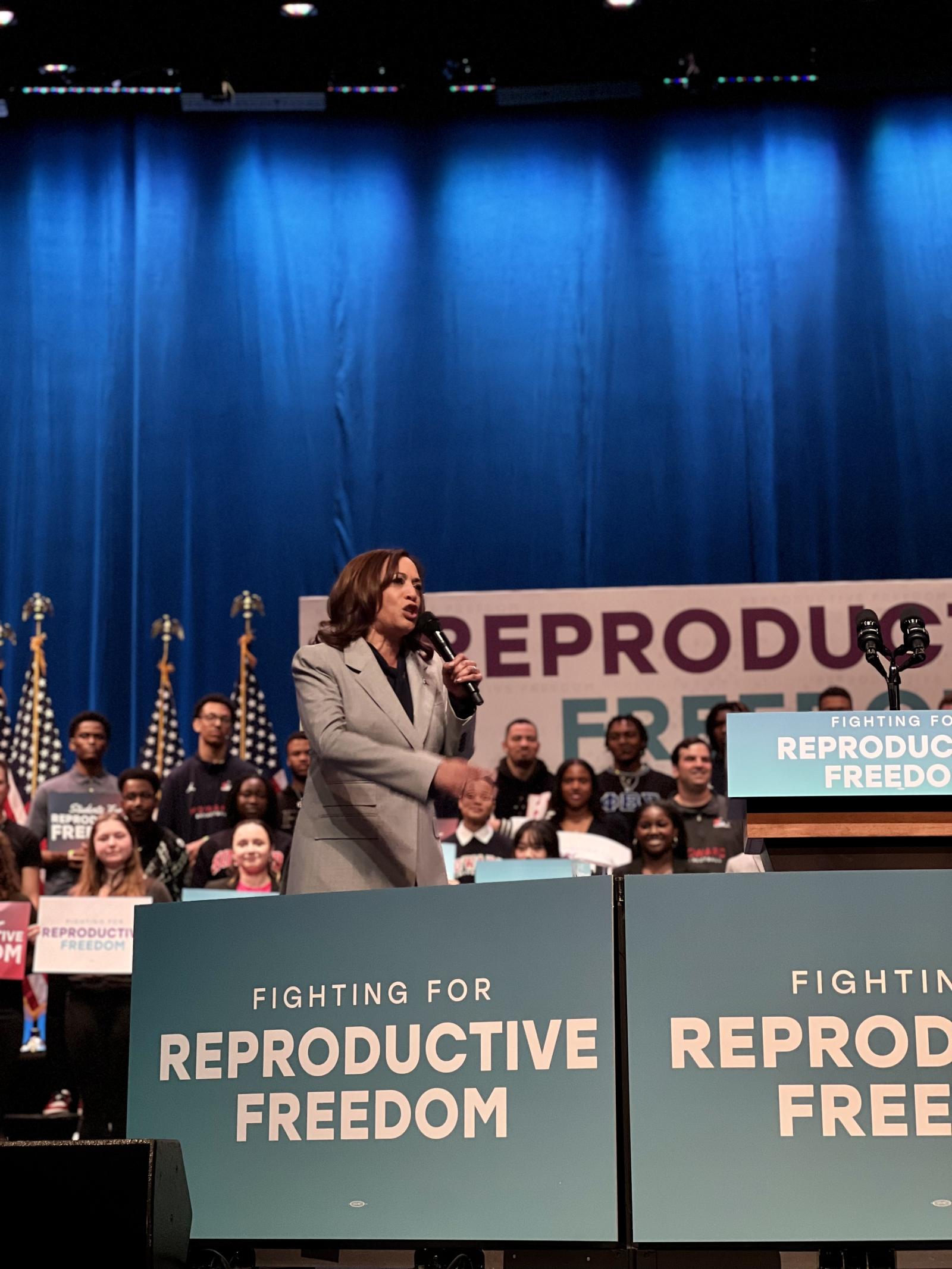 Programming began with a performance by the University's Quad Step Team. Additional speakers included Angel Danielle Sobtejou, president of Planned Parenthood Generation Action, Howard University chapter; Deirdre Schifeling, ACLU national political director; Laphonza Butler, EMILY's List president; Alexis McGill Johnson, Planned Parenthood Action Fund president and CEO; Mini Timmaraju, NARAL Pro-Choice America president; and Serina Floyd, board certified OB/GYN and abortion provider. 
Students found the rally inspiring and were invigorated by Vice President Harris' visit to campus. "[Harris] is a powerhouse," said Rhea Douglas, a sophomore engineering major at Howard. "It was great seeing her and hearing all her inspirational quotes." 
Riana Battick, a junior computer science major from Jamaica, would like for these events to spur more compassion and empathy for others. "I hope that people can see that even if something is not affecting them personally, it is affecting a lot of other people, and everyone has a different circumstance that might be really bad," she said. "It's good to be involved, even if it doesn't affect you."
###
About Howard University 
Founded in 1867, Howard University is a private, research university that is comprised of 14 schools and colleges. Students pursue more than 140 programs of study leading to undergraduate, graduate and professional degrees. The University operates with a commitment to Excellence in Truth and Service and has produced two Schwarzman Scholars, four Marshall Scholars, four Rhodes Scholars, 12 Truman Scholars, 25 Pickering Fellows and more than 165 Fulbright recipients. Howard also produces more on-campus African American PhD. recipients than any other university in the United States. For more information on Howard University, visit www.howard.edu.