WASHINGTON – Descendants of the men involved in the tragic Tuskegee Syphilis Study shared their stories during a major public awareness event at Howard University. The event comes amid the national effort to overcome COVID-19 vaccine hesitancy and the need to confront the sources of lingering distrust of medicine by Black Americans.
The Tuskegee Study, whose original title was "The Tuskegee Study of Untreated Syphilis in the Negro Male," continues to have an important impact on perceptions and trust in medicine to this day, but many people do not know the full story. To shed light on the study, the event showcased "Legacy," a new short-form documentary that not only tells the story of the study but also includes messages from descended families that encourage people to get the COVID-19 vaccine.
According to recent data from the Kaiser Family Foundation, nearly a quarter (22 percent) of Black Americans are taking a "wait and see" approach to the COVID-19 vaccines. The event at Howard University featured panel discussions that included Omar Neal, a former mayor of Tuskegee, and Leo Ware, whose grandfathers were in the study. It also featured Lillie Tyson Head and Howard alumna Carmen Head Thornton, who spoke lovingly about family member Freddie Lee Tyson who was in the study. All of their voices were also heard in the short film.
The men in the Tuskegee study "were our fathers, grandfathers, uncles and cousins. Unfortunately, until recent years, references to their humanity were not detailed in medical research or academic writings, and some information and beliefs about the study continue to be unknown, ill-perceived and misleading," Lillie Tyson Head said. "We should not allow anyone who needs and wants a COVID-19 vaccine to not have their questions answered – or be denied the opportunity to get it, like the men in the U.S. Public Health Service Syphilis Study at Tuskegee. We must protect ourselves and each other."
The U.S. Public Health Service Syphilis Study at Tuskegee was conducted from 1932-1972 by the United States government. During the study, more than 600 Black men in Tuskegee, Alabama were made to believe that they were receiving free medical care – when they, in fact, were not receiving treatment. More than 100 men died from syphilis or its complications by the end of the study.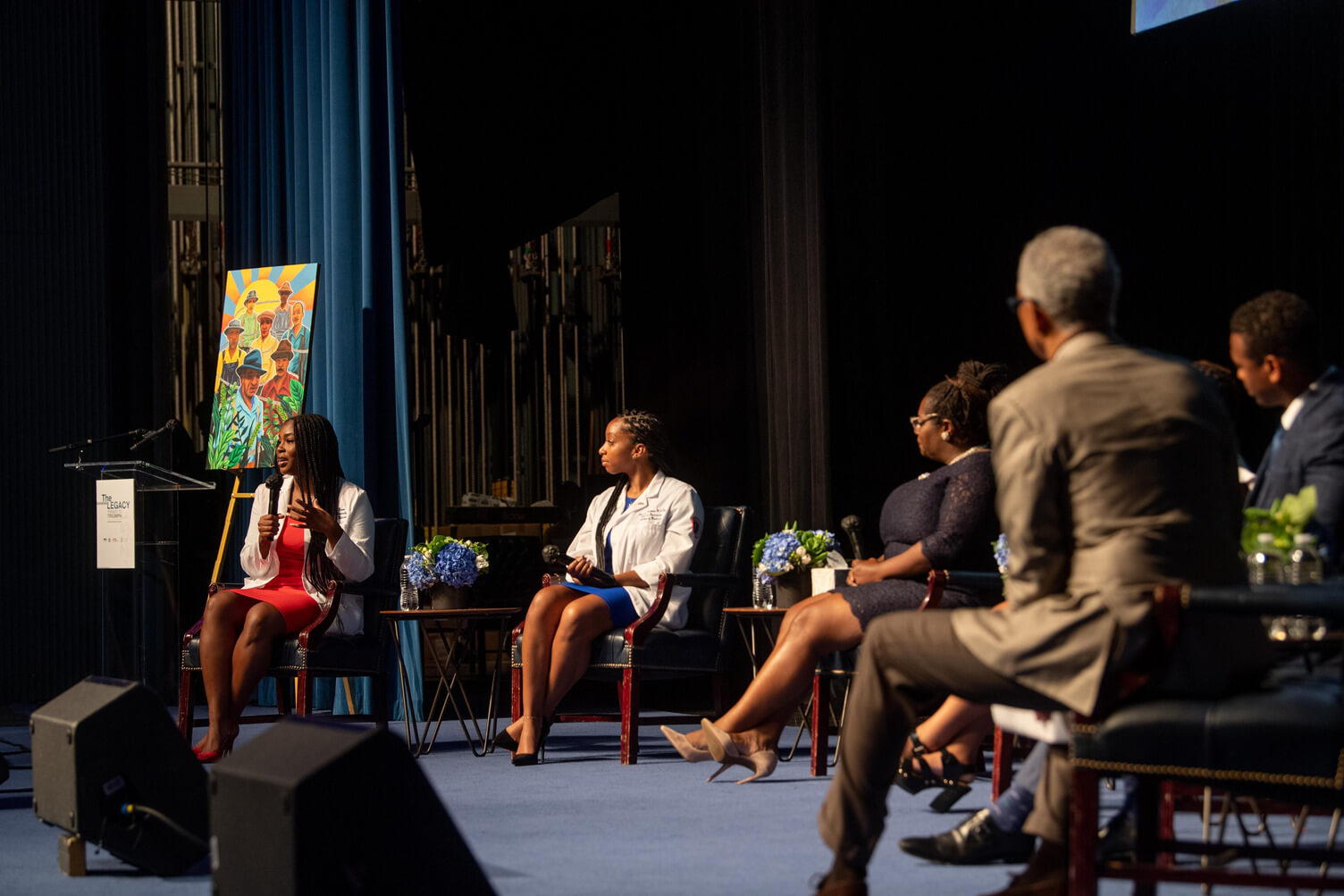 The Howard event was organized as part the part of the COVID-19 Vaccine Education Initiative and the "It's Up to You" campaign from the Ad Council COVID Collaborative and the Joy Collective. The short film was created by director Deborah Riley Draper, who also led a panel at the Howard event. Two Howard University College of Medicine students, Jasmine Thompson and Micah Brown, also participated in a panel and reflected on their experience.
"It has become imperative that I create an environment where my patients feel comfortable to not only state the facts as it pertains to specific statistics surrounding COVID, but to debunk myths and to meet the patients where they are and dive deeper into why they feel hesitant," said Brown.
Dr. Reed Tuckson, a member of the Black Coalition Against COVID-19 and a trustee at Howard University, appeared in the documentary and also participated in the Howard event. Tuckson connected the Tuskegee study to issues related to COVID-19 vaccine hesitancy today.
"As a result of what happened to these men, it changed the course of American clinical research," Tuckson states in the documentary. "It created the institutional review boards, which is a very important intervention, which says there must be people who can examine every study that is done on human beings in this country."
The Howard event was attended by Howard University Hospital Chief Executive Anita Jenkins; Dr. LaQuandra S. Nesbitt, who serves as the director of the District of Columbia department of health; and Dr. Cameron Webb, a senior policy adviser for COVID-19 equity at the White House. 
More information can be found at www.GetVaccineAnswers.org/Legacy.
###
About Howard University
Founded in 1867, Howard University is a private, research university that is comprised of 14 schools and colleges. Students pursue more than 140 programs of study leading to undergraduate, graduate and professional degrees. The University operates with a commitment to Excellence in Truth and Service and has produced one Schwarzman Scholar, three Marshall Scholars, four Rhodes Scholars, 12 Truman Scholars, 25 Pickering Fellows and more than 165 Fulbright recipients. Howard also produces more on-campus African-American Ph.D. recipients than any other university in the United States. For more information on Howard University, visit www.howard.edu.
Media Contact: Sholnn Freeman, sholnn.freeman@howard.edu