On her desk, Toyin Tofade keeps a gift that she received from a student in 2017, at the end of her first year as dean of Howard University's College of Pharmacy. The gift is bound in its original wrapping paper, its identity still unknown five years later. 
Accompanying the gift is a long, handwritten letter praising Tofade for her "eagerness to speak to students [and] relentless engagement." In closing, the letter writer says, "You are a stunning example of leadership, and I am so thankful for your time and energy. Make no mistake: This job is a big one. But I honestly can't wait to see what you do next. You truly are a ray of sunshine." 
"I felt like I [hadn't] earned it yet," Tofade says. "I didn't open [the gift] as a reminder that I'm here to serve the students, and I must keep on making them top of mind, top of heart, top of focus in every decision that I make."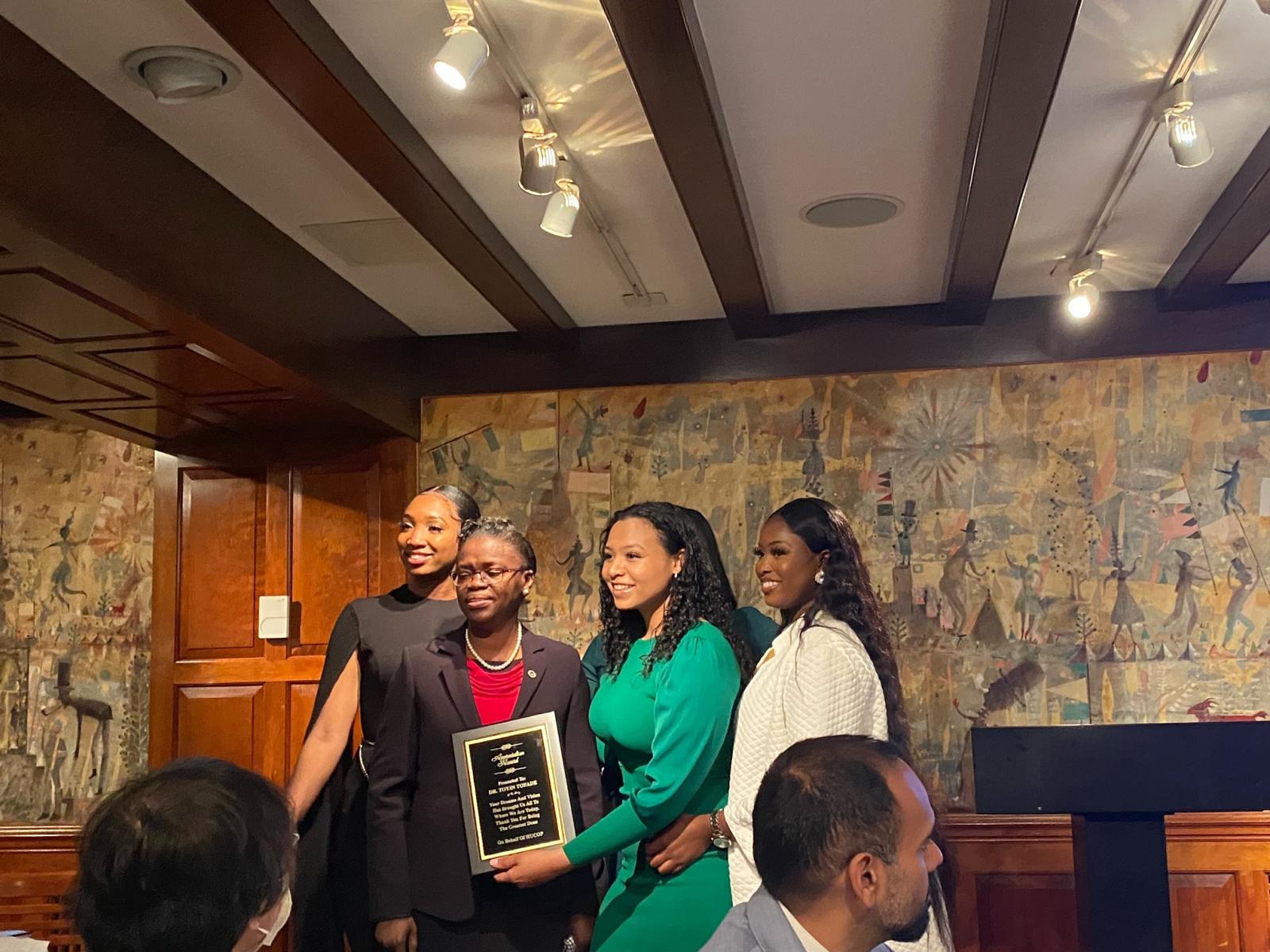 During her six-year tenure as dean, which will come to an end in June as she leaves Howard to become the president of Albany College of Pharmacy, Tofade has prioritized expanding opportunities for her students. 
When she took over the job, Tofade said that she "would like Howard University to have a partnership in every single continent of the world. … Last year, we were able to accomplish that goal." 
The College of Pharmacy now has partnerships on every continent (except Antarctica), in countries like Nigeria, Taiwan, Lebanon, Ireland, Jamaica and more. By virtue of these partnerships, Howard students can participate in a clinical pharmacy rotation in a different setting than they would encounter in America, teaching them an array of skills and exposing them to novel challenges. At the program in Ghana, for instance, students "experience clinical pharmacy practice in a limited resource setting, [teaching] them to be creative, open-minded, adaptable, and flexible – skills that are vital in the success of their careers," according to the College of Pharmacy's website. 
Tofade says that Howard isn't just training pharmacists – but cultivating leaders.  
"Anybody can produce a pharmacist. But to raise leaders takes a different kind of environment," Tofade says. "We are raising leaders here. [Our students and faculty] do great things around the nation. The name of Howard has really gone far and wide, not just locally in the district, [but] nationally and internationally." 
Tofade says a common misconception is that pharmacists just prepare drugs. But in reality, pharmacists can play a critical role in the health of a patient by ensuring physicians administer the right drugs at the right moment in the proper dosage. Pharmacists often have a unique opportunity to cultivate relationships with patients, giving pharmacists insight into the condition of patients that other health care providers might not have an opportunity to see. 
Beyond her technical role as dean, Tofade believes she serves as a coach for her students, encouraging them to believe in themselves so they can reach their full potential. Tofade became a certified professional coactive coach in 2009.  
"That's my joy, seeing people flourish," Tofade says. 
Toward the end of the Spring 2022 semester, her final one as dean, Tofade was meeting with a group of students, when they unexpectedly presented her with an appreciation award for "being the greatest dean." 
"I was brought to tears when I saw it," Tofade says.  
Receiving that award at the end of her tenure compelled Tofade to reflect on whether she fulfilled her oath to serve the students to the best of her abilities as dean – and whether she earned the right to open the gift she received from her student back in 2017. 
With only a month left of being the dean of the College of Pharmacy, Tofade says, "When I finish, I think I will open it."