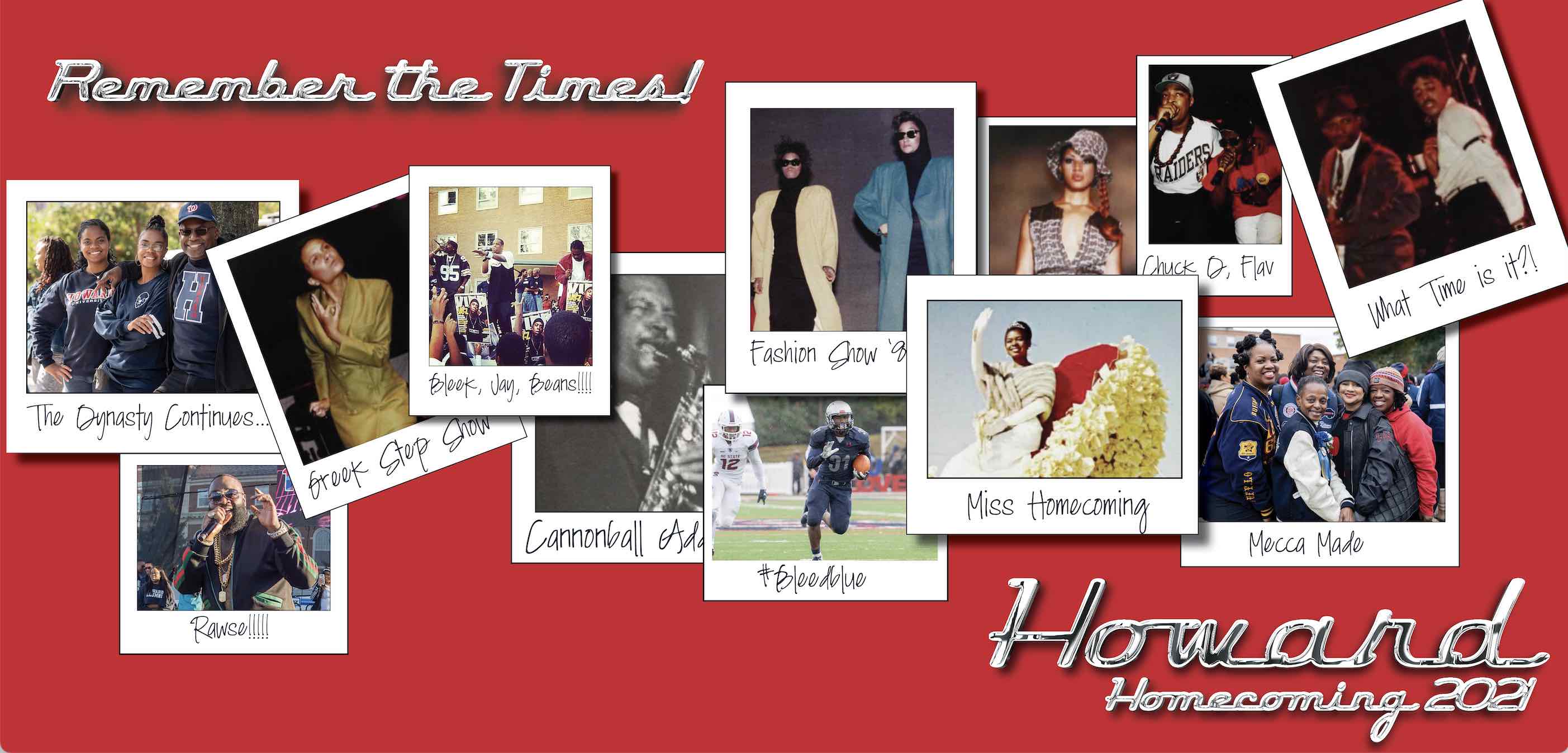 WASHINGTON – Howard University presents "Remember the Times" as the theme for the 2021 Howard Homecoming festivities, scheduled October 16-24, 2021. As a safety precaution, this year's Homecoming in-person events will be closed to alumni unless otherwise specified. This year's Homecoming will feature a variety of student-centered events with limited in-person capacity and options to view events via a livestream. A variety of special alumni events will also be hosted virtually.
"Howard is calling on students, alumni, faculty and staff to remember their first Homecoming experience, their first Homecoming football game and fond University experiences," said Howard University President Wayne A. I. Frederick. "Homecoming is an ideal opportunity to recommit ourselves to navigating the current social landscape and building toward Howard's future."
This year's Homecoming will feature the Bison Madness pep rally, the Fashion Show, Greek Life Step Show, a modified Homecoming Concert, the annual Lavender (LGBTQ+) Reception, and Homecoming Day of Service events. In July, Howard University announced a modified Homecoming plan that placed large-scale events on hiatus due to COVID-19-related public health conditions.
As a safety precaution, individuals will be required to download the Bison SAFE app and complete the daily COVID-19 self-assessment prior to entering any Homecoming events held in-person. Bison SAFE is the official safety app of Howard University. The app pushes important safety alerts directly to your device and provides instant access to campus safety resources. Click here to download the Bison SAFE app and view instructions for completing the daily self-assessment.=
"This year, our focus is on ensuring that Howard students have the opportunity to safely experience Homecoming while providing our alumni with creative opportunities to participate in Homecoming events virtually," said Vice President of Student Affairs Cynthia Evers, Ed.D. "The capacity restrictions we've put in place are meant to ensure the safety of the entire community. We must remain vigilant to changing health conditions due to COVID-19. Please be reminded that if health conditions worsen or the large group gathering guidelines from the D.C. government or the CDC become more restrictive, we may have to make changes to our plans."
For complete list of events, go to homecoming.howard.edu
For specific details about ticket sales and livestreaming information, check newroom.howard.edu and homecoming.howard.edu frequently throughout the week of Homecoming. Questions about homecoming events should be directed to bisonhomecoming@howard.edu
###
About Howard University
Founded in 1867, Howard University is a private, research university that is comprised of 14 schools and colleges. Students pursue more than 140 programs of study leading to undergraduate, graduate and professional degrees. The University operates with a commitment to Excellence in Truth and Service and has produced one Schwarzman Scholar, three Marshall Scholars, four Rhodes Scholars, 12 Truman Scholars, 25 Pickering Fellows and more than 165 Fulbright recipients. Howard also produces more on-campus African American Ph.D. recipients than any other university in the United States. For more information on Howard University, visit www.howard.edu.
Most events will not be open to media. Media inquiries should be directed to Sholnn Freeman, sholnn.freeman@howard.edu.