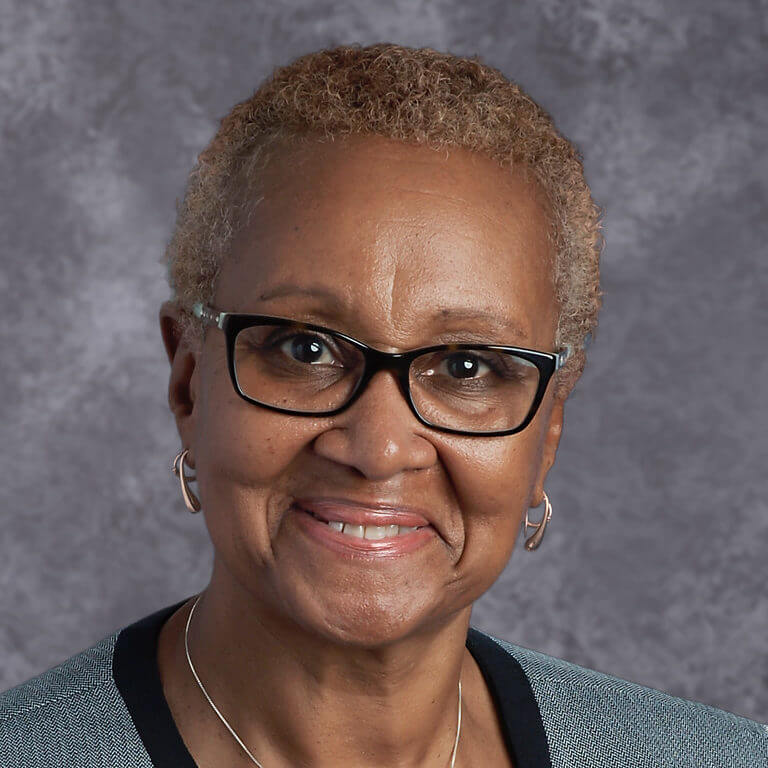 WASHINGTON – Principal of Howard University Middle School of Mathematics and Science (MS)2 ) Kathryn Procope has been selected as one of three principals nationwide to be honored as Digital Principal of the Year by the National Association of Secondary Schools Principals (NASSP). The Digital Principals of the Year (DPOY) program is awarded annually to three member principals in schools that cover any subset of grades 6–12. Honorees are selected based on the International Society for Technology in Education Standards for Administrators and the applications of those skills to further the framework for school improvement. 
"On behalf of the entire Howard University community, it is my pleasure to extend congratulations to Principal Kathryn Procope on the achievement of Digital Principal of the Year," said President Wayne A. I. Frederick. "Under her guidance, our middle school students are thriving and excited about possible futures in STEM-related fields. Principal Procope brings an excitement and enthusiasm to her work that radiates directly to the staff and students. I am appreciative of her leadership and service."
Principal Kathryn Procope says she believes in transforming the way children learn. At (MS)2, students use technology to experience knowledge and expand on what they already know in a safe and secure classroom. The blended learning experience provides students with opportunities to supplement teacher instruction with online enrichment. Principal Procope ensures that all students have regular check-ins with mentors to set short-term and long-term goals, and develop plans to achieve the goals. 
NASSP indicates that in the wake of the education community's shift to remote and virtual learning solutions, the importance of leveraging technology in education cannot be overstated. Through the DPOY program, NASSP honors principals who exhibit bold, creative leadership in their drive to harness the potential of new technologies to further learning goals. 
"The visionaries at Howard University founded and chartered our middle school for the express purpose of creating a pipeline in STEM fields beginning in Middle School," Procope explains. "Since our inception in 2005, we have combined educational technology with socially responsive pedagogy as we prepare our young people to be critical thinkers and game-changers in the world.  It continues to be my honor and pleasure to facilitate the extraordinary in our 'Junior Bison.'"
The honor for Principal Procope comes on the heels of (MS)2 seeing success with distance learning through the utilization of "Summit Learning," an online learning platform that gave students the ability to set goals, work with mentors, submit assignments and receive feedback. Since its implementation, students there have grown to understand how to communicate and learn effectively online – a skillset that has recently increased in importance, amid the COVID-19 pandemic and distant learning guidance for students and education professionals of all ages. 
Parents and teachers of (MS)2 use The Remind text messaging service to keep in touch daily, while the Summit Learning Parent Portal provides parents insight on their child's academic progress and offers methods to assist children at home. Principal Procope also works with community partners to supply internet access to families. On the first day of distance learning, 87 percent of the students accessed Summit Learning. Currently, daily student access to the platform is at 92 percent.
For more information on the Howard University Middle School of Mathematics and Science, visit https://hu-ms2.org/. 
###
About Howard University
Founded in 1867, Howard University is a private, research university that is comprised of 13 schools and colleges. Students pursue studies in more than 120 areas leading to undergraduate, graduate and professional degrees. The University operates with a commitment to Excellence in Truth and Service and has produced one Schwarzman Scholar, three Marshall Scholars, four Rhodes Scholars, 11 Truman Scholars, 25 Pickering Fellows and more than 165 Fulbright recipients. Howard also produces more on-campus African-American Ph.D. recipients than any other university in the United States. For more information on Howard University, visit www.howard.edu.
About the National Association of Secondary Schools Principals
The National Association of Secondary School Principals (NASSP) is the leading organization of and voice for principals and other school leaders across the United States. NASSP seeks to transform education through school leadership, recognizing that the fulfillment of each student's potential relies on great leaders in every school committed to the success of each student. Reflecting its long-standing commitment to student leadership development, NASSP administers the National Honor Society, National Junior Honor Society, National Elementary Honor Society, and National Student Council. For more information, visit https://www.nassp.org. 
Media contact: Ramzey Smith, Office of University Communications, ramzey.smith@howard.edu