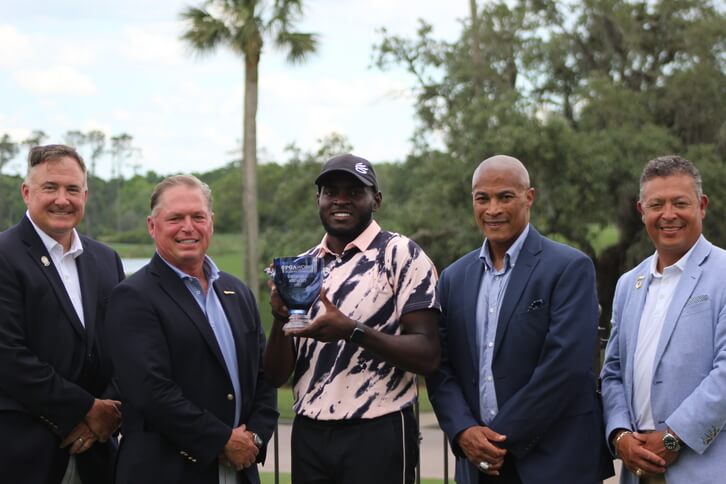 Dear Howard University Community,
I would like to offer my congratulations to Howard University student Gregory Odom Jr., an inaugural member of the Howard University golf team, who won the men's Division I individual title at the Professional Golf Association (PGA) Works Collegiate Championship on Thursday! While this moment is certainly an auspicious occasion, it is also bittersweet upon realizing that Greg accomplished this milestone only three days after the death of his father, Gregory Odom Sr. I extend my deepest condolences and admiration to him for his fortitude and resilience.
Odom, who transferred to Howard from the University of Memphis, has made our entire community proud by displaying the perseverance that has become hallmarks of Howard Bison athletics as well as academics. At a time when no one could have faulted him for a poor performance, he managed to find the strength buried amidst his grief to not only excel, but to emerge victorious. This was the first time Howard has ever participated in this tournament. Once again, we must express our gratitude to basketball star Stephen Curry for his support in reestablishing the Howard golf team and generosity in funding the team for its first six seasons. Kudos to Coach Sam Puryear, the athletics department and the entire golf team whose collective efforts helped to make this inaugural season noteworthy and we're excited for the future of golf at Howard University.
Odom began learning the game of golf from his father when he was four years old. Throughout the tournament at the legendary TPC Sawgrass golf course in Florida, Odom says that he often thought about his father en route to shooting a championship best four-over par, an homage to his age when his father taught him how to play the game. Clearly, he relied on this fatherly guidance to win at last week's tournament. And I have no doubt that his father's lessons will serve him well throughout what is shaping up to be a promising career and an impactful life. He reminds us that we can always rely on the education we receive, especially in difficult moments, to rise above our challenges.
Mr. Odom, on behalf of the entire Howard University community, we are tremendously sorry for your loss. We hope that the championship you won will enable you to remember the everlasting power of your father's legacy.
Best wishes to the Odom family during this difficult time.
Excellence in truth and service,
Wayne A. I. Frederick, M.D., MBA

Charles R. Drew Professor of Surgery

President