Food insecurity. The mention of it conjures up feelings that range from empathy and disbelief to anger and frustration. Howard University students are not immune to the realities of food insecurity, and limited access to sufficient or quality food that meets their basic needs is a concern for Howard administrators and leaders.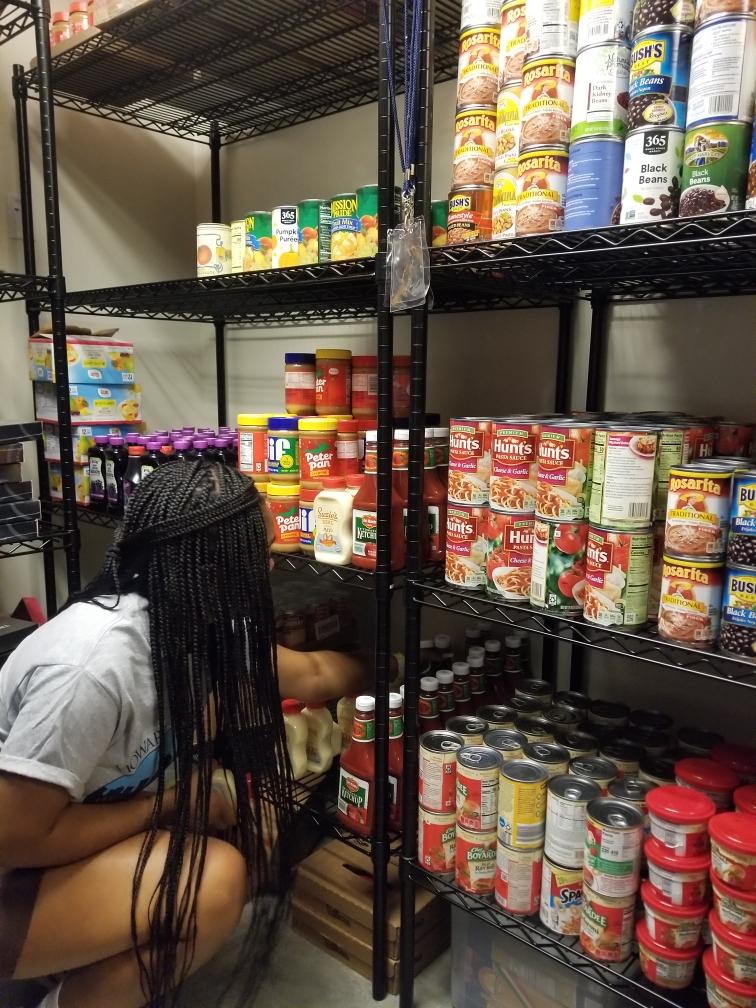 In 2018, the Office of the Vice President for Student Affairs established a food pantry on campus known as TheStore@HU to help support the growing needs of students. Located in the lower level of College Hall South residence hall, the pantry currently serves more than 500 students who are experiencing temporary food insecurity. While it primarily offers non-perishable canned and pre-packaged food items, it also provides basic hygiene items such as toothpaste, soap, and deodorant. 
Paulette Porter, an administrative assistant in the vice president's office for student affairs, manages the day-to-day operations of the food pantry, making sure it is staffed and well stocked with goods. Occasionally, she can also be found distributing snacks to students from the HU CareCart, a portable unit that serves as a less formal pop-up store on wheels to provide light snacks for students.
There has been a spike in numbers for accessing the pantry that includes graduate students."
As one of Howard's longest-serving employees, Porter has spent the past 45 years working with students in various roles across several departments, including campus life, residence life, student services, and counseling.
Over the years, she has witnessed firsthand how the needs of students have evolved. "Now that we are in full operation and students have returned to campus, there has been a spike in numbers for accessing the pantry that includes graduate students," she says.
Three days a week, Porter spends her afternoons at the pantry fulfilling student requests. She also relies on volunteers to help staff and stock the shelves there. "I'm so thankful for the volunteers who render services to the pantry, both students and staff. It is nearly impossible to maintain the pantry without a steady flow of volunteers to assist with keeping up with inventory, receiving, stocking, and purging expired or unwanted items," she adds.
DeeAndrea Carter, a sophomore from Jacksonville, Florida majoring in psychology and sociology, began volunteering at the pantry last Spring and spends between five to 10 hours a week helping fellow students. She also has a personal connection to food insecurity. "At my college before Howard, I was a patron of that institution's food pantry. I remember how much I appreciated them," she says. 
I have not run across one student who feels embarrassed about using the pantry."
While the needs among students have grown as a result of the pandemic, rising food costs and transportation costs, Porter believes there are likely more students who could benefit from utilizing it. "The pantry receives support through donated items from area food banks, as well as corporate sponsors, student groups on campus, and occasionally individuals in the community.
Every student who accesses the pantry completes a needs-assessment survey, which helps to ensure the pantry is properly stocked. Additional items of need that have a longer shelf life are purchased by student affairs. Recently, Howard University's food service provider Sodexo showed its support by donating 500 meal cards for student affairs to distribute to students who are experiencing food insecurity. Its generosity allows students who may not have a meal plan at all to enjoy meals in the dining hall, like other students do. "Eating there makes you feel like you are part of the campus community," Porter says.
As someone who previously benefitted from a food pantry and now volunteers to help others, DeeAndrea says more students should be taking advantage of it. "There are so many students who are in need of the services offered, but do not know about it."
Bimal Ghimire, an international computer science graduate student from Nepal who lives with his wife and two young children in Fairfax, Virginia, visits the pantry twice a month to help support his family's needs. "It is nice that students like me are able to get help this way. Other students who might find themselves in a crisis need to know about it. Everyone is so kind to me when I go there," he says.
According to Porter, there is a common misconception that students feel stigmatized by accessing the services of the food pantry. "Our students proudly use the pantry and as they shop, we talk about it. I have not run across one student who feels embarrassed about using the pantry," she says.
DeeAndrea takes great pride in her role as a pantry volunteer and looks forward to her time spent there each week. "My favorite part is to interact with the people who come by, whether they receive services or just pop in to say hello. It feels great to be a part of such a kind and interactive community."
The primary criteria for students to access the pantry is that they must be currently enrolled at Howard. A request form on the student affairs webpage must be completed. Once it is processed, students will be contacted to schedule an appointment to fulfill their requests for items.
As food insecurity needs continue to grow, Porter is hopeful that a new space might be on the horizon—one that is bigger, easily accessible, more visible to students on campus, and offers more fresh produce. Regardless of where the pantry is located, she is sure to be found there. "I find the pantry to be a ministry. I get pleasure in knowing that we're impacting lives and assisting students who are in need," she said.
If you are interested in donating items or partnering with TheStore@HU, please contact Ms. Paulette Porter at pporter@howard.edu or call 202-806-2100.
Hours of operation for TheStore@HU pantry are:
Monday, Wednesday, Friday | 3-4:30 p.m.
Tuesday and Thursday | Upon request only
Saturday and Sunday | Closed