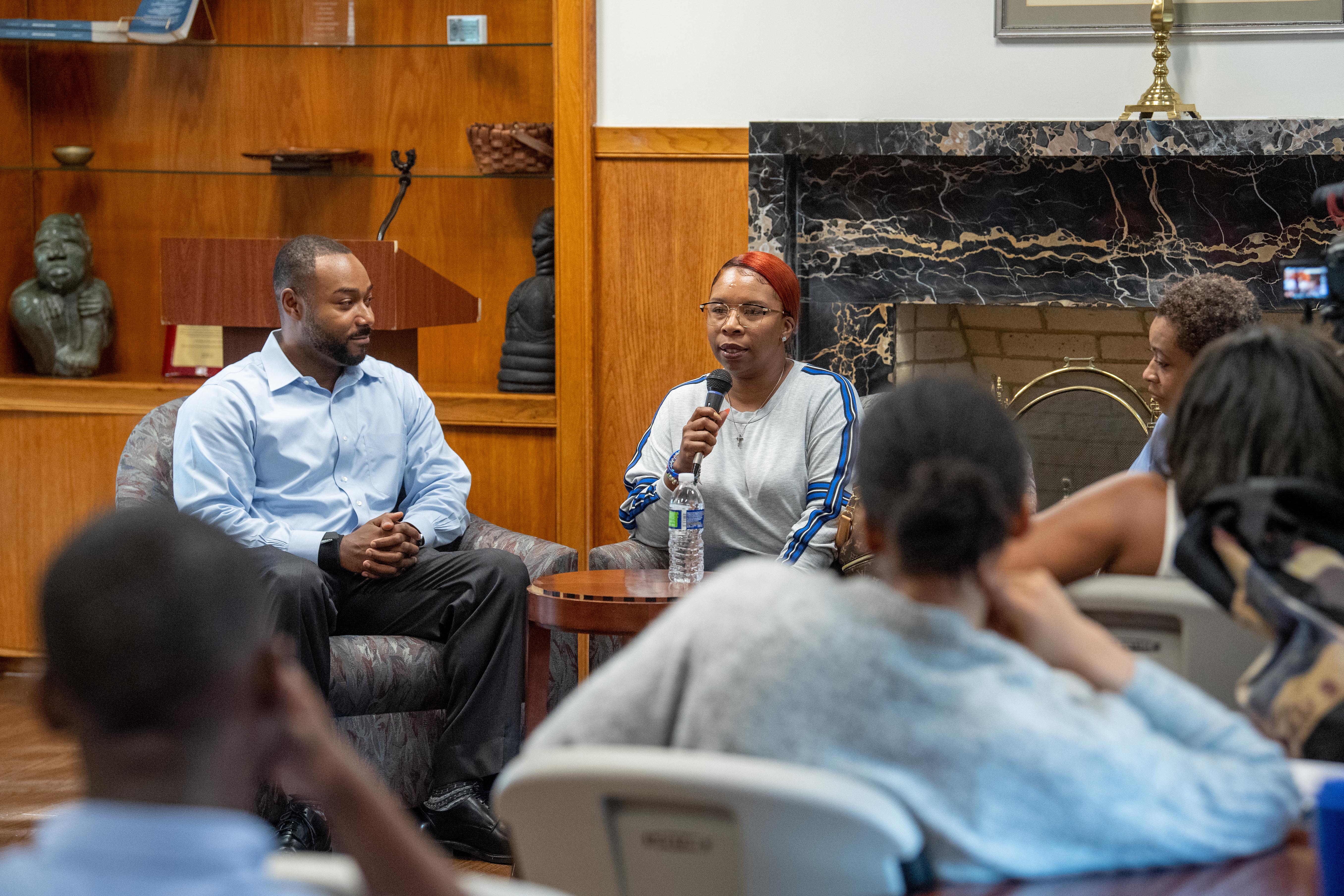 WASHINGTON (October 15, 2018) — Lezley McSpadden, the mother of Michael Brown who was killed by police in Ferguson, Mo. in 2014, is partnering with the Thurgood Marshall Civil Rights Center at the Howard University School of Law. The focus of her work with the center: passing legislation that provides mental health services to families and communities affected by police violence.
"We are working on introducing the Mike Brown Bill," says Justin Hansford, Executive Director of the Thurgood Marshall Civil Rights Center and Associate Professor at Howard Law. "With that, we are looking to provide mental health services, specifically for those impacted by police violence."
McSpadden spoke to students at the law school about her experience dealing with grief, working with elected leaders in Ferguson, and the Mike Brown Bill that she is developing in partnership with the Center.
"On August 10, 2014, the day after my son was killed, I got a call from a detective," says McSpadden. "He told me the person who shot my son would be given two psychological tests and return to work. Never did he ask me about my psychological state. I was at a loss for words."
McSpadden went on to describe her own experience with grief after the loss of her son.
"How was I going to get up the next day, take a shower, put one foot in front of the other? I felt like I couldn't think straight, like I was dealing with mental illness. I realized that this was not a physical fight but a mental one, and that I was going to have to get my mind right. But I wonder about those kids who stood with me out there for four hours who did not get any mental health services. I'm doing this, not only for my three kids. I'm doing this for all of the children in Ferguson."
McSpadden also described her experiences interacting with city officials in Ferguson who were unwilling to be accountable to the many Ferguson residents and young people who demanded justice for her son. Her request that the city take responsibility for providing mental health services to community members was also denied. Yet, McSpadden sees opportunity for Ferguson and other parts of the country, and recently announced her candidacy for a seat on the Ferguson City Council.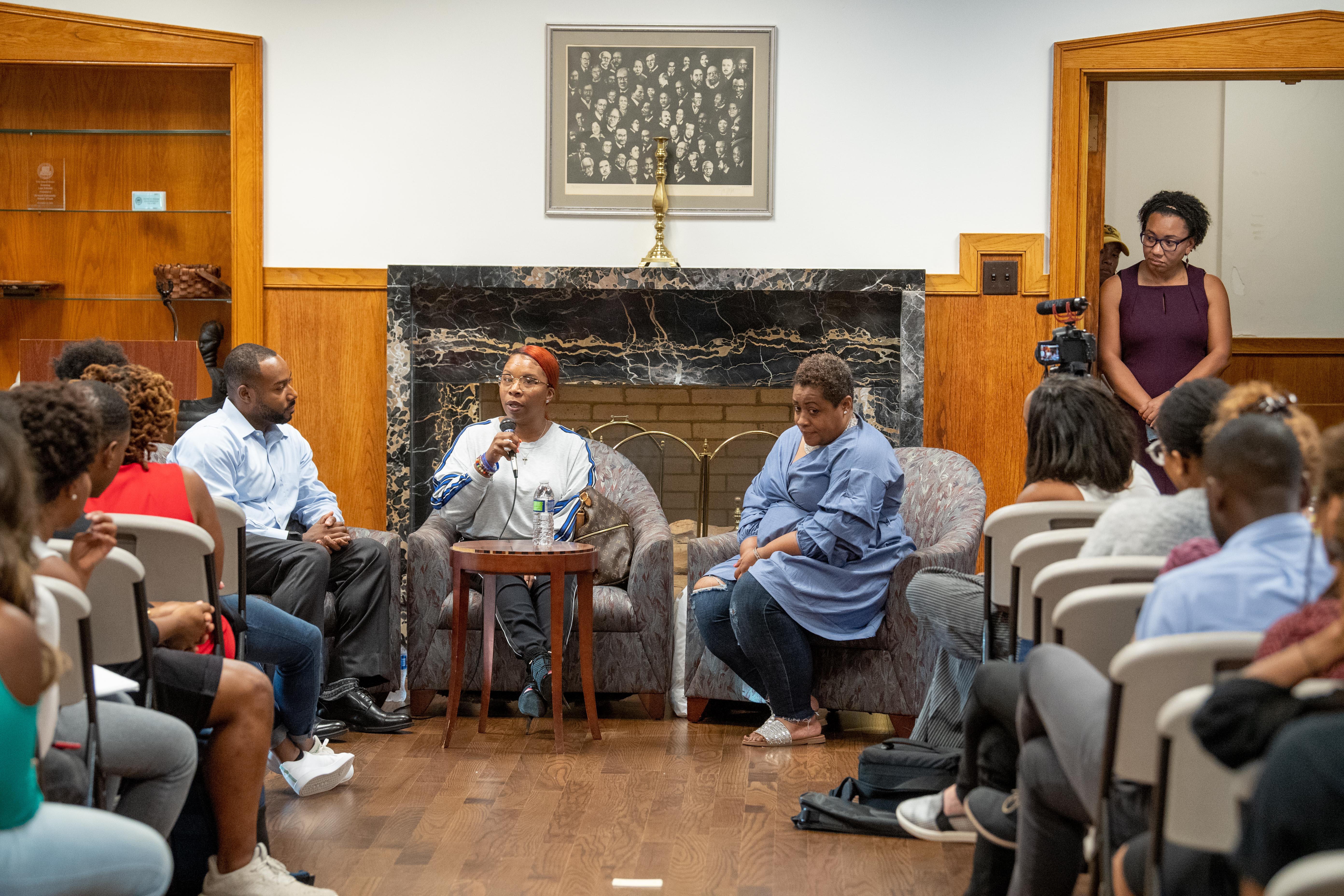 "I've had several meetings with Ferguson leaders and it looks like people have pretty much given up- there's no hope there," says McSpadden. "A lot of the people in those positions today were in positions when this happened to my son. We have a new possibility to bring change and it's critical to be aware of the issues of policing around the country. So, I decided to run."
Students at the law school asked questions and expressed their gratitude for McSpadden's leadership. Some of the students coming from city's like Chicago and Baltimore, cities that are home to some of the most high-profile instances of police killings, expressed appreciation for McSpadden's work with the center and her analysis of police brutality as a public health issue and mental health crisis.
"I really like what was said about police violence being a mental health and public health epidemic," says Ariana Taylor, third year law student. "I'm from the south side of Chicago and I believe that it is an epidemic. I'm really grateful for things like the Mike Brown Bill and I hope it gets passed."
McSpadden, who is also president of the Michael Brown Foundation, officially announced her candidacy for Ferguson City Council at a press conference in August. In addition to the Mike Brown Bill, her priorities will include community policing and economic equality.
# # #
About Thurgood Marshall Civil Rights Center
The Thurgood Marshall Civil Rights Center will celebrate and extend the legacy of Howard University School of Law as the epicenter for civil rights litigation and policy work since the early 20th century. Howard University School of Law is world renowned for its reputation as the law school that birthed the legal strategy behind Brown v. Board of Education. The Civil Rights Center will be dedicated to community-based litigation, policy work, and advocacy and will build on the work of the law school's existing Civil Rights Clinic. The Center will also put on world class academic conferences and establish an online platform that will become a repository for cutting-edge legal scholarship in the field of civil and human rights. The law school will host a formal grand opening of the Thurgood Marshall Civil Rights Center in the spring of 2019.
About Howard University
Founded in 1867, Howard University is a private, research university that is comprised of 13 schools and colleges. Students pursue studies in more than 120 areas leading to undergraduate, graduate and professional degrees. The University operates with a commitment to Excellence in Truth and Service and has produced four Rhodes Scholars, 11 Truman Scholars, two Marshall Scholars, one Schwarzman Scholar, over 70 Fulbright Scholars and 22 Pickering Fellows. Howard also produces more on-campus African-American Ph.D. recipients than any other university in the United States. For more information on Howard University, visit www.howard.edu.
Media Contact: Misha Cornelius, misha.cornelius@howard.edu