(Photo: Frederick Douglass' home on Cedar Hill)
We know where they studied, worked, taught, researched and made greatness, but where did Howard's esteemed alumni and faculty sleep, dine, entertain and call home during the New Negro Renaissance of the 1920s and '30s? Take a walk through history around Washington, D.C. to visit the homes of Howard's greats – many of which still stand as private residences. If you're not in the Washington area, you can still put on some virtual sneakers and visit through Google Maps (we've included links to some interior photos from recent home sales).
Sterling A. Brown residence, 1222 Kearney St. NE
The home of Washington's first poet laureate, Sterling A. Brown and his wife, Daisy Turnbull Brown, moved here in 1935. He taught in Howard's English department for 40 years, inviting students to this house to talk art and politics. As a native Washingtonian, he was part of the New Negro Renaissance of the 1920s and the Black Arts Movements in the '60s and '70s.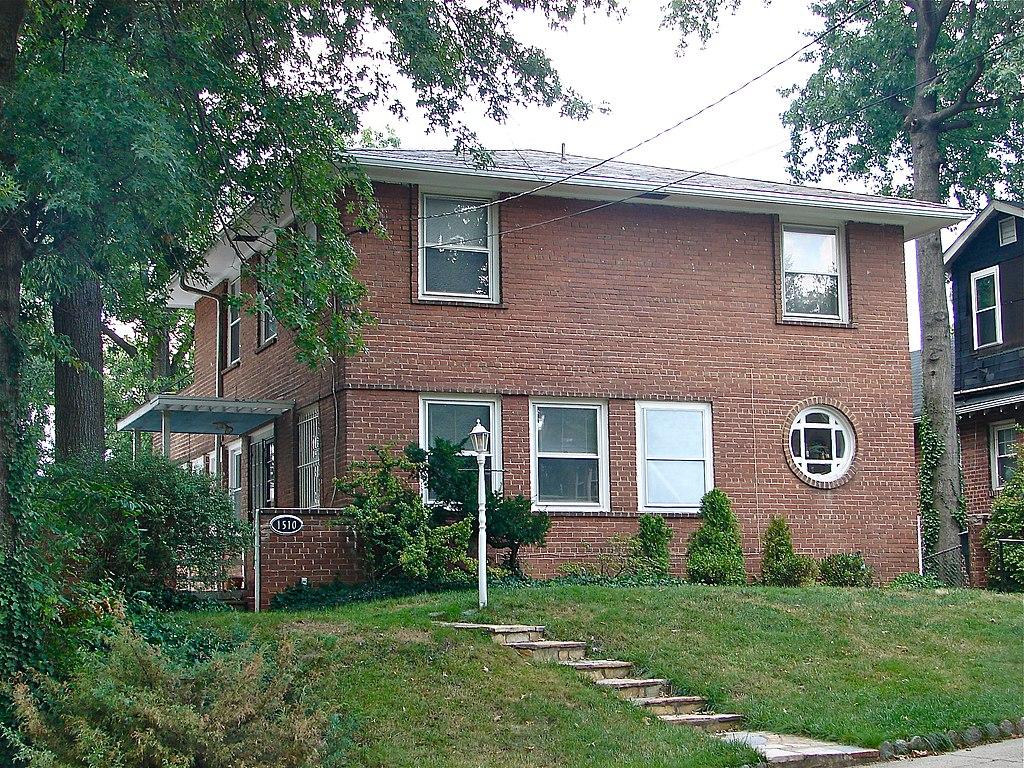 Ralph J. Bunche residence, 1510 Jackson St. NE
Political scientist and diplomat Ralph J. Bunche lived in this home during the time he spent teaching at Howard University, chairing the department of political science from 1928-1950, and while he worked at the State Department from 1941-1947. He was the first African American to be given the Nobel Peace Prize in 1950 for his work in mediating the Arab-Israeli conflict in Palestine. Bunche commissioned Howard architect professor Hilyard Robinson to design his house in Robinson's unique "international style." At the time, the Brookland neighborhood was predominantly white, and his children were not permitted to attend the local school.
Frederick Douglass residence, 316 A St. NE
Social reformer, abolitionist, writer, statesman, and former slave Frederick Douglass moved into this house in 1870 with his wife, Anna Murray Douglass, and children while he was editor of the New (National) Era and member of the Board of Trustees at Howard University. He and his wife also purchased the neighboring houses, 318 and 320 A Street NE, which together were later turned into the Museum of African Art in 1964. The museum eventually moved to the National Mall as part of the Smithsonian, and the homes are now occupied as residences.
Frederick Douglass National Historic Site (Cedar Hill), 14th and W streets SE
In 1877, Frederick Douglass and his second wife, Helen Pitts, moved to this home in Uniontown (today, Anacostia). He was one of the first African Americans to own a home in this area, which was known as Washington's first suburb. The home is now a part of the National Park Service.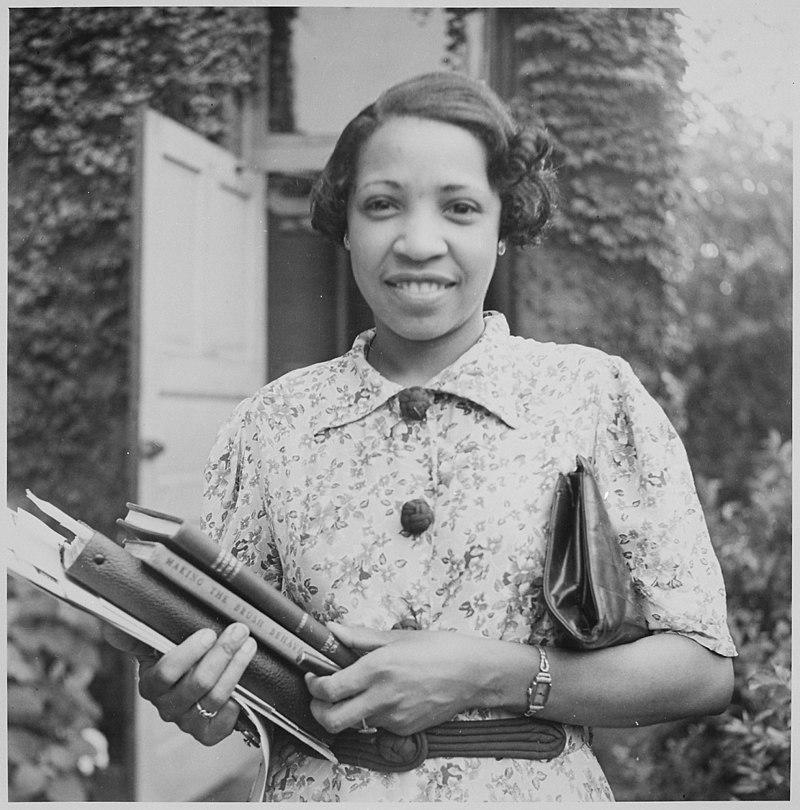 Lois Mailou Jones residence, 1220 Quincy St. NE
Known as "Little Paris Studio," this house belonged to Lois Mailou Jones, a Howard design instructor who taught for nearly 50 years. Her art can be seen at the Metropolitan Museum of Art, National Portrait Gallery, Howard University Gallery of Art, and other places. Her work was inspired by her travels, including scenes in Paris and Haiti (where her husband was from). She worked heavily with textile design as well as watercolor, oil, and acrylic. In the "Little Paris Studio," she invited fellow artists of color to weekly meetings where they showcased and critiqued each other's work.
Ernest Everett Just residence, 412 T St. NW
Ernest Everett Just was a professor of biology at Howard University, known for his work in fertilization and cell division. He and his wife, Ethel Highwarden, moved into this home in 1914. Just received the first Spingarn Medal from the National Association for the Advancement of Colored People for his work in 1915. He was also one of the founders of the Omega Psi Phi fraternity in 1911.
Charles Hamilton Houston residence, 1744 S St. NW
Lawyer and native Washingtonian Charles Hamilton was part of the Howard University Law School faculty and helped transition the school from a part-time program into a full-time accredited school in 1929. He was known as a mentor to the African American lawyers of that time period. He became the special legal counsel for the NAACP. Along with Thurgood Marshall, he and other lawyers advocated for the federal government to protect civil rights of all Black Americans and was the first lawyer for a school desegregation case, Bolling v. Sharpe, which became the groundwork for Brown v. Board of Education. His parents, William and Mary Houston, purchased the house initially, and he and his wife, Henriette Williams Houston, moved there in 1943.
Belford V. Lawson and Marjorie M. Lawson residence, 8 Logan Circle NW
Belford V. Lawson (JD '32) was the founder of the New Negro Alliance (NNA) and lead lawyer on the 1938 case, New Negro Alliance vs. Sanitary Grocery Co., which went all the way to the Supreme Court, which ruled that the NNA was permitted to picket and boycott white businesses that did not hire Black employees. He and his wife, Marjorie M. Lawson, lawyer and judge, lived in this house from 1936 to 1958 and rented a floor to Congressman Adam Clayton Powell Jr. (D-N.Y.), the first African American elected to Congress in the Northeast states.
George M. Lightfoot family residence, 1329 Missouri Ave. NW
George M. Lightfoot, who graduated from Howard Academy in 1887 (the University's preparatory school) and taught Latin at Howard University from 1891-1939, bought this home in 1916, and it has remained in the family since. He held intellectual gatherings in his home with other African American scholars, including Carter G. Woodson, W.E.B. DuBois, Ralph Bunche, and Alain Locke. Lightfoot was editor of the Howard University Record, founded the Classics Club, and wrote numerous articles. The Brightwood neighborhood, where his house is located, was one of the first neighborhoods that free Black people moved into, and Lightfoot's home is one of the remaining original homes from that time.
Alain Locke residence, 1326 R St. NW
Famed literary scholar Alain Locke started his 40-year teaching career at Howard University in 1912, where he chaired the philosophy department. Known for editing the New Negro, an anthology of poetry, prose, and art that is said to have defined the cultural movement of the New Negro Renaissance. He was the nation's first Black Rhodes Scholar as well. At Howard, he helped start its Gallery of Art and the Campus Players. He is often viewed as a trailblazer in the gay community. He was known to be homosexual in his circle, though at the time he did not admit it publicly. However, it was said he also did not try to conceal it – calling it his point of "vulnerable/invulnerability." His home is now an apartment complex.
Rayford Logan residence, 1519 Jackson St. NE
The home of Rayford Logan, who taught history at Howard from 1938-1965, was designed by Howard architect professor Hilyard Robinson. Logan had served as first lieutenant with the all-Black 93rd Division in World War I and spent five years in France, helping coordinate the Pan-African movement. He earned his doctorate in history from Harvard University and became known for his studies in post-Reconstruction America.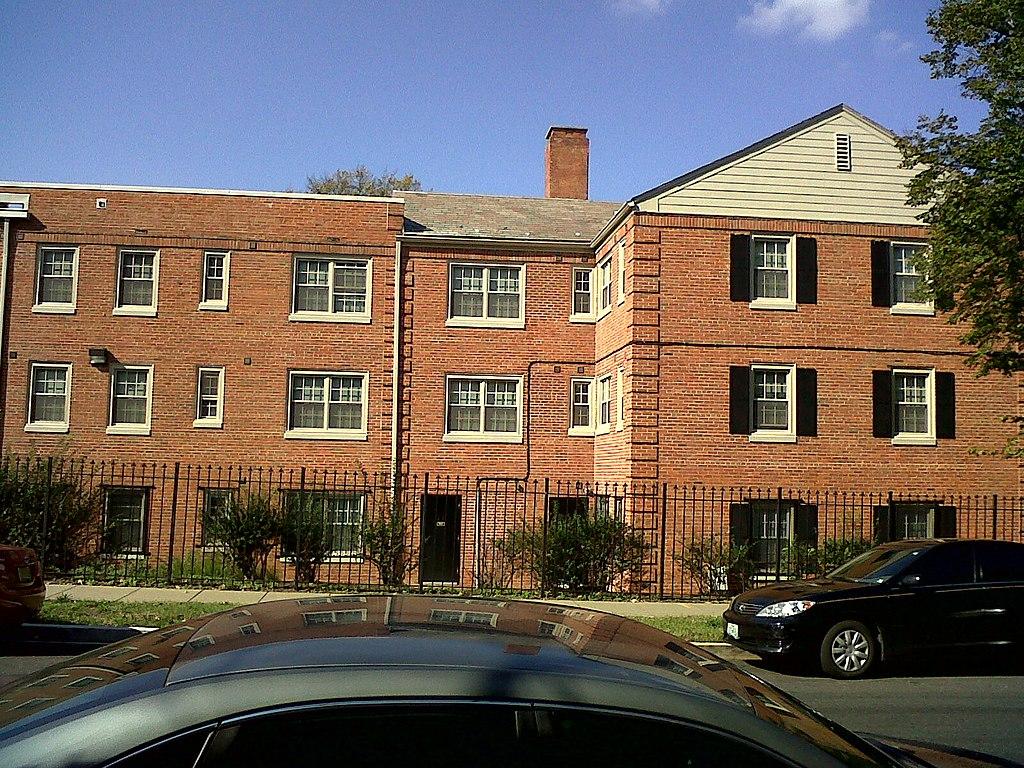 Mayfair Mansions, 3819 Jay St. NE
Howard architecture professor Albert I. Cassell designed these garden apartment complexes in 1942, one of the city's first garden complexes. They were an opportunity for working and middle-class African Americans who could not find housing elsewhere because of race restrictions. Now designated a historic site, the housing complex can still be rented out today.
Robert H. Terrell residence, 326 T St. NW
Robert H. Terrell (LL.B. 1889) and his wife, Mary Church Terrell, were a powerhouse Washington couple who resided at this LeDroit Park home. Robert studied law at Howard University School of Law and was appointed the first African American judge to the District of Columbia Municipal Court by President Taft. He also continued to teach law at Howard. His wife was the founder of the National Association of Colored Women and fought for women's suffrage.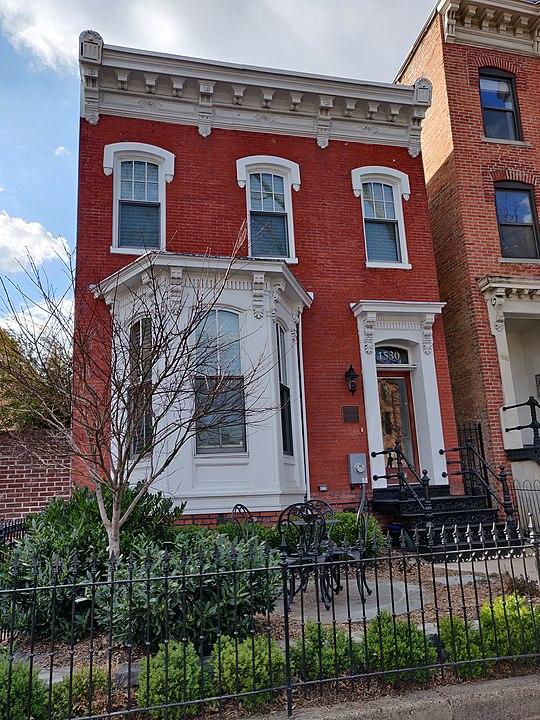 Alma Thomas' residence, 1530 15th St. NW
Famed artist Alma Thomas (BS '24) was Howard's first art department graduate who created many of her famous works here in her home and studio epicenter. In 1966, the Howard University Gallery of Art mounted a retrospective exhibition of her paintings, which initiated nationwide recognition of her art. In 1971, at age 81, she became the first Black woman to have a solo show at the Whitney Museum of American Art in New York. In 2015, Thomas became the first Black woman to have a work of art acquired by the White House Collection. Her painting, "Alma's Flower Garden" (c. 1968-1970) was sold in March 2021 for a record-breaking $2.8 million. She spent much of her career teaching art to students at Shaw Junior High School. The four-bed, 3.5 bath house is also currently for sale.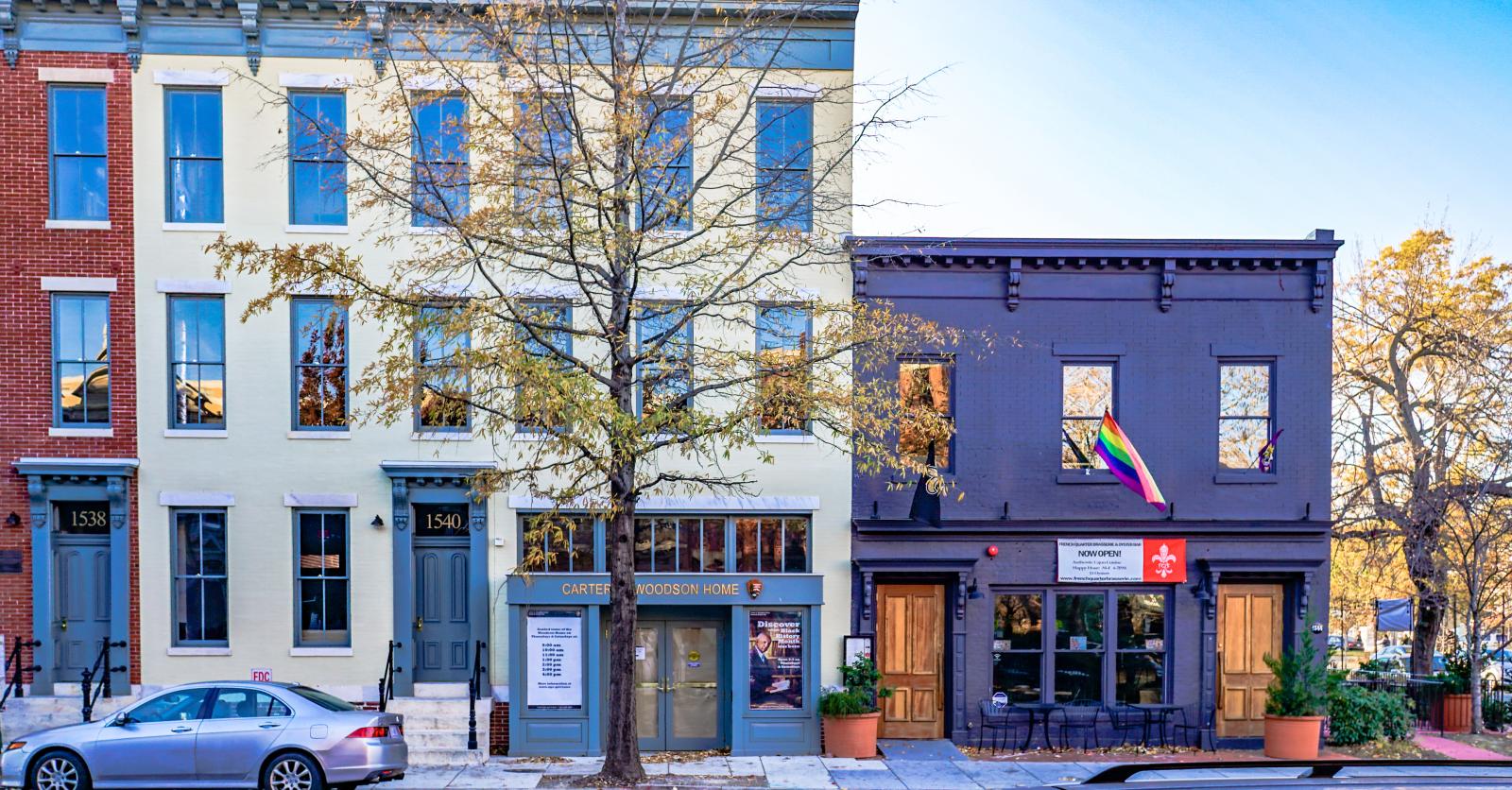 Carter G. Woodson residence, 1538 Ninth St. NW
The father of Black History Month's precursor, Negro History Week, Carter G. Woodson (H '47) was a historian who became dean of Howard's College of Arts and Sciences. He spent his life dedicated to uncovering and recording African American history. He earned his doctorate in history from Harvard University and later founded the Association for the Study of Negro Life and History, the Journal of Negro History, and the Negro History Bulletin. With the help of Omega Psi Phi Fraternity, he launched Negro History Week in 1926.