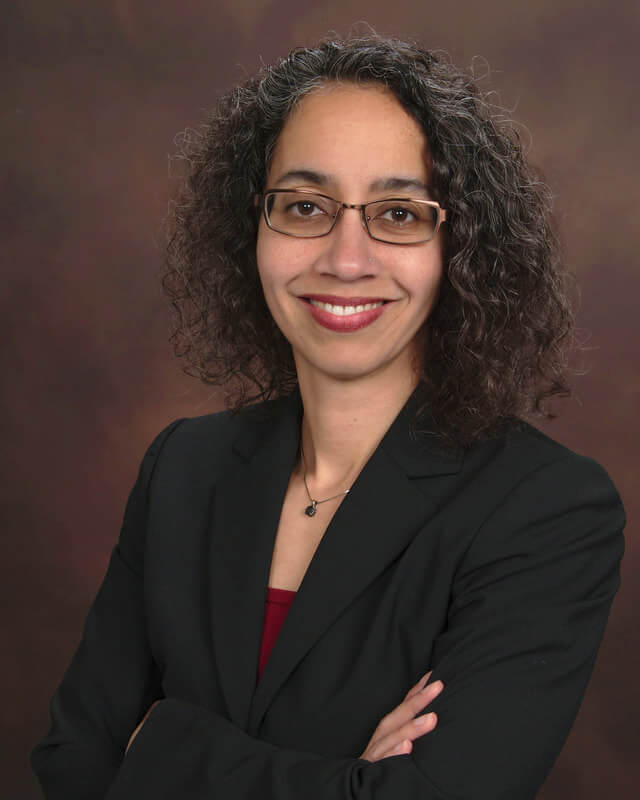 WASHINGTON – Howard University Associate Professor of Mathematics Talitha Washington, Ph.D., has been appointed to serve as a program director in the National Science Foundation (NSF) Convergence Accelerator (C-Accel), a program within NSF to accelerate use-inspired convergence research in areas of national importance via partnerships between academic and non-academic stakeholders. The NSF C-Accel brings together teams of experts, representing a variety of disciplines, to leverage partnerships in hopes of solving challenges of national importance with a high probability of providing research deliverables that will benefit society. 
"The College congratulates Dr. Washington for being selected to serve the NSF Convergence Accelerator.  The research accelerator approach to grand challenges aligns with the College's new effort to establish interdisciplinary research centers of excellence to address two or three grand challenges," says Dean of the College of Arts and Sciences Rubin Patterson, Ph.D.
According to NSF, less than a year ago, the NSF C-Accel premiered with the singular vision of identifying areas of research where investment in convergent approaches advances ideas from concept to deliverable. By bridging the gap between disciplines, the NSF C-Accel seeks to expand and refine NSF's efforts to support fundamental scientific exploration by creating partnerships that could potentially include stakeholders from industry, foundations, government, nonprofits and additional sectors. 
"Convergence topics seek to transcend disciplines and reach across all academic fields to make societal impacts," Washington says. "I am excited about being a part of the future of science that NSF is pioneering in this important cross-cutting research that impacts our society today and into the future."
"We are excited about Dr. Washington's opportunity to serve as a program director for NSF's Convergence Accelerator," says Karen Marrongelle, Ph.D., assistant director of the NSF's Directorate for Education and Human Resources. "Her experience representing both a federal agency and an institution of higher education will offer a unique and invaluable perspective in shepherding convergence team-building across diverse entities."
Since the start of her time working with NSF, Washington has been instrumental in building and establishing the agency's first Hispanic-Serving Institutions (HSI) Program, which funded $40 million in awards, during fiscal year 2019. The HSI Program actively seeks to build capacity in undergraduate STEM education at the nation's 523 HSIs.
Washington came to Howard University in 2011, having earned a bachelor's degree in mathematics from Spelman College with study abroad training at the Universidad Autónoma de Guadalajara in Mexico, and masters and doctoral degrees in mathematics from the University of Connecticut. Her research focuses on applying mathematics to model physical phenomena to solve real world problems.
For more information on the National Science Foundation's Convergence Accelerator, visit https://www.nsf.gov/od/oia/convergence-accelerator/index.jsp.
###
ABOUT HOWARD UNIVERSITY
Founded in 1867, Howard University is a private, research university that is comprised of 13 schools and colleges. Students pursue studies in more than 120 areas leading to undergraduate, graduate and professional degrees. The University operates with a commitment to Excellence in Truth and Service and has produced one Schwarzman Scholar, three Marshall Scholars, four Rhodes Scholars, 11 Truman Scholars, 25 Pickering Fellows and more than 70 Fulbright Scholars. Howard also produces more on-campus African-American Ph.D. recipients than any other university in the United States. For more information on Howard University, visit www.howard.edu.
Media contact: Ramzey Smith, Office of University Communications, ramzey.smith@howard.edu