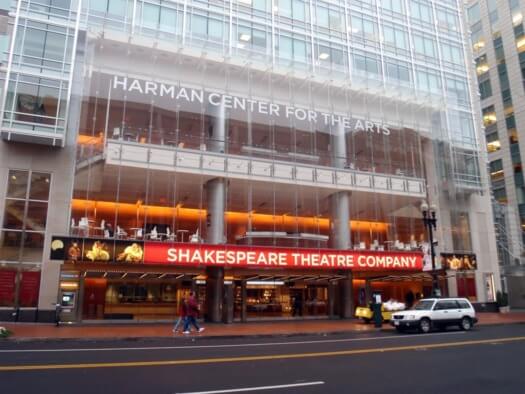 WASHINGTON – Howard University's Chadwick A. Boseman College of Fine Arts will be honored as the first recipient of the inaugural Phoenix Award at the ­­annual Shakespeare Theatre Company Gala, "Our Town, Our Shakespeare in the Park" on October 4 at Wolf Trap National Park for the Performing Arts.
"I am humbled and thrilled of the Shakespeare Theatre Company's recognition of our work to reestablish Howard's College of Fine Arts, now named in honor of our esteemed alumnus, Chadwick A. Boseman," said Dr. Wayne A. I. Frederick, president of Howard University. "Howard and Shakespeare Theatre Company share a mindset that the fine arts are vehicles for social change. With every one of his acting performances, Chadwick Boseman demonstrated the power of the arts to change hearts and minds. He also demonstrated the importance of resilience as he worked for years to resurrect Howard's College of Fine Arts after it had been disbanded during his time as a student on our campus. It is tremendously meaningful for Howard to accept the Phoenix Award in honor of Chadwick Boseman. While his life and career ended too soon, his legacy will forever inspire us."
Sponsored by ServiceNow, the Shakespeare Theatre Company Annual Gala has been hailed by Washington Life Magazine as the "most buzzed-about gala." The event will be a celebration of all that makes Washington, D.C. unique, featuring Broadway singers, original Go-Go music, Shakespeare and more. The gala raises funds for artistic, education and community programs year-round.
The Shakespeare Theatre Company established a new relationship with Howard University that focused on the fine and performing arts in the run-up to and for the duration of the 2020 production of James Baldwin's "The Amen Corner," chosen by Director Simon Godwin for his inaugural season with Shakespeare Theatre Company. It was named one of the "Top Ten Plays of 2020" by Washington Post theatre critic, Peter Marks.The play was a critical and commercial success before the pandemic forced it to close early, attracting rave reviews and huge crowds. The play had its original premiere at Howard in 1955. STC's production featured many Howard alumni, faculty and students in the cast and creative team. 
In 2019, Phylicia Rashad, dean of College of Fine Arts, was awarded STC's 2019 Will Award for outstanding accomplishment in classical theatre. This year, she will be accepting the Phoenix award beside President Frederick.
There will be performances and appearances by Golden Globe and Academy award winning actor F. Murray Abraham, Broadway stars Frenchie Davis and Justin Guarini,  Howard University Marching Band, a musical presentation from students in the Howard University Department of Theatre Arts, Ed Gero, The Chuck Brown Band featuring Sugar Bear, and an exclusive virtual appearance from Emmy award winning actor Josh O Connor.     
"This is a pivotal time at Shakespeare Theatre Company, as part of the senior staff in the artistic department at the theatre and a proud alum of the College of Fine Arts at Howard I am truly excited about this venture," said LeeAnet Noble, Howard University alumna and co-director of the gala, alongside Alan Paul. "This award not only speaks to the importance of the arts at Howard University it helps to pave the road for our upcoming partnership on a new course that will further expand the classical canon."
The event will be shared on YouTube and Facebook. Mask and proof of vaccination are required for admission into the event. There are opportunities to support Shakespeare Theatre Company's work throughout the evening by donating during the event or bidding on silent auction items. For more information or to RSVP, please visit: http://www.shakespearetheatre.org/support/special-events/stc-gala/.
###
About Howard University
Founded in 1867, Howard University is a private, research university that is comprised of 14 schools and colleges. Students pursue more than 140 programs of study leading to undergraduate, graduate and professional degrees. The University operates with a commitment to Excellence in Truth and Service and has produced one Schwarzman Scholar, three Marshall Scholars, four Rhodes Scholars, 12 Truman Scholars, 25 Pickering Fellows and more than 165 Fulbright recipients. Howard also produces more on-campus African American Ph.D. recipients than any other university in the United States. For more information on Howard University, visit www.howard.edu.
About Shakespeare Theatre Company
For more than 30 years the Shakespeare Theatre Company has dedicated itself to being the nation's premier classic theatre. By focusing on works with profound themes, complex characters and heightened language written by Shakespeare, his contemporaries and those playwrights he influenced, STC's artistic mission is unique among regional theatres: to bring to vibrant life groundbreaking, thought-provoking and eminently accessible classic theatre in a uniquely American style.
Media Contact: Aaliyah Butler; aaliyah.butler@howard.edu