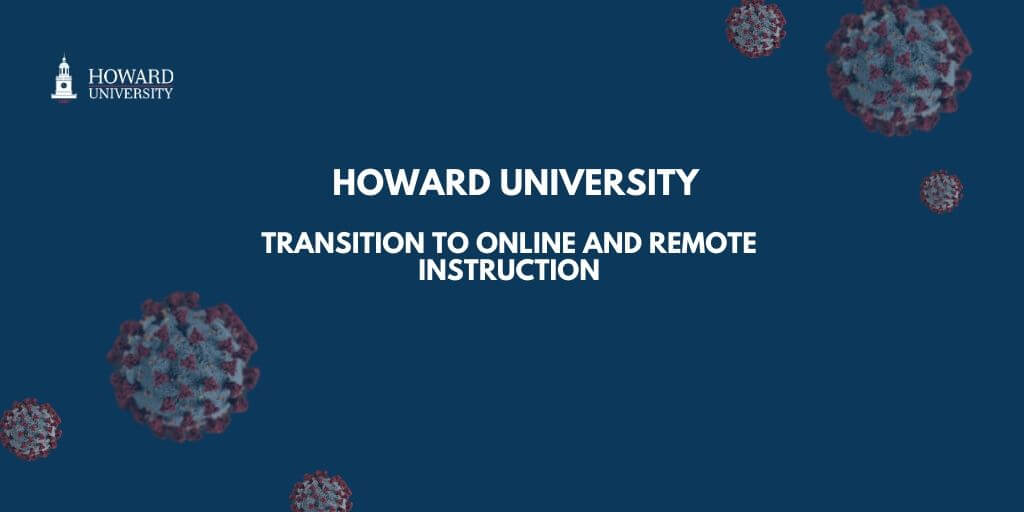 Dear Howard University Community,
As we continue to monitor circumstances regarding the Coronavirus (COVID-19) outbreak in this country, our priority remains the safety and well-being of our students and the campus community. While the risk to Howard University remains low and we have no cases of COVID-19 on campus, there are confirmed cases in Washington, D.C. We will continue to regularly assess risks to our community, and take steps to help mitigate and decrease any potential risks.  We continue to follow guidance from the Centers for Disease Control and Prevention (CDC), and communicate routinely with the DC Department of Health. As a result, we will be implementing the following steps to decrease the spread of the virus, and protect the health of our community:
·      Transition To Online Instruction: The University will shift courses to online and remote instruction following Spring Break from March 23, 2020 through April 6, 2020. All faculty should move their courses to online or alternative delivery by March 23, 2020. We will maintain online instruction through April 6, 2020.  Over the period of online instruction (March 23, 2020 – April 6, 2020), we will also assess impacts of the change in instructional methodology, and status of the outbreak locally, during this time.  A status update will be provided to the campus community by March 25, 2020 to determine if any further extension of the implementation of online instruction will be warranted, as conditions evolve. 
·      Each school and college will contact their students later this week with further instructions once details are finalized for virtual classes and plans for labs and clinical practicums. 
·      Students Who Live in Residence Halls: While we anticipate that most students will remain home following Spring Break, the University will provide accommodations for students whose financial circumstances may prevent them from having a place to stay until April 6. Residence Halls will remain open at this time. Under normal operating circumstances, dining services are suspended over spring break, but Howard has partnered with our food service provider to offer meals to students who will be remaining on campus during the spring break and beyond. A modified menu will be served. Dining facilities will be closed for cafeteria style dining, but food services will be provided.   
·      International Students: If you are an international student living on campus who will not be able to go home for Spring Break and beyond due to travel restrictions, we are making accommodations to continue your housing and meal services. 
·      Staff: All other normal campus operations will continue at this time and the campus will remain open following Spring Break. Additional details will be provided through supervisors, as we finalize plans for telework, and designation of essential employees.
·      Faculty Preparation: The Center for Excellence in Teaching Learning, and Assessment (CETLA) will continue to assist in preparing faculty for online instruction and will provide additional information regarding the software available to students, including Blackboard, Tegrity®, Zoom, and Microsoft Teams.  
·      Travel: All non-essential, University-sponsored international travel is suspended. Additionally, all non-essential University-sponsored domestic travel is suspended effective March 23 through May 1, 2020. Students, faculty and staff are encouraged to use the same caution with your personal travel for the safety and well-being of the larger community. Please be mindful that national travel restrictions are changing every day. 
·      Events: All University-sponsored events hosting 50 or more participants should be postponed or canceled through May 1, 2020. At this point, we plan to conduct Commencement and All Class Reunion exercises on May 9, 2020, but we will finalize a determination in the near future.
·      Research Activities: Research activities will continue at this time. Additional guidance will be provided by Dr. Bruce Jones, Vice President for Research shortly.
·      Personal Travel: We urge all faculty, students and staff travelers to carefully consider potential international travel, and check on restrictions or quarantine measures that may be recommended or required by the CDC upon arrival or return. 
·      Emergency Preparedness: If a widespread outbreak occurs in our region, we encourage students, faculty and staff to take emergency preparedness measures, and anticipate possible disruptions in supply chains. Plan to have medication, food, personal hygiene products available for a three-day period, at a minimum.  
·      Prevention: Please follow CDC recommendations to help prevent transmission of COVID-19
Wash your hands often with soap and water for at least 20 seconds, especially after going to the bathroom; before eating; and after blowing your nose, coughing or sneezing.
Avoid touching your eyes, nose and mouth.
Avoid close contact with people who are sick.
Stay home when you are sick.
Cover your cough or sneeze with a tissue, then throw the tissue in the trash.
Clean and disinfect frequently touched objects and surfaces using a regular household cleaning spray or wipe.
We thank the Howard University community for your commitment to working together through this time of national uncertainty. We will remain vigilant and keep you apprised of any new developments as they occur.
Excellence In Truth and Service,
Wayne A. I. Frederick, M.D., MBA
President
* For more Howard Updates on COVID-19 please visit: https://home.howard.edu/corona-virus