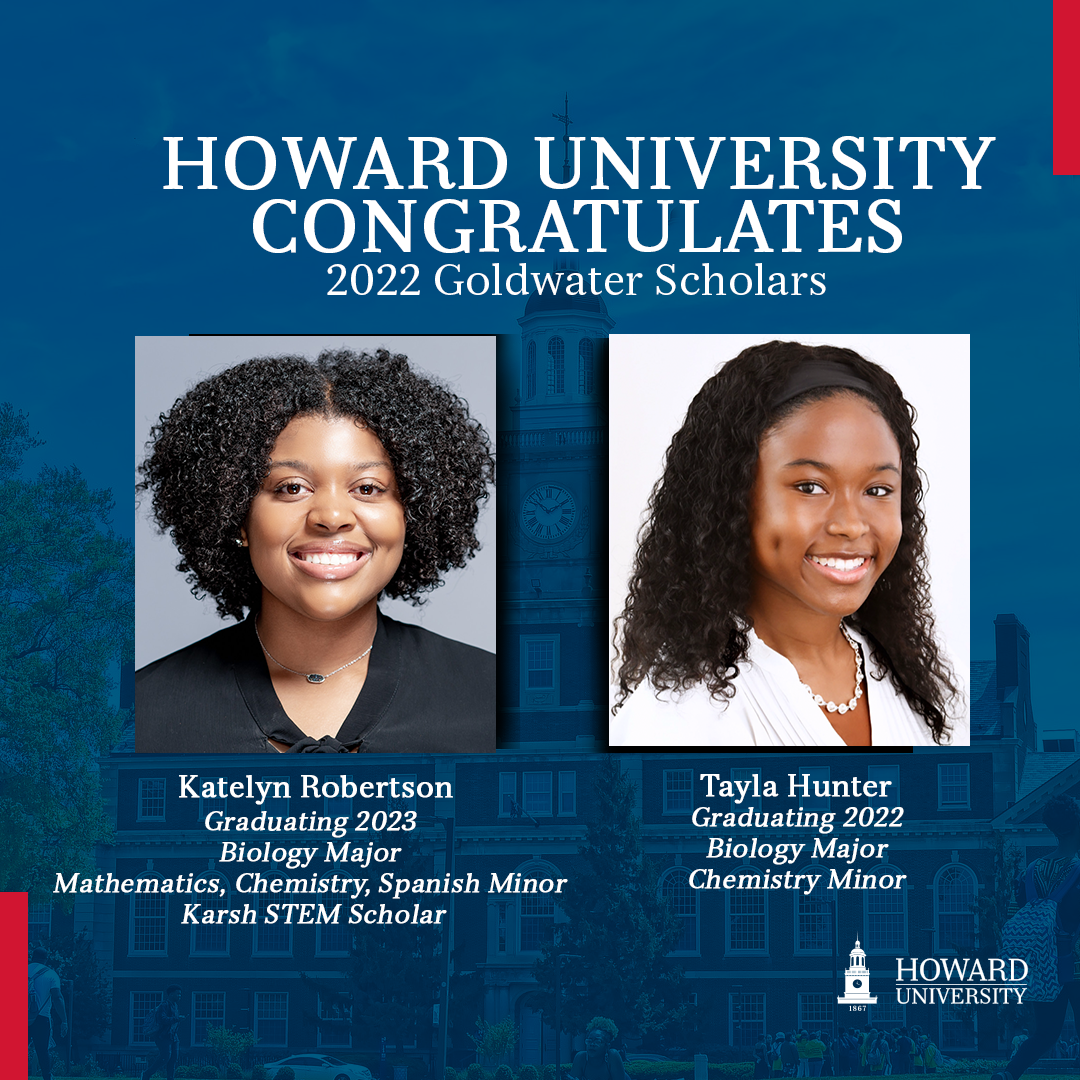 WASHINGTON – Two Howard University biology majors, Tayla Hunter and Karsh STEM Scholar Katelyn Robertson, have been named 2022 Goldwater Scholars. 
Congress established the Barry Goldwater Scholarship and Excellence in Education Foundation in 1986 to serve as a living memorial to honor the lifetime work of Sen. Barry Goldwater. Goldwater Scholarships are awarded to college sophomores and juniors who intend to pursue research careers in the natural sciences, mathematics and engineering. 
"On behalf of the entire Howard University community, I congratulate Tayla Hunter and Katelyn Robertson on this great accomplishment," said President Wayne A. I. Frederick. "This recognition of their academic performance in science and math is a testament to Howard's commitment to identifying prestigious global opportunities through research and leadership development. We look forward to their continued success inside and outside the classroom."  
Tayla Hunter is a graduating senior biology major with a minor in chemistry from New Orleans, Louisiana. Hunter has served as a team leader, volunteer coordinator and liaison with AmeriCorps Jumpstart at Howard University since 2019. Additionally, she is the secretary and historian of the Beta Kappa Chi Scientific Honor Society and a member of Phi Beta Kappa, Gamma chapter. Hunter received the Alain Locke Scholars Award in 2021.  
"Tayla is such an intelligent young woman who is eager to learn and explore all the possibilities available to her," said Denée T. Mwendwa, Ph.D., professor of psychology. "We in HealthPARC are so immensely proud of her achievement and are confident that Tayla will succeed in her academic endeavors. We are so fortunate to have her working alongside us in our research lab." 
Her hobbies include swimming, boxing, baking and playing various sports. 
Hunter's future career goals are becoming a dermatologist and starting a private practice. Moreover, she aspires to create her own laboratory to understand neurological disorders and their coping mechanisms for therapeutic development. 
"Being a 2022 Goldwater Scholar feels rewarding," said Hunter. "The pre-medical journey is long, and individuals often do not immediately see the fruits of their labor. However, this award reminds me that I am on the right track and encourages me to continue. I am extremely honored and proud to have received such a prestigious and highly selective award." 
Katelyn Robertson is a rising senior honors biology major from Baton Rouge, Louisiana, with minors in mathematics, chemistry and Spanish. Robertson is a part of the 3rd cohort of the Karsh STEM Scholars Program. Additionally, Robertson is a member of Beta Kappa Chi Scientific Honors Society, Howard University Louisiana Club and 1867 Undergraduate Assistantship Program. She is also a Howard University student athletic trainer and a Howard University student ambassador.  

She volunteers at In Loving Arms, LLC., a dual-licensed health care center for medically fragile children, where they can get quality health care and education. Robertson is currently starting a music therapy program with local universities in her hometown community. 
Robertson loves to go fishing, try new foods and watch Netflix in her free time. Her future career goals include earning an M.D. and Ph.D. in neuroscience. She would like to be the bridge from bench to bedside and become a pediatric neurosurgeon.  
"I am honored to be in this position and give all glory to God for this prestigious award," said Robertson. "I cannot wait to pass on my knowledge to the future bison. I am thankful for all the people in my village who have contributed to this success and look forward to more to come!" 
Since its inception, the Karsh STEM Scholars program has consistently produced scholars of exceptional talent- including a total of three Goldwater Scholars. 
"We are so happy for Katelyn and proud of this achievement," said Ronald Smith, director of the Karsh STEM Scholar Program at Howard University. "While there is a huge number of persons who apply for the Goldwater Award, only a very small percentage actually are fortunate enough to win the honor.  Katelyn now becomes the third Goldwater Scholar in a row from Howard University's Karsh STEM Scholars Program, and we hope that the streak never ends." 
The Goldwater Scholarships recognize promising undergraduates who plan to pursue a Ph.D. or M.D. The scholarships provide $7,500 per year toward junior and senior year undergraduate expenses, including tuition, required books and living expenses. Junior-level recipients may receive a maximum of two years of support. Senior-level recipients will receive a maximum of one year of support. 
### 
About Howard University 
Founded in 1867, Howard University is a private, research university that is comprised of 14 schools and colleges. Students pursue more than 140 programs of study leading to undergraduate, graduate and professional degrees. The University operates with a commitment to Excellence in Truth and Service and has produced one Schwarzman Scholar, three Marshall Scholars, four Rhodes Scholars, 12 Truman Scholars, 25 Pickering Fellows and more than 165 Fulbright recipients. Howard also produces more on-campus African American Ph.D. recipients than any other university in the United States. For more information on Howard University, visit www.howard.edu. 
Media Contact: Aaliyah Butler; aaliyah.butler@howard.edu