WASHINGTON – Medical and health sciences students from Howard University joined U.S. Surgeon General Vivek H. Murthy, M.D., and Howard University President Wayne A. I. Frederick, M.D., to talk about how they persevered during the COVID-19 pandemic and developed ways to safeguard their personal well-being.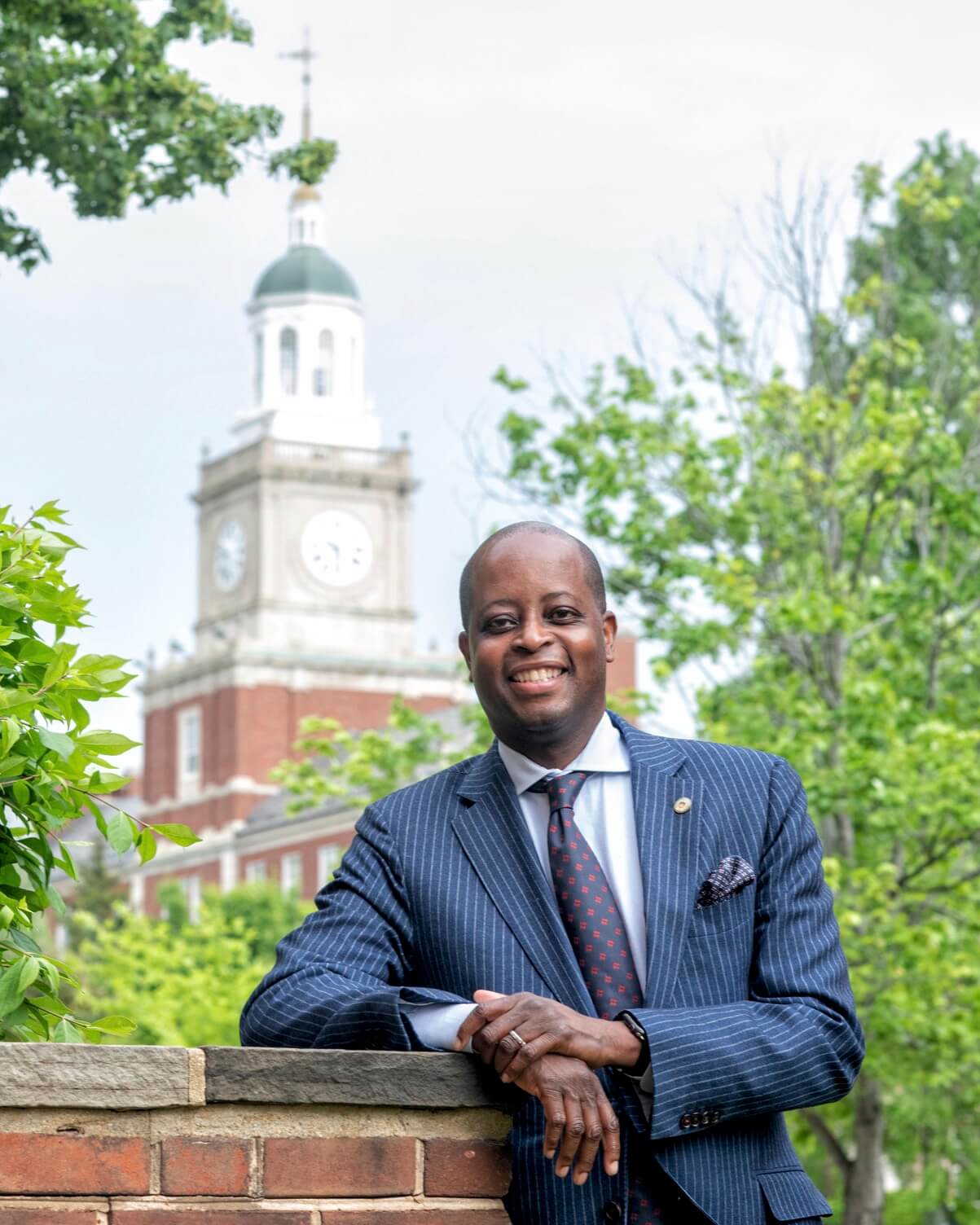 Topics included overcoming vaccine hesitancy with loved ones, the relief health care workers felt when the vaccines were first rolled out, and the frustrations people endured with online learning, especially Zoom burnout. The discussion was captured in an hour-long panel hosted by Howard University and moderated by White House Fellow Garth Walker. The Howard students who participated were medical students Stephanie Carter and Trisha Lal as well as Yodit Goshu, a junior who studies health sciences. A video recording of the panel discussion can be found here.
Murthy was confirmed in March to serve as the 21st surgeon general of the United States, returning to the position he occupied previously under President Obama. He is among the most trusted voices in America on matters of public health. He is a renowned physician, research scientist, entrepreneur and author of the bestselling book "Together: The Healing Power of Human Connection in a Sometimes Lonely World."
Lal, a fourth-year medical student, spoke about the challenges associated with starting clinical rotations during a global pandemic. She said she had to emphasize self-care when searching for ways to balance her role in the hospital and her life outside of medicine. She also spoke about how she felt inspired by the physicians she worked with at Howard University Hospital, and noted the collective sense of relief they felt when vaccines rolled out. But that same sense wasn't always shared outside of the hospital.
"Outside of the hospital, I had numerous conversations with friends and family about the vaccine," Trisha said. "I engaged in many conversations with my teenaged brother about his understanding of the COVID-19 pandemic, the importance of following social distancing guidelines, and the role of the science in getting us back to a level of normalcy."
Carter, a third-year medical student, also talked about her experiences with vaccine hesitancy. 
"I talked a lot about my dad. We had numerous conversations about getting the vaccine," Carter said. "He has had prostate cancer twice, went through radiation and had surgeries in the past. I kept encouraging him to get the vaccine."
Carter said many medical students have had to debunk myths and misinformation about the disease. But she had to get personal with her father, before ultimately convincing him to get vaccinated.
"I had to remind my father it wasn't just about protecting himself but also about not missing out on memories that we could have together," Carter said. "I said, 'I almost lost you twice. I don't want to lose you a third time.'"
Goshu, who serves as president of the College of Nursing and Allied Health Sciences student council, spoke about her experience with the transition to online learning.
"There is such a thing as a Zoom burnout," Goshu said. "Everything was online and on Zoom. Classes were on Zoom, meetings were on Zoom, even talking to friends was on Zoom. Collectively, we were tired of having to log into Zoom class or be sitting in front of laptops rather than being able to go outside and enjoy the outside air."
She said the panel gave her an opportunity to hear how students' thoughts weren't much different than what other people were experiencing.
"The panel was really amazing because it allowed me to hear different people's experiences," Goshu said. "Even to hear from President Frederick and the U.S. surgeon general, and just hearing the similarities of the lives of the people on the panel gave me an idea of what the rest of society was going through."
###
About Howard University
Founded in 1867, Howard University is a private, research university that is comprised of 14 schools and colleges. Students pursue more than 140 programs of study leading to undergraduate, graduate and professional degrees. The University operates with a commitment to Excellence in Truth and Service and has produced one Schwarzman Scholar, three Marshall Scholars, four Rhodes Scholars, 12 Truman Scholars, 25 Pickering Fellows and more than 165 Fulbright recipients. Howard also produces more on-campus African American Ph.D. recipients than any other university in the United States. For more information on Howard University, visit www.howard.edu.