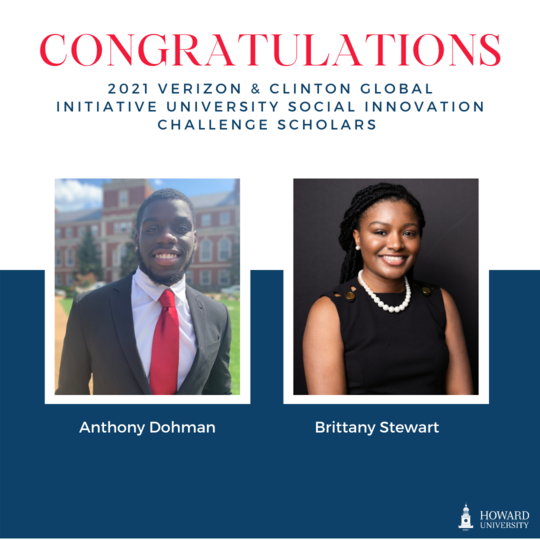 WASHINGTON – Howard University students, Anthony Dohman and Brittany Stewart, are winners of the 2021 Verizon and CGI U Social Innovation Challenge, which provides a grant valued at $350,000 to current undergraduate and graduate students as well as Clinton Global Initiative University (CGI U) alumni. 
Grant funding was provided to 14 winning teams to address significant societal challenges related to education, health and climate justice with leading-edge technology-based solutions.
Through this challenge, CGI U and Verizon are encouraging a diverse community of student innovators and entrepreneurs. This year's challenge winners come from various cultural backgrounds, including Asian, African, Hispanic or Latino, Black or-African American, Middle Eastern, and American Indian or Alaskan Native, and they represent two historically Black colleges and universities (HBCUs).
CGI U was launched in 2007 to annually unite students from around the globe to tackle the world's most pressing challenges through "Commitments to Action" – new, specific and measurable initiatives to improve education, environment and climate change; peace and human rights; poverty alleviation and public health. Through the CGI U program, students develop innovative solutions to these challenges through peer networking, skills training, funding opportunities and personalized mentorship.
Student and alumni developments consist of agricultural data tools that permit farmers to make informed decisions and increase their climate resilience, a virtual reality experience that brings language learning to life, and an AI-based solution for maternal health care in under-resourced communities. 
Winning teams are also invited to participate in an interactive entrepreneurial training program from startup accelerator partner, VentureWell. This opportunity includes membership in the VentureWell E-Team program and access to alumni programming and networking opportunities. At the end of the program, teams can pitch their solutions to win an additional $20K each in seed funding and sponsorship in continued programming with VentureWell.
To learn more about the CGI U's Social Innovation Challenge, visit www.clintonfoundation.org
###
About Howard University
Founded in 1867, Howard University is a private, research university that is comprised of 13 schools and colleges. Students pursue more than 140 programs of study leading to undergraduate, graduate and professional degrees. The University operates with a commitment to Excellence in Truth and Service and has produced one Schwarzman Scholar, three Marshall Scholars, four Rhodes Scholars, 12 Truman Scholars, 25 Pickering Fellows and more than 165 Fulbright recipients. Howard also produces more on-campus African American Ph.D. recipients than any other university in the United States. For more information on Howard University, visit www.howard.edu.
About the Clinton Foundation
Building on a lifetime of public service, President Clinton established the Clinton Foundation on the simple belief that everyone deserves a chance to succeed, everyone has a responsibility to act, and we all do better when we work together. Our programs are designed to make a real difference today while serving as proven models for tomorrow. The goal of every effort is to use available resources to get better results faster – at the lowest possible cost. We firmly believe that when diverse groups of people bring resources together in the spirit of true cooperation, transformative ideas will emerge to drive life-changing action. Learn morewww.clintonfoundation.org.
Media Contact: Aaliyah Butler; aaliyah.butler@howard.edu