To honor the contributions, legacy, and diversity of Hispanic and Latine communities, the Howard University community reflected on the importance of celebrating Hispanic Heritage Month at an HBCU and uplifting the Afro-Latine identity.  
"Over the years, thousands of Afro-Latine American students have been trained at Howard University," says Ben Vinson III, PhD, Howard University president. "Many have gone on to serve in prominent and visible positions in their home countries. We are exceptionally proud of this tradition, which has enriched the power of the African diaspora." 
The Afro-Latine Identity  
At the Howard University School of Law's verdant Van Ness campus, Obrian Rosario rests on the marble benches outside of the Vernon E. Jordan Law Library. The former president of the Howard student group Changó, Rosario wears his Afro-Latine identity proudly.  
Rosario recently returned to the Mecca from a summer family trip to the Dominican Republic. There, he was reminded of the intersections of his identities: the African drums in the Dominican dance "baile de palo," the taste of mangu and fufu.  
"It's pretty clear that the things we enjoy today are passed down from the motherland, from our ancestry, but I think there's a movement specifically in Latin America to try and erase that Blackness," Rosario says. "I feel like those connections are pretty clear and evident, but it takes trying to dispel that erasure of Blackness to actually see them." 
Rosario considers the history of African descendants in Latin countries to be complex, especially in the aftermath of the transatlantic slave trade.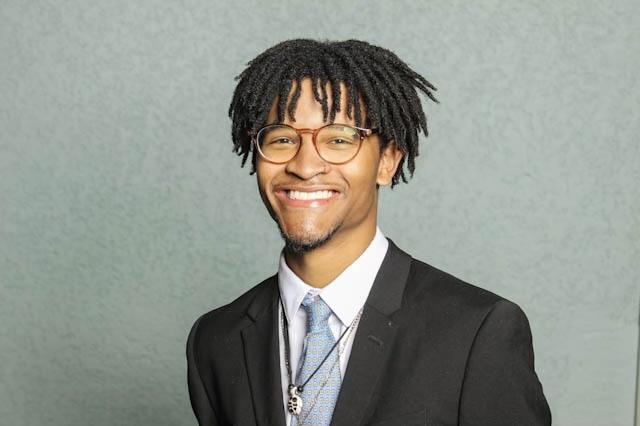 He recalled anecdotes from his mother and grandmother about the Dominican Republic's former president and dictator, Rafael Trujillo. Over his 31-year reign, the Dominican Republic led the ethnic cleansing of Haitians with attacks such as 1937's Parsley Massacre at Massacre River where, under Trujillo's orders, the Dominican army murdered more than 20,000 Haitians.  
"He made it a big stride to 'mejorar la raza,' or lighten the race," Rosario says.  
Trujillo was assassinated in 1961. Yet despite Trujillo's reign ending over 60 years ago, Rosario says Dominicans are still reeling from the anti-Blackness today, finding similarities between the Dominican Republic's anti-Haitian border sentiments and America's own issues with racism in its border crisis. In 2022, the Dominican Republic implemented anti-immigration rules, cancelling the citizenship of nearly 200,000 Dominicans of Haitian descent. 
"With the United States bordering Mexico, there's this idea that exists that they're the 'other' and they're coming to take our jobs, coming to take our food, benefits, and not contributing anything to our society," Rosario explains. "Those types of ideologies exist in the Dominican Republic between Haitians and Dominicans, and that's due to a long, complex history." 
"I ultimately think that a lot of issues that exist in the world are because of white supremacy, and we need to point it there instead of pointing at each other," Rosario continues. "What's happening in the Dominican Republic and the United States is by design. They're mirrors, really." 

Howard University's Hispanic Student Demographics during the 2013 - 2023 academic years.
Rosario is in the inaugural cohort of the Bachelor of Arts to Juris Doctor (B.A.-J.D.) joint degree program that will allow him to complete both his undergraduate and legal education in six years. Recently, he worked as a constitute aide for Deni L. Taveras, a Dominican-American now serving as the Maryland House delegate for District 47B in Prince George's County. He realized while working in her office that there was "no true spell out" of the cultural and ethnic breakdowns of Latine communities in America, even as they continue to be the nation's fastest growing demographic.  
"You look at the [United States] census' different breakdowns and categories, you really can be Black or Latine, but no real space for both," Rosario says. "I've read articles about there being investments in homeownership for Afro-Latine folks, and more representation in political bodies. There's representation, but no representation to the letter of the law." 
¡Changó! is the place where I can feel my Afro and my Latinidad identities can coexist without them being separated by other people."
Kayla Cason, a senior biology major from Washington Heights in New York City, serves as ¡Changó! current president. ¡Changó! curates its programming around cultural aspects of the Afro-Latine experience, proudly carrying the responsibility of providing Afro-Latine representation to the Yard and eradicating anti-Blackness within the Latine and African diaspora. 
While ¡Changó! looks to create community amongst Howard's Afro-Latine students, it also takes on the responsibility to uproot anti-Blackness too. ¡Changó! includes a balanced look at the Afrolatinidad culture. 
¡Changó! discussed Santeria, an African diasporic religion created when Cubans would perform syncretism and portray Christianity to the outside community, but still practice their Indigenous religions after colonizers warned persecution. To encourage inclusivity, ¡Changó! has adapted the term Latine instead of Latinx to honor Spanish's gendered language rules of Spanish without participating in gender binary. 
¡Changó! hosts niche events such as "Healing the Island," a conversation with the Haitian Student Association that highlight the tense history between the neighboring islands' relationship. 
"¡Changó! is the place where I can feel my Afro and my Latinidad identities can coexist without them being separated by other people," Cason says. "I and the people of Changó make it a point to make sure that Afrolatinidad is Afrolatinidad, and not just Black or Latino or Black Latinos. It's its own culture and beauty but still very much tied into the roots of the African slaves who were forced to Latin America. 
"We are very much contributors to society as well," Cason continues, "and I feel like that's undermined when we put conversations of immigrant and labor work when talking about that we contribute to the elevation and progress of society just as the same as everyone else." 
During the Howard University Campus Organization Fair, Chango entices perspective members with an informercial display on the Yard. (Photo Credit: Chango!)
Two members of the Haitian Student Association pose for photos during Chango's "Healing the Nation" event, which aims to acknowledge and rectify the tense relationship between the Dominican Republic and Haiti, neighboring countries on the island of Hispaniola. (Photo Credit: Chango!)
Students form a Congo line at Howard University's Multicultural Festival hosted during Hispanic Heritage Month to celebrate the diverse Latine communities. (Photo Credit: Chango!)
I choose to be an interpreter, I feel good when I'm able to be there for somebody because if they come here, they have some serious health problem." 
Howard University Hospital Aids the Hispanic Community  
As the Hispanic population grows, the demand for translators for health and social services has increased. The Howard University Hospital has engaged in its civic responsibility to all residents by hiring Spanish-speaking interpreters such as Sandra Montalvo.  
Originally a professional nutritionist, Montalvo is now in her 20th year of service as an interpreter. She believes the language barrier should not hinder quality service. 
"Eventually, a lot of the doctors here, they make it their business to learn Spanish as well, because they notice that there's a large Hispanic, Latino community that is here," Montalvo says. "They're seeing it more and more and so...they have to learn it because [they] want to communicate with [their] patients." 
Montalvo has mastered three of the world's prominent languages: English, Spanish, and health. Her job is one of intention, a testament to the hospital's belief in equanimity under duress.  
"I just had a patient in the [emergency room]...she was trying to say that she was dizzy in Spanish, which is mareada but she said it in different word, but I knew what she meant," Montalvo says. "I asked, 'You want to say that you're dizzy?' She said, 'Yeah, that's what I want.'" 
"These are lives that we're talking about," Montalvo continued. "One word that you don't say correctly can be tragic because you don't know the consequences." 
Montalvo also spoke to the historical implications on her patients' native countries. In 2022, the Pan American Health Organization's director Carissa F. Etienne stated that Latin American countries are short of approximately 600,000 health professionals. 
"I choose to be an interpreter," Montalvo says. "I feel good when I'm able to be there for somebody because if they come here, they have some serious health problem. I feel very proud to be able to know to their voice not only as the patient, but as the staff."  
Howard's Future in Hispanic and Afrolatinidad History 
As Howard welcomes the Class of 2027, a new wave of Afro-Latine students has arrived on campus, including Yoselyn Owolabin, a freshman political science major from Houston.  
Owolabin's Nigerian and Dominican roots set a layered diasporic family dynamic, which helped her embrace her identity as an Afro-Latina. In the United States, certain aspects of white supremacy linger beyond explicit racism – aspects such as colorism, which directly affects the Afro-Latine community.  
Having grown up in Aldine, a predominately Hispanic community, Owolabin believes the aversion to claiming Blackness is rooted in anti-Black stereotypes derived from America's racial lens. This also affects how individuals understand intersectionality, she argues, which in turn creates more divisiveness within the Latine community. 
"I believe a lot of the violence stems from just not understanding the difference between intersectionality, race, ethnicity, and race, and really understanding that it's an umbrella term," Owolabin says. "You can be multiple things or just one thing, and it's okay." 
Owolabin chose Howard to explore both her Blackness and her Afro-Latine identity with other Black Hispanics in the community. "One thing about the Spanish curriculum here, it's not just Spanish 1 through 4," Owolabin says. "There's also different courses where we can learn about Afro-Caribbean communities, language, and history." 
Owolabin views these as key openings to continue building visibility and inclusion for the Afro-Latine community. "These opportunities allow other Black identifying people to visit our places, which I think is essential for people to see our differences up close and [recognize] that Black people are not a monolith," Owolabin concludes. "We all have different experiences and culture." 
¡Changó! Hispanic Heritage Month Events
October 6: The Multicultural Festival in Douglass Hall, 6:30- 8 p.m.
October 7:  Diaspora Block Party, 12:30 - 3 p.m.
October 10: History of Santeria Talk feat. Dr. Reynaldo Ortiz, 6 p.m. 
October 12: Loteria y Dominoes Game Night, 7 p.m.