On a humid Thursday morning Dr. Ben Vinson III, Howard University's incoming president, made his way to College Hall South to greet new students.
"Do you have everything you need?" Vinson warmly asks a mother-daughter duo in room 2053, as he pauses during his tour through College Hall South. 
Wearing a white Howard athletic shirt to combat the humid August weather, Vinson joined University leaders, cheer team, and the Class of 2027 to kick off Move-In Day ahead of the 2023-2024 academic school year.  
During the 20-minute tour, Vinson shook hands with Mason Ashley, a freshman studying psychology from Prince George's County, Maryland, who was working out in the training facility of the building. Ashley, who moved in earlier that week, is adding onto his family's legacy of Howardites. 
As both begin their journeys at Howard, Ashley says he's excited to experience the energy of The Yard while witnessing the University's new chapter under Vinson's upcoming leadership. The two discussed Ashley's participation in any club sports and his workout.  
"I think [having a new president] will have a positive effect," Ashley says. "As long as everyone continues to do what they're doing, and he provides good policy, I think everything will be smooth. I'm looking forward to The Yard, sporting events, all the events, really. I'm really intrigued."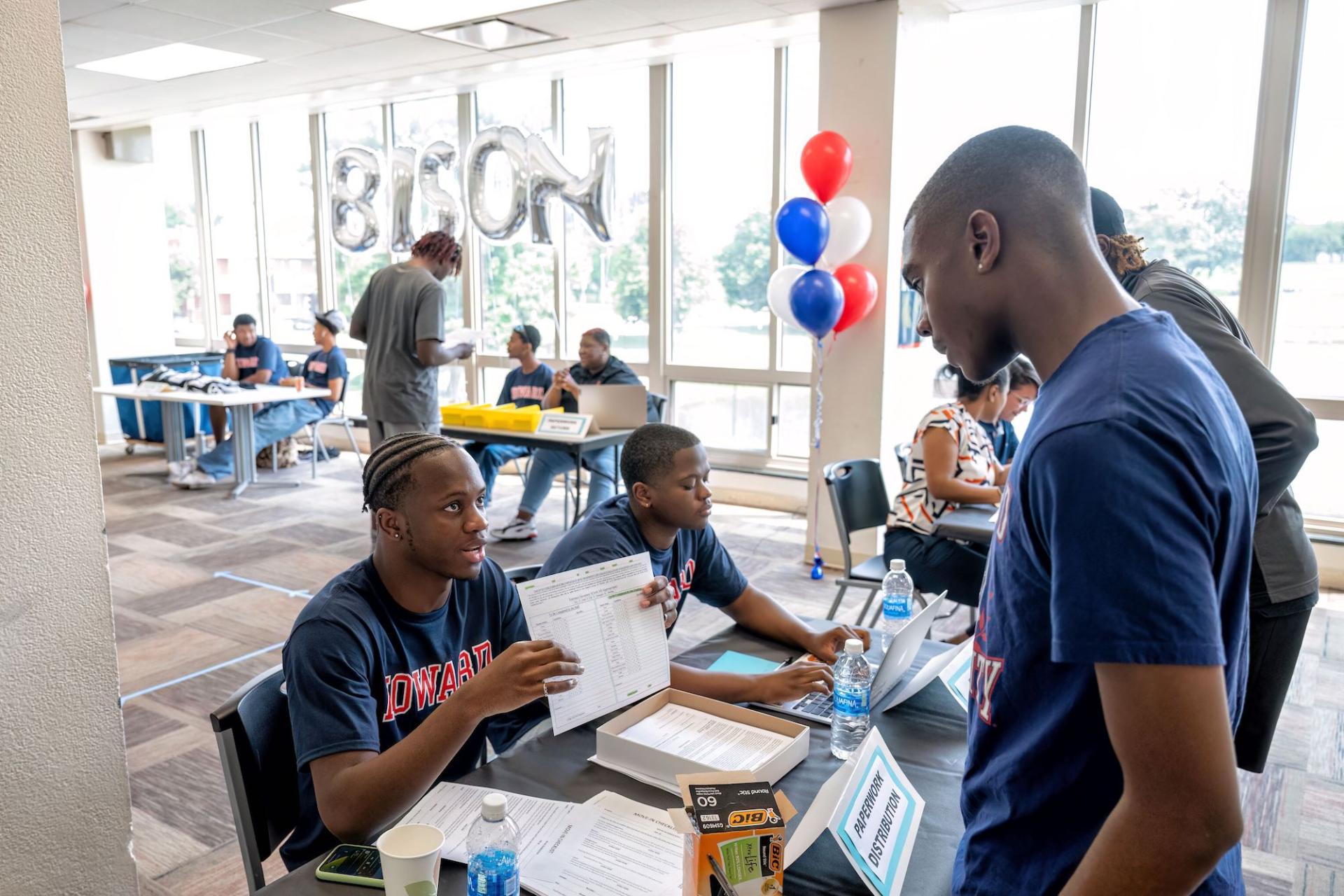 Housing volunteers such as biochemistry senior and chapel assistant Jiji Maduakor emphasized other student support. She passed out pamphlets to freshmen as they entered their hall; relaying information about residential advisors, safety and security protocols, and College Hall South's 24/7 technology center. 
Maduakor says that the first step of a great Howard experience is getting students adjusted, allowing them "room to grow into their new selves." 
"My [goal] is letting them into The Herd and letting them know they're welcomed here," says Maduakor, who was stationed in dorm lobby. "Their life at Howard is about to be so exciting."
She reminisced about being a first-year student and cited her growing pains as a reason to help Black scholars can excel.  
"People come to Howard as caterpillars, and they come out as butterflies," she says. "That's what Howard does to people, and that's what they should expect." 
As Vinson posed for photos with new members of the Howard University community, members of the student leadership joined him such as Miss School of Education Erin Taylor and Hamid Jalloh Mr. College of Nursing and Allied Health Sciences.  
Emotions swelled as parents, including Troy Thomas and LaWanda Byrd from Tampa, Florida, said goodbye to their new Bison.  Earlier, they had moved Byrd's daughter, Evonni Courtney, into her dorm. Courtney is pursuing a degree in hospitality management and administration. 
"I'm really excited that she decided to go to an HBCU," Thomas says. "I told her 'If you're going to [attend an HBCU], HU is where you've gotta go.'" 
While Florida's education begins to restrict certain teachings of Black history, Thomas was certain that an education at Howard University would quell any questions regarding the history of Black people in America. Like most parents, Byrd is excited for Courtney's ability to soak in the Black experience that Howard provides while preparing the new scholars to grow during and after their time at The Mecca. 
"She expressed that she wanted to be surrounded by that awareness and the culture," Byrd says. "I'm just excited for her learning and this higher education experience. We're looking forward to a great experience for her and broadening her perspective." 
As the Howard University community banded together to continue its welcoming traditions, Vinson blended in well to the scene as faculty and staff witnessed his first moments on campus. He will officially begin as president on September 1.   
"He'll learn that this is a place of tradition with deep roots," says Fuller Ming, a member of the Office of Auxiliary Enterprises. He celebrated his one-year faculty anniversary at Howard this year. "He'll learn why we're the premier HBCU in the country, and that there's students here from all over the world."