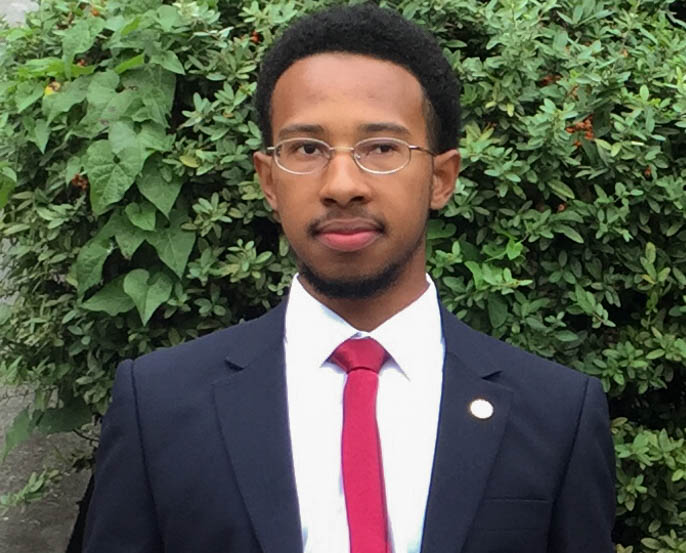 WASHINGTON, D.C. (September 27, 2018) — The White House Initiative on Historically Black Colleges and Universities has named Howard University senior, Justin Edwards, one of the 2018 HBCU Competitiveness Scholars. Edwards, a native of Lafayette, La., is a senior political science major, economics minor in the College of Arts and Sciences.
Edwards was selected as one of 63 students from 54 HBCUs as one of the 2018 White House HBCU Competitiveness Scholars – the White House Initiative's highest student recognition. Edwards and other Competitiveness Scholars received recognition at the Initiative's Excellence in Innovation and Competitiveness Awards on Sept. 17, during the 2018 National HBCU Week Conference.
"Like so many others who have come before me, attending Howard University has opened numerous doors in my life," says Edwards. "Receiving the recognition of becoming a competitiveness scholar is significant because it grants me the opportunity to advocate for the important role HBCUs play at this critical moment in our nation. HBCU students are history in the making and we must do all that we can to ensure their stories are told."
Competitiveness Scholars are nominated and endorsed for the award by their institution president and selected based on their academic achievement, campus and civic involvement and entrepreneurial ethos or "go-getter" spirit. Over the one-year term commitment, Competitiveness Scholars will learn and share proven and promising practices that support individual and HBCU competitiveness, with the goal of strengthening prospects for career and life success.
In the Spring of 2018, Edwards was given the distinct honor of being named a 2018 Harry S. Truman Scholar, representing his home state of Louisiana. Edwards is a member of the College of Arts and Sciences Honors Program, the Newman Club, co-president of the Howard University Catholic Student Ministry, and an alumnus of both the sixth class of the Howard University Freshman Leadership Academy and the Institute for Responsible Citizenship.
Edwards is passionate about empowering underserved and minority communities. After graduating, he plans to become a Truman-Albright Fellow before pursuing a law degree and a career in public service. 
# # #
About Howard University
Founded in 1867, Howard University is a private, research university that is comprised of 13 schools and colleges. Students pursue studies in more than 120 areas leading to undergraduate, graduate and professional degrees. The University operates with a commitment to Excellence in Truth and Service and has produced four Rhodes Scholars, 11 Truman Scholars, two Marshall Scholars, one Schwarzman Scholar, over 70 Fulbright Scholars and 22 Pickering Fellows. Howard also produces more on-campus African-American Ph.D. recipients than any other university in the United States. For more information on Howard University, visit www.howard.edu.
Media Contact: Misha Cornelius, misha.cornelius@howard.edu