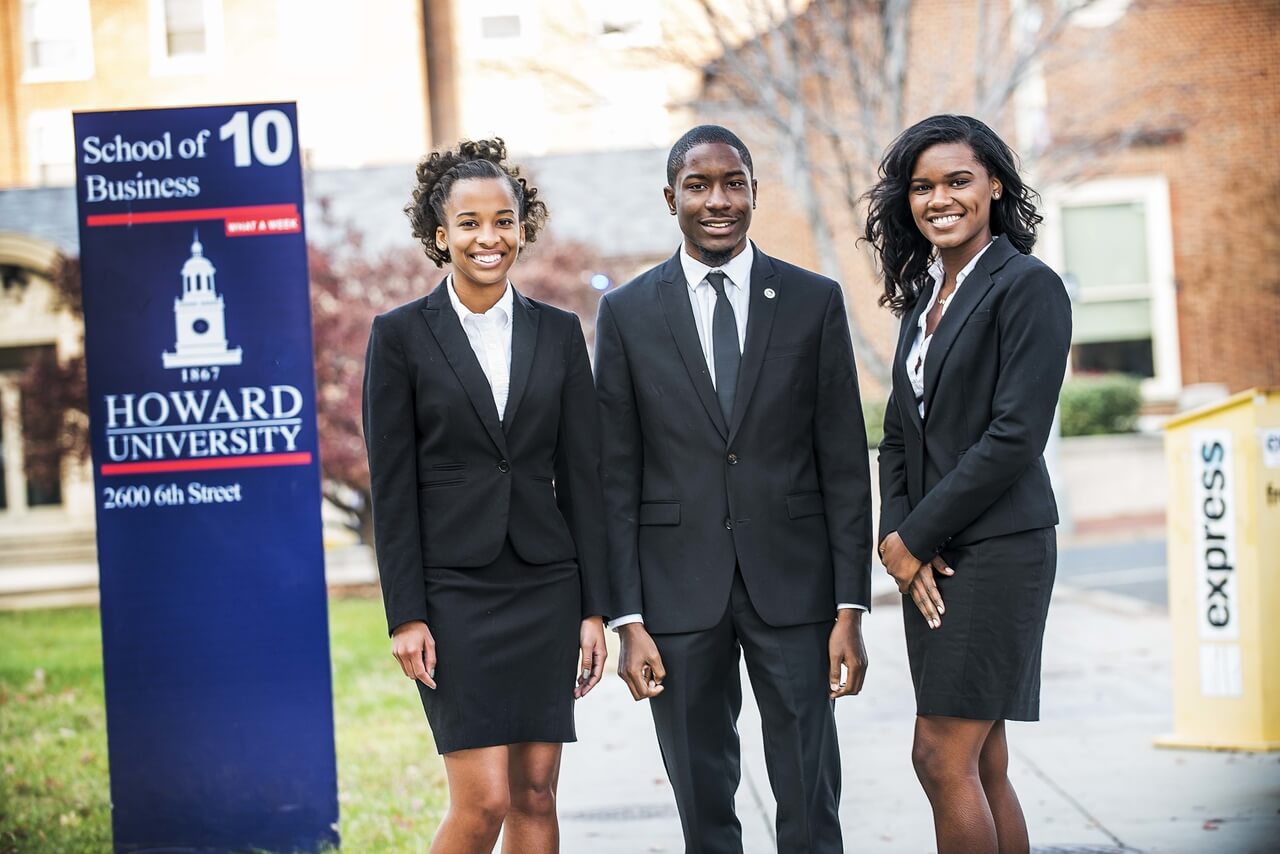 WASHINGTON – The Howard University School of Business is pleased to announce a $100,000 gift from the Siebert Williams Shank Foundation, the philanthropic arm of Siebert Williams Shank & Co., LLC (SWS), the nation's top-ranked minority- and woman-owned investment banking firm. The gift will support the schools 50th anniversary strategic plan, which includes a variety of initiatives aimed at enhancing the school's traditional practices and promoting excellence.
"On behalf of the School of Business, I want to thank the Siebert Williams Shank Foundation for their support and partnership," said Anthony Wilbon, Ph.D., dean of the Howard University School of Business. "The foundation's generous support will help us reach the goals of our strategic plan and make an even greater impact as a leading provider of business education."
SWS Chairman Christopher Williams and equity partner Gary Hall are both Howard University alumni who helped to inspire the partnership between SWS and Howard. The gift will support the 50th anniversary strategic plan, which seeks to tactically inspire alumni to establish scholarship funds, invest in the expansion of programs and centers, and modernize the facilities and technology labs. Gifts like the one from SWS invest in core initiatives, including student retention programming, career placement opportunities, technology enhancement, curriculum development and undergraduate scholarships in the School of Business.
"The fact that there are two Howard University alumni at the helm of America's top-ranked woman- and minority-owned investment bank speaks volumes about the value of a Howard University education," Wilbon continued. "We are very grateful that both Mr. Gary Hall and Mr. Chris Williams have continued to support their Alma Mater, and there is no doubt in my mind that this contribution is a true testament to the Howard University tenets of truth and service. We could not be more grateful."
"As a proud alumnus of Howard, I know first-hand not just the excellent level of education students receive there, but the outstanding real-world results it produces after graduation," said Hall, who runs the firm's Oakland office and serves as national head of infrastructure and public finance. "The students that our firm employs from HBCUs are smart and success-driven. I know this donation will provide generations of students with an important ladder into the beginning of their careers."
SWS is an independent nonbank financial services firm that offers investment banking, sales and trading, research, and advisory services. It is among the most diverse in its industry, with 64 percent of its workforce comprised of women and minorities. Additionally, the firm is both majority-owned by people of color (92 percent) and women (61 percent). The gift to Howard is part of the firm's $200,000 investment in HBCUs in honor Black History Month. Spelman College also received a donation from the firm.
"Our contributions to two of the many deserving historically Black colleges and universities represent a single gesture in support of the critical missions that these institutions have served since post-war Reconstruction, and signals our intent to use our talent and resources to support development of future generations of diverse professionals," said Williams. "My time at Howard also provided me with compelling real-life examples of minority professionals that were undeterred, by any societal hurdles encountered, along their journeys to success."
###
About Howard University
Founded in 1867, Howard University is a private, research university that is comprised of 13 schools and colleges. Students pursue more than 140 programs of study leading to undergraduate, graduate and professional degrees. The University operates with a commitment to Excellence in Truth and Service and has produced one Schwarzman Scholar, three Marshall Scholars, four Rhodes Scholars, 11 Truman Scholars, 25 Pickering Fellows and more than 165 Fulbright recipients. Howard also produces more on-campus African-American Ph.D. recipients than any other university in the United States. For more information on Howard University, visit www.howard.edu.


Media Contact: Misha Cornelius, misha.cornelius@howard.edu