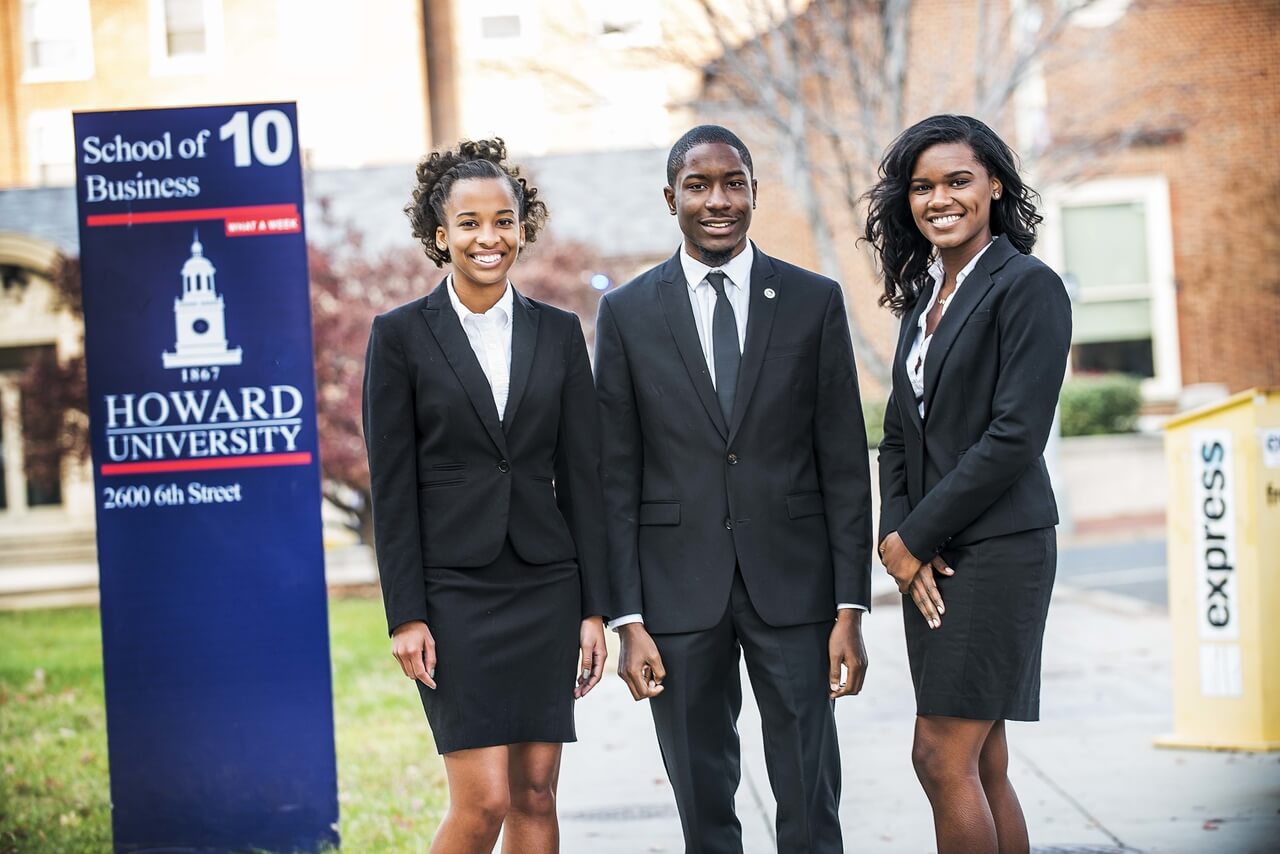 WASHINGTON D.C. – The Howard University School of Business is pleased to announce the commemoration of its 50th anniversary to celebrate the school's legacy of providing elite business education. Corporate executives on the Howard University School of Business Board of Visitors are spearheading the year-long celebration and $5 million fundraising effort in partnership with a 50th Anniversary Committee of prominent alumni, leading philanthropists, and corporate sponsors.
"The 50th Anniversary is a prime opportunity to catapult the School of Business into the next 50 years through continued focus on excellence and evolution of our strategic vision," says Barron H. Harvey, Ph.D., dean of the School of Business. "This is more than a celebration of our past, but also of our future contributions to the business world."
In 1970, the School of Business started its operation out of the small offices of a vacant factory on Sherman Avenue. Today, the school sits prominently on the University's main campus and has become a beacon of business education on the global stage. Under Harvey's leadership, the School of Business continues its legacy as a leading institution with a concentration on diversity, student preparation, strengthening curriculum through featured talks by industry leaders, and assisting students with financial needs to support their educational pursuits.
Throughout the 50th Anniversary commemoration, the School of Business will work to showcase  its unique business education programming and highlight the diverse talents and range of experience business school students possess. As the school is continuously working to enhance student preparation and retention, and assist students with pressing financial needs to support their educational pursuits, the commemoration will serve as an opportunity to encourage our community of nearly 11,000 alumni to join in on the effort to raise $5 million.
"We are calling on our alumni to reinvest in the future leaders of business and in our mission to diversify corporate C-suites in America and globally," Harvey continues. "With that, we are working diligently to reach and exceed our $5 million fundraising goal by focusing on operations and programmatic activities that align with the anniversary's transformative pillars."
The purpose of the 50th Anniversary fundraising campaign is to tactically inspire alumni to establish scholarship funds, invest in the expansion of programs and centers, and modernize the facilities and technology labs. The celebration supports the University's strategic plan, Howard Forward, by encouraging and optimizing traditional practices and promoting excellence.
"With such a rich legacy, we must continue to ensure that all of our students are provided with opportunities to grow and evolve while exposing them to the latest developments in business research and practice," says Anthony Wilbon, Ph.D., associate dean of the School of Business. "Many of our alumni have gone on to reach significant professional achievements and we are continuously proud of the transformation our students experience as a result of the hard work and dedication of our faculty and staff."
For more information about 50th Anniversary commemoration events and to learn how to donate to the 50th Anniversary fundraising campaign, please visit Husb50thanniversary.com.
 # # # 
About Howard University School of Business
The Howard University School of Business was founded in 1970 and has since developed its reputation as a world-class leader in business education. In 1976, the School of Business became the first Washington, D.C. business program to be awarded AACSB accreditation. The school has significant partnerships with Fortune 500 companies and has established numerous advisory boards with prominent alumni, entrepreneurs, and corporate executives at the helm. Howard's business school programs have been nationally and internationally ranked by Bloomberg BusinessWeek, U.S. News and World Report, Fortune, The Wall Street Journal, and The Princeton Review. For more information, visit https://bschool.howard.edu/.
Media Contact: Misha Cornelius, misha.cornelius@howard.edu