WASHINGTON – Howard University researchers within the Department of Biology have published a breakthrough manuscript today on developing broad anti-viral drugs that will inhibit pathogenic viruses from replication. This is a stark difference from current anti-viral drugs that become less effective as viruses become more resistant. The report, published by peer-reviewed bio-medical journal Oncotarget and featured on the journal cover page, takes a detailed look at the Howard University team's innovative approach to isolating anti-viral compounds and the possibility of future drugs that will offer effective and durable treatment for many pathogenic viruses. As a proof of concept, the paper detailed the effectiveness of the drugs against Herpes Simplex Virus-1, a common virus that causes painful sores on genitals and/or mouth.
"The work of Dr. Ullah and his research team is a critical breakthrough in the development of anti-viral drugs," says Provost and Chief Academic Officer Anthony K. Wutoh. "We anticipate that this work will ultimately impact the development of medications to treat various illnesses, including more effective treatments against Herpes Simplex Virus-1."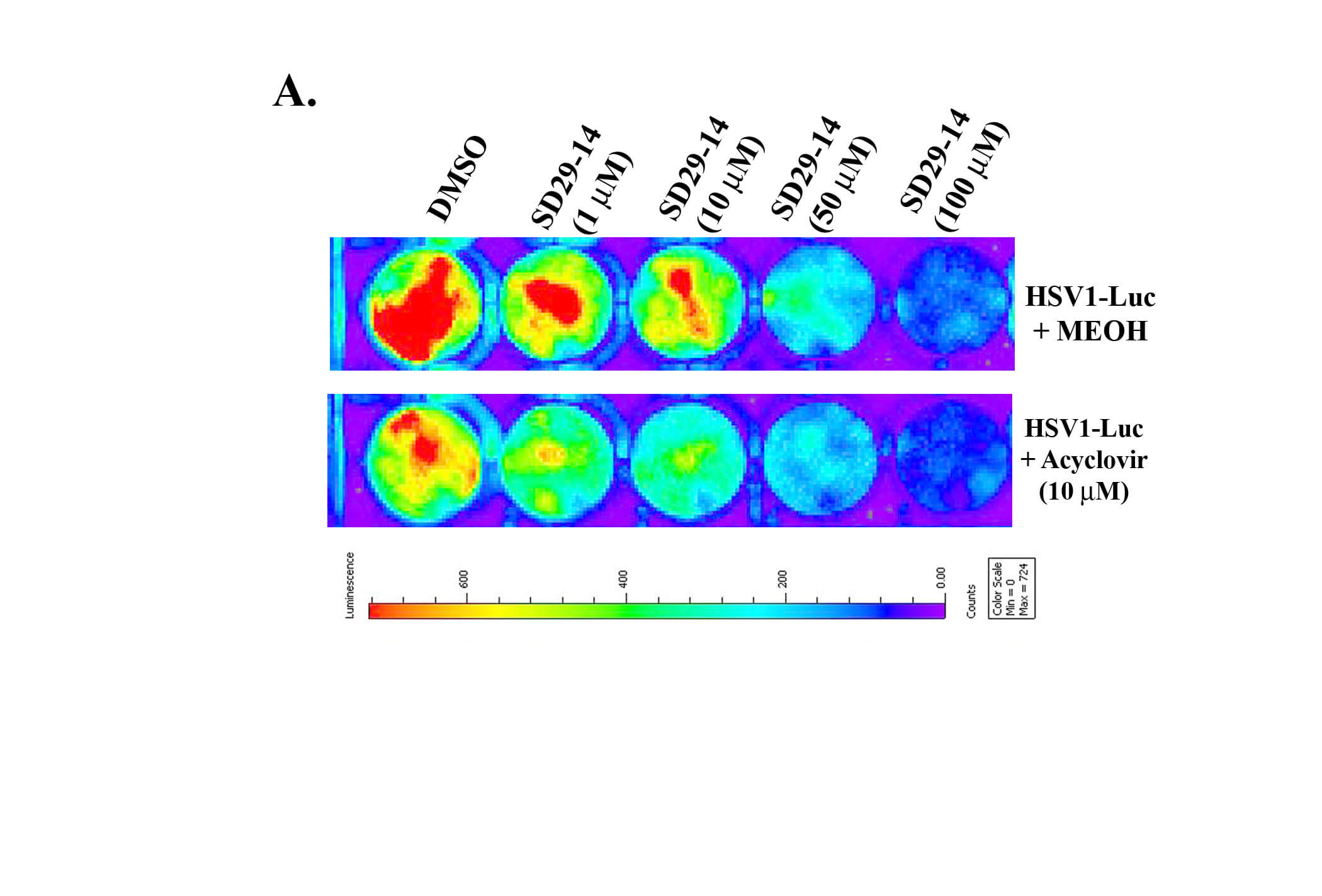 Associate Professor of Biology Hemayet Ullah, Ph.D. leads the team of student and faculty researchers and identified a host protein called RACK1, which is often used by pathogenic viruses for their own replication. The small molecules developed by the team effectively render the host RACK1 protein unavailable to the viruses; thereby inhibiting the virus replication within the host cells. Ullah says the results are encouraging and indicate that further research will establish the potential compounds as durable anti-viral drugs. As these drugs do not directly target the virus, Ullah predicts that the viruses would have almost no opportunity to develop resistance, effectively making this a durable drug discovery approach.
"Though the results are preliminary but they show high efficacy in the lab experimentation. The novelty of this approach ensures that the drugs will not be only specific to a single virus but will be effective against diverse pathogenic viruses that use the same host factor. A number of human pathogenic viruses are already known to use the same host factor. What we now need are tests in animal model and in pre-clinical trials. Hopefully with funding available, we will be able achieve these goals in 2 to 3 years," explained Ullah.
He says most of the wet lab research works were completed at the University, citing the modern lab space inside the Interdisciplinary Research Center as a facilitator for multi-lab collaboration. In addition to graduate students, who serve as researchers for the project, Ullah credits Qiyi Tang, Ph.D., and Sergei Nekhai, Ph.D., both of the College of Medicine and Dr. Dakshanamurthy's lab at Georgetown University, with sharing his vision for experimentation and appreciating interdisciplinary collaboration.
To read the entire manuscript, visit http://www.oncotarget.com/index.php?journal=oncotarget&page=article&op=view&path[]=26907. 
###
Image above shows that the newly developed drug inhibits virus replication in a dose dependent manner. The virus is fused with a bio-luminescence gene from firefly; thereby growth of the virus can be measured by the level of red   bio-luminescence. When the drug is applied in increasing doses, dose dependent inhibition in red color emission indicates less virus particle in the cell (upper line). Lower line shows that when the newly developed drug is combined  with an existing drug to treat Herpes Virus, synergistic effect is seen (more than the individual drug effect combined)
ABOUT HOWARD UNIVERSITY
Founded in 1867, Howard University is a private, research university that is comprised of 13 schools and colleges. Students pursue studies in more than 120 areas leading to undergraduate, graduate and professional degrees. The University operates with a commitment to Excellence in Truth and Service and has produced four Rhodes Scholars, 11 Truman Scholars, two Marshall Scholars, one Schwarzman Scholar, over 70 Fulbright Scholars and 22 Pickering Fellows. Howard also produces more on-campus African-American Ph.D. recipients than any other university in the United States.  For more information on Howard University visit www.howard.edu
MEDIA CONTACT: Ramzey Smith, Office of University Communications, Ramzey.smith@howard.edu