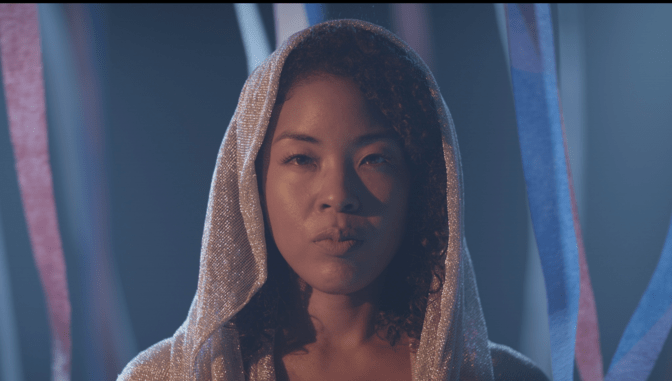 The video "VOTE," directed by Howard University tenured media professor and Washington, D.C. native, Jami Ramberan, has been awarded an Emmy from the National Academy of Television Arts and Sciences for public service announcement (single spot). The project is based around the poem "Vote" by Suzen Baraka, who stars in the video. 
"Visually, I wanted to illustrate the historical and current injustices faced by marginalized communities in a creative way. I sought to complement Suzen's explosive voice with galvanizing archival and stylized images," said Ramberan, associate professor of media, journalism and film in the Cathy Hughes School of Communications. "I wanted viewers to see faces that looked like them, eyes that remind them of their family, friends, and neighbors. As a result, I included portraits of everyday people wearing masks to reflect our current condition with messages of activism and hope that support diverse and underrepresented communities. From the global pandemic to the harsh realities of police brutality, the events of 2020 have truly been eye-opening. It is time that we reckon with the atrocities of our past so that we can reconcile our future."
Shot in D.C., Ramberan said "VOTE" utilizes symbolism to highlight the overwhelming contradictions that so many in America historically and currently face. Baraka's performance pays tribute to the countless individuals who have sacrificed and are sacrificing so that citizens may have the right to vote. Baraka, a seasoned spoken word artist and attorney, used facts, logic and love to drive voters to the polls in the 2020 U.S. presidential election. 
The video features a collection of stills from protests spanning the past decade by photographer John E. Newton. Video sound designer and composer, Cass Maya, showcases local New York Black and Latinx fashion designers, including TsaHai NYC, Swiyyah Couture and Mario Miguelito Designs. Additionally, a handful of Howard faculty, alumni and students aided in bringing this project into fruition.
To watch the full VOTE video, visit youtube.com/imajrefilms.
Howard University credits
Co-Executive Producer and Director: Jami Ramberan, Associate Professor, Department of Media, Journalism and Film
Cinematographer: Srikanth Nandigama, Assistant Professor, Department of Media, Journalism and Film
Producer: Shom Shamapande, Adjunct Professor, Department of Media, Journalism and Film
Editor: Temi Olutunmbi, MFA in Film, Alumnus
Art Director: Summer Brown, Lecturer, Department of Art
Associate Producer: Kyle Murdock, Radio, TV and Film Alumnus
Assistant Camera and Gaffer: Meagan Sims, MFA in Film, Student
###