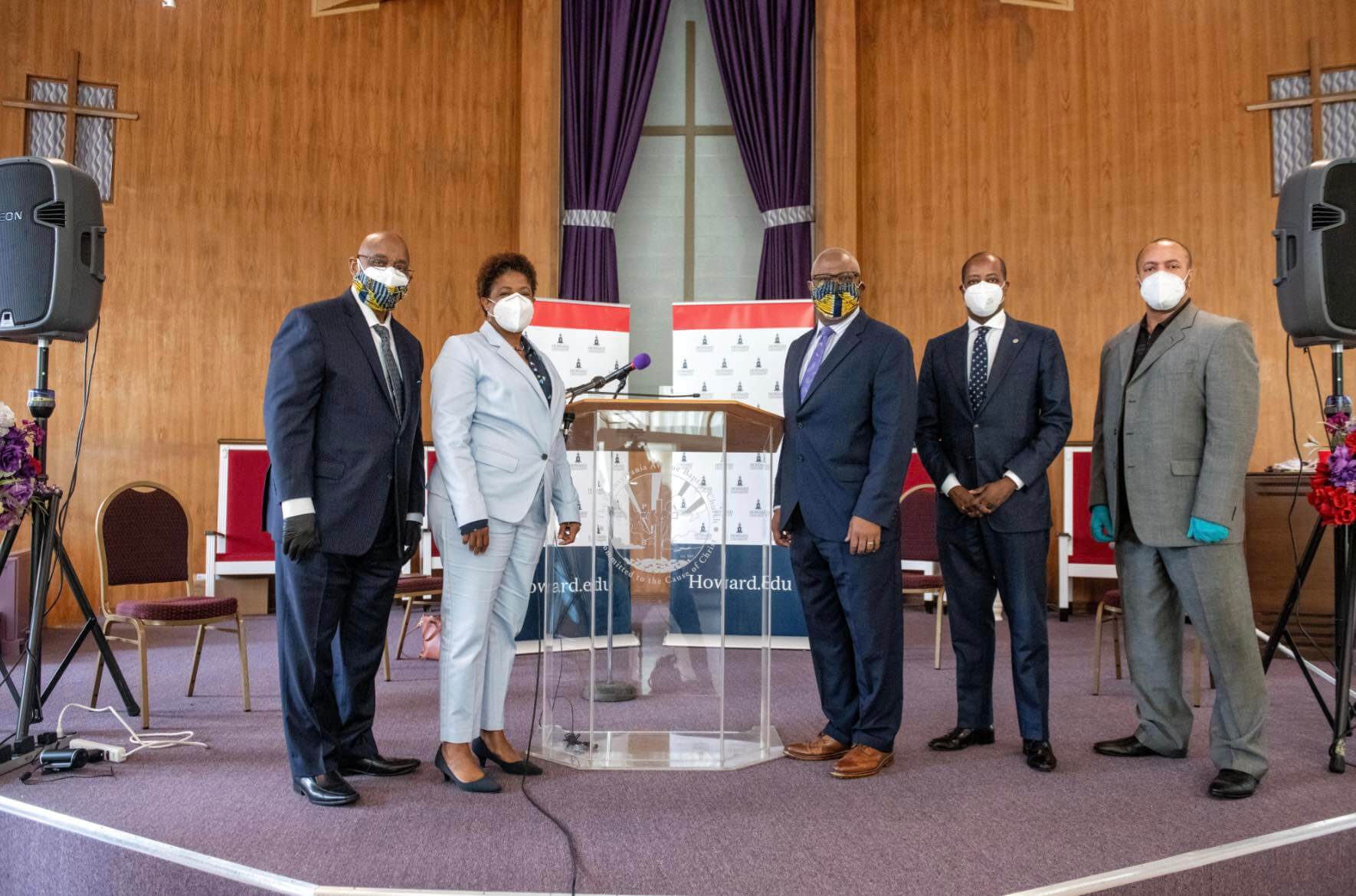 WASHINGTON – The Howard University Faculty Practice Plan has opened a second COVID-19 Testing Facility at Pennsylvania Avenue Baptist Church, 3000 Pennsylvania Avenue SE, to provide expanded access to free testing to residents in Ward 7 and 8, where testing is needed the most. The testing site will be open Tuesdays and Thursdays from 10 a.m. – 2 p.m., by appointment. A Howard medical team will see patients who are showing symptoms or who believe they are asymptomatic. For appointments, please call the Faculty Practice Plan at 202-865-2109.
Additionally, Howard University announced a new partnership with the Black Coalition Against COVID-19 to support a Virtual Health Ministry managed by The Leadership Council for Healthy Communities (LCHC), a coordinated alliance of concerned District organizations who are prioritizing the needs of the most vulnerable populations, under the leadership of faith institutions, with a focus on providing access to urgent medical care, social services and COVID-19 specific education. The Virtual Health Ministry is funded by Howard University and a generous $20K donation from District Community Care, a subsidiary of Centene. The University raised an additional $170K from loyal donors associated with the Black Coalition Against COVID-19 to ensure that this work can take place in the communities with the most need.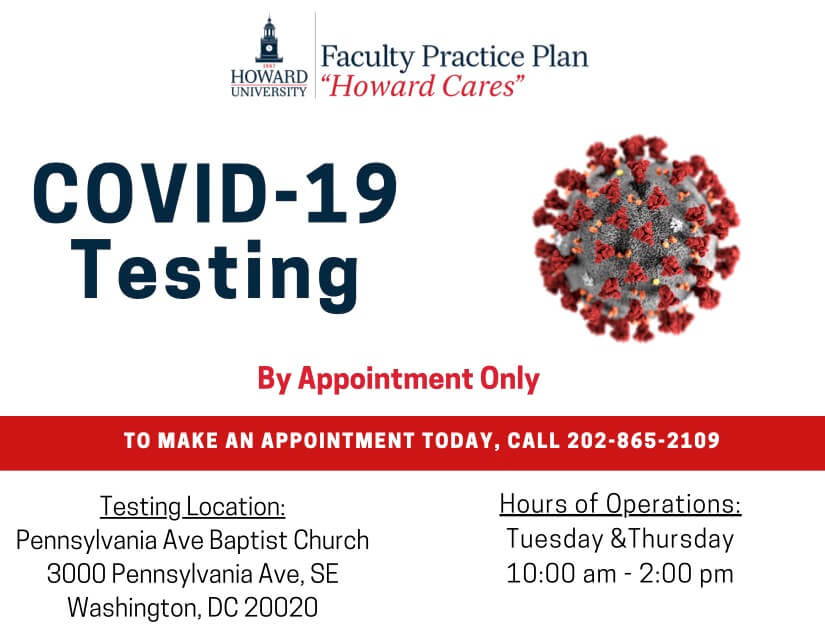 "We are excited to support this important work of the Leadership Council for Healthy Communities which is aligned with Howard's mission to serve our community and help find solutions to the health disparities plaguing African Americans with co-morbidities such a diabetes and hypertension," said President Wayne A. I. Frederick. "Thank you to our friends at District Community Care for investing in our neighbors to ensure access to care during these difficult times."
The Virtual Health Ministry partners include First Baptist Church, Ward 4; Pilgrim Rest Baptist Church, Ward 7; Mount Lebanon Baptist Church, Ward 1; Pennsylvania Avenue Baptist Church, Ward 7; and the Howard University School of Social Work.
"Given the essential role testing plays in protecting our community from COVID, I am pleased that Howard University has chosen Pennsylvania Avenue Baptist Church as a testing site," said Rev. Kendrick Curry, pastor of Pennsylvania Avenue Baptist Church. "This partnership will go a long way in protecting the health of my community. It has been one of my dreams to have COVID testing."
Both Rev. Curry and Rev. Frank Tucker, pastor of First Baptist Church, took the test to demonstrate the simplicity of the process, which takes less than 5 minutes.
"My colleagues on the Leadership Council appreciate the necessity for our community to prioritize the fight to promote health and prevent disease," said Rev. Tucker. "As a member of the steering committee of the BCAC, I am committed to coordinating our efforts with those from other community-focused initiatives to fight against the COVID pandemic but also for the long-term health of our community."
Ambrose Lane, Jr., chair and founder of the Health Alliance Network and a member Black Coalition Against COVID-19, said the community needed more testing resources.
"We have been pushing for more testing in targeted congregated settings, such as senior living, public housing and incarcerated settings," Lane said. "If not targeted testing, then we need universal testing – testing that allows anyone to be testing, and this site satisfied that. Howard University is ahead of the curve in providing universal testing." 
While the testing sites are short term assignments that will be managed during the pandemic, the Virtual Health Ministry project is positioned to begin a long-term investment into the community. Faith institution-managed call centers, staffed by health ministry leaders from the participant faith institutions, will make proactive calls to residents to determine health and social needs and to provide public health information to mitigate the spread of the virus. The faith based coordinators serve as a bridge to connect those who need it to healthcare providers using telemedicine; or to the Howard University School of Social Work where navigators connect people with social and counseling resources.
"We are excited to start this pilot program with these four churches. Our Virtual Health Coordinators will provide a warm-hand connection to connect residents to a variety of services available to them, such as testing facilities, assistance with home-schooling, agencies for dealing with depression or anxiety," said Dean Sandra Crewe, School of Social Work. 
The Howard University Faculty Practice Plan began offering free coronavirus testing at its Benning Road Clinic (4414 Benning Road NE) in early May, which was quickly expanded due to high demand. Both testing sites are funded by a $1 million grant from Bank of America announced last month.
For more information about the Black Coalition Against COVID-19, please visit www.blackcoalitionagainstcovid.org
# # #
About Howard University
Founded in 1867, Howard University is a private, research university that is comprised of 13 schools and colleges. Students pursue studies in more than 120 areas leading to undergraduate, graduate and professional degrees. The University operates with a commitment to Excellence in Truth and Service and has produced one Schwarzman Scholar, three Marshall Scholars, four Rhodes Scholars, 11 Truman Scholars, 25 Pickering Fellows and more than 165 Fulbright recipients. Howard also produces more on-campus African-American Ph.D. recipients than any other university in the United States. For more information on Howard University, visit www.howard.edu.
For media inquiries, please contact Sholnn Freeman, Howard University communications, sholnn.freeman@howard.edu