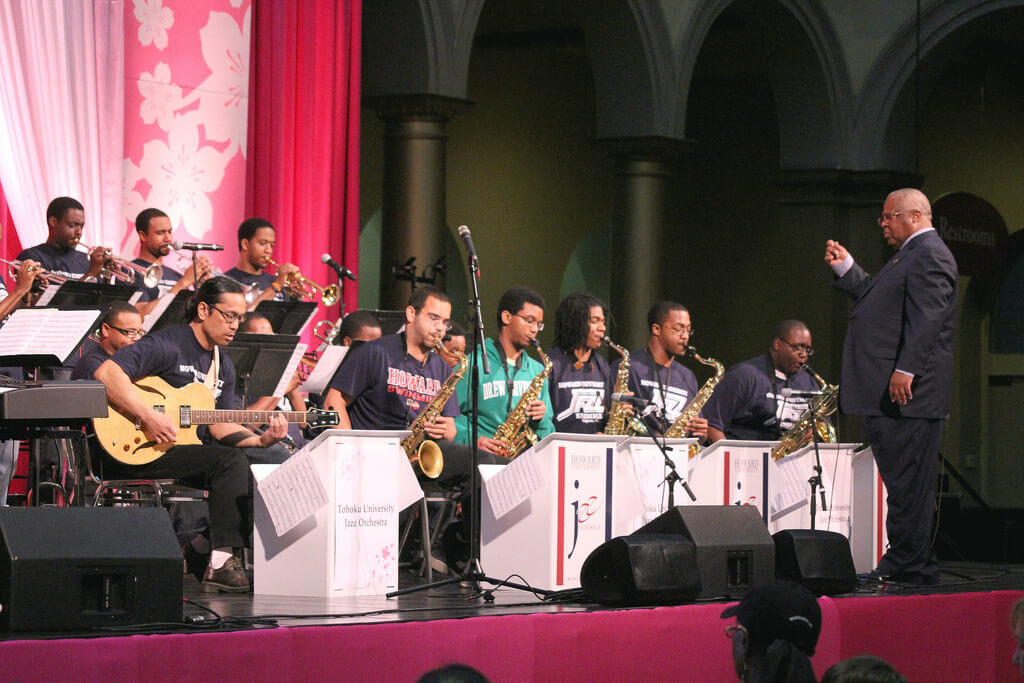 WASHINGTON (October 10, 2018) – The Howard University Jazz Ensemble (HUJE) is set to perform at the Kennedy Center on Thursday, Oct. 18 at 6 p.m. as part of its annual Fall Concert Series. The free concert will be streamed live at http://www.kennedy-center.org/video/live. Seating is first come, first served.
The ensemble will be featured at the Kennedy Center's Millennium Stage, alongside guest soloist, Tia Fuller, a saxophonist an professor of music at the Berklee College of Music. Fuller will join HUJE to perform several classic American jazz selections for the second of two performances that compose the concert series. 
Additionally, the ensemble and Fuller will perform earlier in the day at 12:40 p.m. at Howard's Blackburn Art Gallery, which will be streamed live on the Department of Music's Facebook page.
"The HUJE is excited to be performing with saxophonist Tia Fuller on campus and on the Kennedy Center Millennium Stage. During the campus concert in the Blackburn Art gallery, she will receive the prestigious Benny Golson Jazz Master Award," says Fred Irby III, director of HUJE. Irby says HUJE created the Benny Golson Jazz Master Award in 1996 to honor the legacy of Howard University alumnus Benny Golson, renowned jazz composer and saxophonist. 
Irby, who founded HUJE in 1975, has been a member of the Department of Music since 1974. He also serves as Principal Trumpet of the Kennedy Center Opera House Musical Theater Orchestra. For more information on the Howard University Jazz Ensemble, visit http://music.coas.howard.edu/huje/.
###
Photographed above: Howard University Jazz Ensemble during National Cherry Blossom Festival Family Days, March 2012.
Photographer credit: Raymond Fudge
About HUJE
The Howard University Jazz Ensemble (HUJE) was founded in 1975 by its director, Fred Irby, III. Outstanding performances in the United States, Europe, South and Central America, China, Japan, Africa and the Caribbean have caused it to be recognized as one of the foremost university jazz ensembles in the world.  HUJE has been heard on radio and television as well as in concert, often appearing with celebrated artists. Members of the HUJE have won awards as performers, composers/arrangers and the ensemble includes among its alumni many celebrated jazz artists. Additionally, the HUJE was featured during the 1992, 1996 and 2005 Kennedy Center Honors Gala (CBS-TV). The HUJE has released 43 recordings in a distinguished series that began in 1976. To learn more about HUJE, please visit our web site at www.huje.org.
About Howard University
Founded in 1867, Howard University is a private, research university that is comprised of 13 schools and colleges. Students pursue studies in more than 120 areas leading to undergraduate, graduate and professional degrees. The University operates with a commitment to Excellence in Truth and Service and has produced four Rhodes Scholars, 11 Truman Scholars, two Marshall Scholars, one Schwarzman Scholar, over 70 Fulbright Scholars and 22 Pickering Fellows. Howard also produces more on-campus African-American Ph.D. recipients than any other university in the United States. For more information on Howard University, visit www.howard.edu.
Media contact: Ramzey Smith, Ramzey.smith@howard.edu