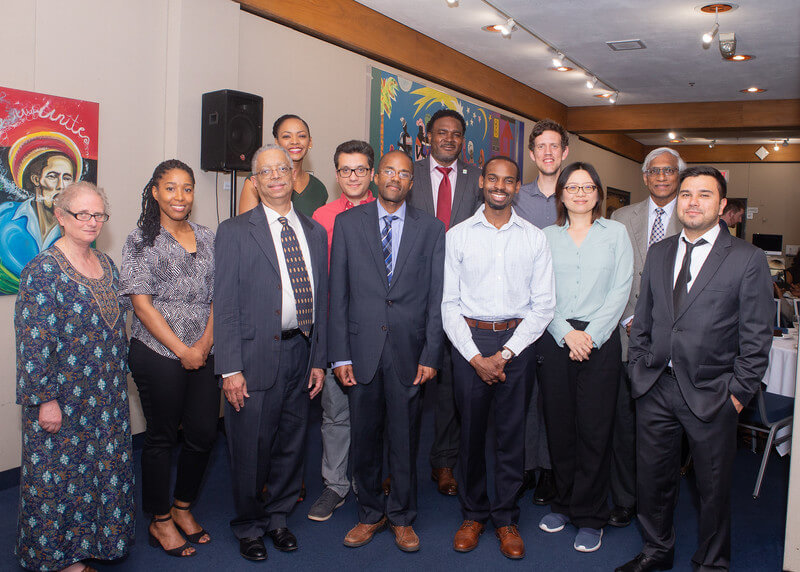 WASHINGTON – A new Alfred P. Sloan Foundation $1.4 million grant will aid the Howard University Department of Economics in constructing a program that will strengthen student recruitment and research opportunities, faculty development and training, and the department's infrastructure. 
The new program is crafted to attract and retain top talent through tuition and stipend support for students and postdoctoral fellow researchers. Stipends will cover cost-of-living expenses and permit time to gain research experience under faculty mentorship. The research assistance provided by students will strengthen productivity. 
"We are enormously grateful for this significant Sloan Foundation grant, and we thank the Foundation for investing in excellence to yield more excellence," said Rubin Patterson, dean of the Howard University College of Arts and Science. "Howard's Department of Economics is already a well-established leader in producing economists from Black and other underrepresented communities as well as for producing research addressing economic inequality; this Sloan Foundation award is an investment in the production of more Black economists and more knowledge about addressing economic inequality."
Each year, three to four highly skilled students of color who received admission to the Howard University Department of Economics cannot attend due to a lack of funding for tuition, living expenses and research support. The department can continue to contribute to the advancement of Black students pursuing careers in economics with more research and tuition support. 
"It is important that funders support the institutions that have been creating, training and nurturing historically underrepresented minority economists. Howard has done an excellent job of mentoring future economists for many years," said Omari Swinton, Ph.D., chairman of the Howard University Department of Economics. "This support will allow us to do an even better job for the next generation of economists."
The program will feature annual fellowships for six undergraduate students, eight doctoral students and one postdoctoral researcher starting in the Fall 2021 semester. Students will engage in research opportunities for experiential learning at institutions such as the Center on Budget and Policy Priorities, the Congressional Budget Office and the Department of the Treasury. 
In addition to providing mentorship to current and newly admitted scholars, department faculty members will benefit from access to conferences, seminars and workshops, including travel support. This provides junior and midcareer faculty with the financial support needed to grow their research and teaching experience successfully. The economics department currently has 17 faculty members as well as the youngest faculty and the most assistant professors in the College of Arts and Sciences. 
"As the economics profession continues to wrestle with issues of underrepresentation, the nation continues to suffer from rampant economic inequality and injustices along racial lines," said Andria Smythe, Howard Universityassistant professor of economics. "The economics department at Howard University has long been a national leader in educating Black students in economics and researching issues around economic justice. This grant will help the department continue to rise to meet the challenges facing us at this moment in history."
As the only HBCU with a doctorate program in economics, the department strives to advance minorities in the field and to create an intellectual environment that will place the department at the forefront of the nation's thinking about economics issues on race and equity.
"The Sloan Higher Education program is all about rewarding institutions who are doing the hard work of educating our nation's underrepresented students of color in the STEM fields and economics. This award is about giving Howard economics the resources it needs to continue its tradition of pathbreaking, influential scholarship and outsized role in graduating Black economists," said Lorelle L. Espinosa, program director at the Alfred P. Sloan Foundation.
###
About Howard University
Founded in 1867, Howard University is a private research university that is comprised of 14 schools and colleges. Students pursue more than 140 programs of study leading to undergraduate, graduate and professional degrees. The University operates with a commitment to Excellence in Truth and Service and has produced one Schwarzman Scholar, three Marshall Scholars, four Rhodes Scholars, 12 Truman Scholars, 25 Pickering Fellows and more than 165 Fulbright recipients. Howard also produces more on-campus African American Ph.D. recipients than any other university in the United States. For more information on Howard University, visit www.howard.edu.
About the Alfred P. Sloan Foundation
The Alfred P. Sloan Foundation is a not-for-profit, mission-driven grantmaking institution dedicated to improving the welfare of all through the advancement of scientific knowledge. Founded in 1934 by industrialist Alfred P. Sloan Jr., the Foundation disburses approximately $80 million in grants each year in four broad areas: direct support of research in science, technology, engineering, mathematics and economics; initiatives to increase the quality and diversity of scientific institutions and the science workforce; projects to develop or leverage technology to empower research; and efforts to enhance and deepen public engagement with science and scientists. Sloan Foundation grantmaking helped create some of the country's most influential and enduring scientific institutions, including Memorial Sloan Kettering Cancer Center, the MIT Sloan School of Management and the Sloan Digital Sky Survey. Sloan support has also played a critical role in the early development of many scientific fields, including cognitive science, behavioral economics, and indoor microbial ecology. The Foundation strives to be guided in all its actions by the values of the scientific enterprise: impartiality, empiricism, curiosity, rigor, and the conviction that a reasoned, systematic understanding of the forces of nature and society, when applied inventively and wisely, can lead to a better world for all. 
Media Contact: Aaliyah Butler; aaliyah.butler@howard.edu