WASHINGTON- Last night, the College of Fine Arts hosted the annual Chadwick A. Boseman Day in Ira Aldridge Theater. The event included music, dance performances, an art showcase from the art department, musical performances by the jazz ensemble, and more.  
This year's theme was "Paying It Forward: Today, Tomorrow, and Forever." 
Chadwick A. Boseman Day is a celebration of Boseman's life and a continuation of his legacy, reminding us to model excellence for others as he did so well for the Howard community.  
"Chadwick Boseman Day is an incredibly important day on Howard's campus because it is an opportunity for our students to share their skills and talents in honor of Chadwick's legacy and to demonstrate what his legacy means to them through the very thing that he represented- creative expression," said Phylicia Rashad, dean of the College of Fine Arts. "The event was incredible, and we are so proud of our students who put forth an immense amount of effort, dedication and passion to make the event a success." 
Last year, The Chadwick Aaron Boseman Legacy Through the Arts Proclamation was passed declaring the importance of August 28, the day of Boseman's passing in 2020, as a day to celebrate his life and legacy.  A community mural and other art-based activities took place the day of the proclamation's signing.  
The annual Chadwick A. Boseman day is planned and coordinated by College of Fine Arts students. In preparation for the day, students met for months to ensure that Boseman's legacy is authentically shown through their day of celebration.  
President of the College of Fine Arts Student Council Julius Shanks, a junior acting major and film production minor from Birmingham, Alabama, has spent countless hours with his team planning this year's Chadwick A. Boseman Day.  
"The life of Chadwick Boseman deserves to be celebrated," said Shanks. "His impact on this world not just the world of acting deserves to be acknowledged."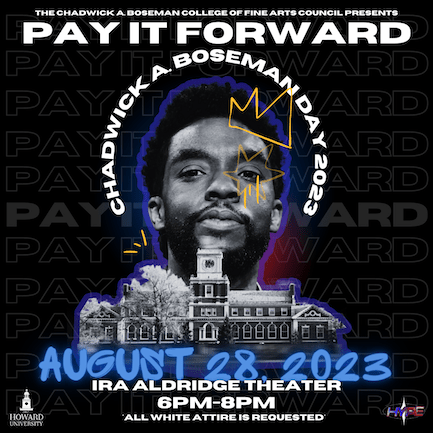 Chadwick A. Boseman Day graphic designed by Noni Garrett
The College of Fine Arts students pride themselves on continuing Boseman's legacy by fostering and developing future generations of accomplished artists. They did that by ensuring that, with this event, they work to highlight the extraordinary talent that resides within the College of Fine Arts, furthering their education, and by sharing what they have learned within the College of Fine Arts and at Howard University with every person they meet.  
Noni Garrett is an electronic studio art major from Prince Georges County, Maryland. She serves as the College of Fine Arts Student Council social media and graphic designer. She has spent the past few months considering how to display Boseman's brilliance through graphic art.  
"I wanted to capture the legacy of Chadwick Boseman, tie in Howard University, and add personal touches. The graphics turned out beautifully," Garrett says.   
Boseman played an instrumental role in re-establishing the College of Fine Arts at Howard University. Because of Boseman's work, his dedication to the craft, and his willingness to advocate on the College of Fine Arts' behalf, students are allowed to develop their artistry, weave their wildest dreams into reality, and become change makers through their art. 
### 
Media Contact: Sholnn Freeman, sholnn.freeman@howard.edu
About Howard University  
Founded in 1867, Howard University is a private, research university that is comprised of 14 schools and colleges. Students pursue more than 140 programs of study leading to undergraduate, graduate and professional degrees. The University operates with a commitment to Excellence in Truth and Service and has produced two Schwarzman Scholars, four Marshall Scholars, four Rhodes Scholars, 12 Truman Scholars, 25 Pickering Fellows and more than 165 Fulbright recipients. Howard also produces more on-campus African American PhD. recipients than any other university in the United States. For more information on Howard University, visit www.howard.edu.