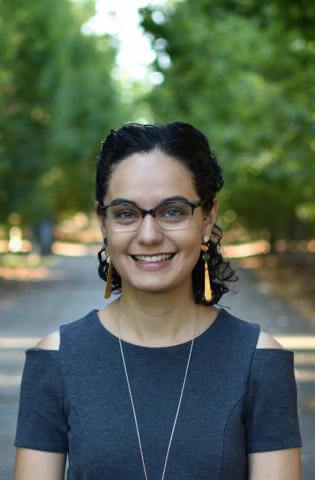 WASHINGTON – Assistant Professor of Civil and Environmental Engineering Jeseth Delgado Vela, Ph.D., is part of a team of researchers who are collaborating on nationwide efforts to monitor SARS-CoV-2 particles, the virus responsible for causing COVID-19, in wastewater. The research is being led by a team of scholars from North Carolina State University, Rice University and the University of Southern California, and is funded by a one-year $200,000 National Science Foundation grant.
Several preliminary studies have shown that SARS-CoV-2 viral genetic material can be detected in wastewater. This research aims to track genetic material in wastewater to understand trends of infections and potentially identify areas where more testing would be useful. The team will conduct their research by collecting samples from wastewater treatment plants in Raleigh, North Carolina, Washington, D.C., Houston, Texas and Los Angeles, California. Delgado Vela is currently collecting raw wastewater and primary solids from wastewater treatment plants in the Washington, D.C. metropolitan area. 
"Ultimately our team wants to be of service to public health officials and the public health departments in our communities," explains Delgado Vela, who serves as one of five co-investigators. "As our communities move towards easing social distancing guidelines, we believe this tool is promising for informing public health policy."
Delgado Vela says wastewater testing for coronavirus levels will also help aid communities during future outbreaks by reducing long-term economic disruption with possible early detection.
The team hopes to develop sensitive and standardized methods that will help society understand how the genetic material from the virus varies in communities with different sewage systems and different infection rates. To review the full research abstract, visit https://nsf.gov/awardsearch/showAward?AWD_ID=2029025&HistoricalAwards=false.
For more information on the Howard University Department of Civil and Environmental Engineering, within the College of Engineering and Architecture, visit http://www.cea.howard.edu. 
###
About Howard University
Founded in 1867, Howard University is a private, research university that is comprised of 13 schools and colleges. Students pursue studies in more than 120 areas leading to undergraduate, graduate and professional degrees. The University operates with a commitment to Excellence in Truth and Service and has produced one Schwarzman Scholar, three Marshall Scholars, four Rhodes Scholars, 11 Truman Scholars, 25 Pickering Fellows and more than 165 Fulbright recipients. Howard also produces more on-campus African-American Ph.D. recipients than any other university in the United States. For more information on Howard University, visit www.howard.edu.
Media contact: Ramzey Smith, Office of University Communications, ramzey.smith@howard.edu