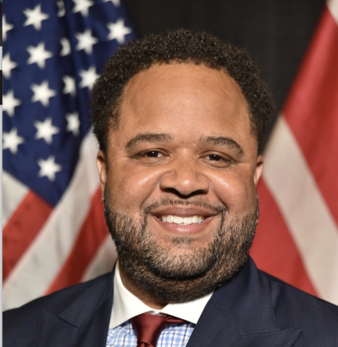 WASHINGTON – Howard University today announced the appointment of Rashad Young as the new Senior Vice President and Chief Strategy Officer, effective October 12, 2020. In this role he will oversee the implementation of the University's strategic plan: Howard Forward. He will also provide oversight on External Affairs as it relates to the federal government and on Real Estate as it pertains to our non-core assets.
"I am pleased to welcome veteran administrator Rashad Young to Howard University in the new role of SVP and Chief Strategy Officer," said President Wayne A. I. Frederick. "Mr. Young has a proven track record of managing strategic initiatives for complex organizations by improving efficiency and implementing solution-oriented processes. His wealth of experience will be a great addition to our leadership team."
Young joins Howard after having been the longest serving city administrator in DC Government history.   With a workforce of about 35,000 employees and a budget of $16 billion, Young ensured efficient, accountable and well-managed service delivery to all residents, businesses and visitors on behalf of the Mayor. His focus areas included: improving the District's government operations and oversight, providing for continuous quality improvements in government programs and services, ensuring responsibility and transparency in the budgeting process and improving interagency coordination, collaboration and communication.
"Although it is bittersweet to leave my post as city administrator with the District, I am truly excited to be joining the team at Howard University, particularly during this moment in our society when the future of our youth is so clearly important to the future of this nation," said Young. "President Frederick has established a high bar of success for the future of the institution and I look forward to joining the team that will bring that vision to fruition."
Young has spent his entire career building expertise in public management, including 15 years as the assistant city manager or city manager in urban centers, namely Alexandria, Virginia, Greensboro, North Carolina, Cincinnati and Dayton, Ohio. Throughout his career, he has managed workforces totaling  thousands of employees, led labor union contract negotiations, and overseen airport, convention center, water utility, human service, transit, public works and public safety agency operations. 
Through his previous role as city manager of Alexandria, Young is credited with forming the Office of Performance and Accountability (OPA) to develop a culture and practice of performance management and data-driven decision making. He also formed the Department of Project Implementation (DPI) to more effectively manage the growing and expansive list of City infrastructure capital projects. In addition, Young enhanced civic engagement in Alexandria by developing and deploying technology such as Call.Click.Connect that allows citizens and stakeholders to communicate directly with staff at all levels of the organization.
His accomplishments in Dayton included maintaining fiscal discipline and achieving the upgrade of the City's bond rating. His use of performance management systems to deliver top-notch city services helped city government be more transparent, outcome-based, and customer-focused.
Young received his bachelor's degree in business management and MBA from the University of Dayton in Ohio. He is a national board member of the National Forum for Black Public Administrators (NFBPA), a credentialed manager and member of the International City/County Management Association (ICMA), and a fellow of the National Academy of Public Administration (NAPA). 
# # #