WASHINGTON — Institutional leaders from eight universities that have Edward A. Bouchet Honor Society chapters on their campuses gathered on Howard University's campus for the first time since the pandemic for the annual Bouchet Society Forum. 
Hosted by The Graduate School, Bouchet Society institutional leads met in the multipurpose room in the Undergraduate Library on Thursday, September 22, from 8:30 a.m. to 5:30 p.m. The forum sought to give attendees a safe space to discuss critical issues related to diversity, equity, and inclusion in graduate studies on their respective campuses two years after the onset of this country's supposed racial reckoning. 
Dana A. Williams, PhD, dean of The Graduate School, noted that Howard was the ideal space to have this conversation. "We don't have the kinds of racial challenges at Howard that we see at other universities," Williams said. "For the most part, our campus is a perpetual safe space for all of our students, regardless of race. But we all have work to do to make everyone feel a deeper sense of belonging."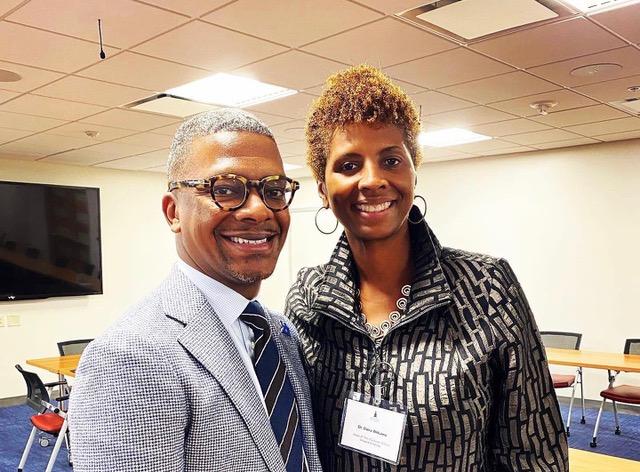 Participants started the day with a session titled "Diversity, Equity, and Inclusion in Learning and Research: Culture, Communication, Capacity-building." Panelists addressed how institutions can adopt and implement diversity, equity, and inclusion practices that best serve students of color. 
"Edward A. Bouchet is the cornerstone, a pillar for graduate education for African Americans who go on to earn the PhD," said Damon L. Williams Jr., associate vice president of institutional diversity at the University of Kentucky. As a leader in higher education, he has prepared and recruited students to the professoriate for over a decade. 
"It's very important that we're able to have courageous conversations when it's necessary about diversity, equity, and inclusion," said Williams, Jr. "It takes a village, I would say. So it takes us coming from our different types of institutions [to the forum] to think about how to really get this right and how to move the needle forward with graduate education."
Howard's faculty took center stage during the second session, "Ongoing Consequences of COVID-19: Revitalizing In-Person Engagement while Leveraging Virtual Engagement as Support." Focusing on how COVID-19 continues to impact graduate students remotely and in person, panelists shared how the crisis changed how universities can better support students, faculty, staff, and administrators.
"I think the impact on graduate students' mental health has been substantial and on faculty mental health," Miriam Petty, PhD, said. Petty is the associate dean for academic programs in The Graduate School at Northwestern University and an associate professor in the department of radio/television/film and is in the university's doctoral program for screen cultures. "I think the fact that COVID-19 came paired with this kind of rise in sort of right-winged bias and hate crime just amplifies the fragility of mental health for faculty, for staff, for students," she said. "I don't think that mental health has ever been something that colleges and universities have done exceptionally well. And I think COVID exposed how weak those systems and structures already were and in many cases has overwhelmed them and overwhelmed the services that are already on offer."
Examining the disparate impacts of the dual pandemics of COVID-19 and racism on doctoral students of color was one of the aims of the third and final session titled, "The Implications of the Dual Pandemics on Doctoral Education: What Do We Do Next?" Miriam Okine Davies, assistant dean for graduate student affairs & enrollment, shares how she hopes the forum's positive impact extends beyond the participants. 
"There is a lot to learn about how higher education institutions have responded to this inflection point between the events surrounding George Floyd and the global pandemic," said Okine Davies. "We hope that attendees learned from what other institutions have done and leave with a renewed understanding of what their institutions can do to support access, progression, and belonging for graduate students of color and faculty in ways that drive positive systemic change and foster accountability."
Bringing this year's Bouchet Society Forum to a close, Greg Carr, PhD, J.D., offered the closing keynote address, which focused on changes in graduate education we should expect in the next five years as we enter this new era where anti-woke sentiments continue to clash with efforts of some to make higher education more diverse, more equitable, and more inclusive. Carr's advice to the group was to prepare to fight and more importantly to fight and to win. 
The Edward Alexander Bouchet Graduate Honor Society conference and induction ceremony will take place during Spring 2023 at Yale University in New Haven, Connecticut. 
###
About Howard University
Founded in 1867, Howard University is a private, research university that is comprised of 14 schools and colleges. Students pursue more than 140 programs of study leading to undergraduate, graduate and professional degrees. The University operates with a commitment to Excellence in Truth and Service and has produced one Schwarzman Scholar, three Marshall Scholars, four Rhodes Scholars, 12 Truman Scholars, 25 Pickering Fellows and more than 165 Fulbright recipients. Howard also produces more on-campus African American Ph.D. recipients than any other university in the United States. For more information on Howard University, visit www.howard.edu.
Media Contact: Aaliyah Butler; aaliyah.butler@howard.edu