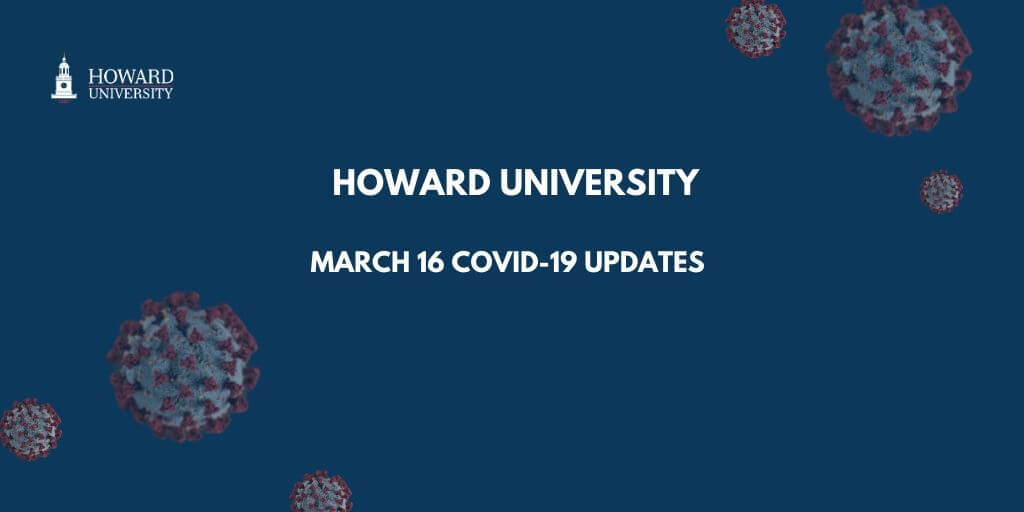 Dear Howard University Community,
I am writing to inform you of a need to escalate the university's response to the COVID-19 pandemic. A guest who attended the Howard University Charter Day Dinner has tested positive for COVID-19 (coronavirus). Out of an abundance of caution, we are asking all March 7 dinner participants to monitor and report to your doctor if you begin exhibiting flu-like symptoms. The DC Department of Health is investigating the case, locating and counseling relevant contacts in accordance with the latest national guidance and protocols. We are working closely with the department and have been advised that the chances of contracting the virus are low. 
The individual has complied with DC Department of Health's guidance to remain self-isolated. Our direct concern is the recovery and well-being of the affected individual and their loved ones. We will continue to prioritize the most vulnerable among us and do everything we can to safeguard the health and wellness of our university staff, students and surrounding communities.
We have consulted with medical and public-health experts and regrettably, our University leadership has arrived at the conclusion that a return to campus for face-to face instruction will not be possible for the Spring, 2020 semester. To be clear, we are taking the following steps:
We will not return to face-to-face instruction of courses at Howard University for the remainder of the Spring, 2020 semester and courses will continue to transition to remote and online instruction following the scheduled Spring Break. This is an evolution from our earlier statement.
We will close the residence halls on Sunday, March 22 at 11:59 p.m. This is an evolution from our earlier statement. We are working with our various institutional partners in consideration of any pro-rated refunds of room and board charges. Any potential refund amounts will vary based on application of Federal Aid and Title IV guidelines, current unpaid balances and the specific original room and board charges applicable to each student.  
Students who left for destinations other than home for spring break should not return to campus, but instead reach out to the Office of Resident Life to schedule a move out of your room at a later time.
Commencement and All-Class Reunions are canceled. On Sunday, the CDC issued recommendations that for the next 8 weeks, organizers cancel or postpone in-person events that consist of 50 people or more throughout the United States. Although the CDC states that this does not apply to the day to day operations of institutions of higher education, we do not consider commencement a day-to-day operation. Given that Howard's Commencement activities garner crowds of thousands, and the numerous elders and children regularly in attendance, we will cancel the event to avoid the potential for additional virus spread which would be problematic. 
This is our best plan of action in order to ensure that this global pandemic does not proliferate the campus community. We have concerns of worsening supply chain disruptions that will decrease our ability to provide services to the students on campus. Additional details will be shared regarding departures from the residence halls, online coursework and other considerations. 
We recognize that this development may cause concern among students, staff and the wider community. Over the last four days, there have been significant developments in the ongoing spread of COVID-19:  
The World Health Organization has declared the COVID-19 outbreak a global pandemic, with more than 135,000 cases worldwide and more than 3,300 known cases in the United States.  
The Federal Government has issued new guidance discouraging any travel of U.S. citizens abroad; instructing all travelers from specified countries in Europe, including U.S. citizens, to self-quarantine for 14-days upon their arrival to the United States; and restricting travel of non-U.S. citizens to the United States from the Schengen Area of Europe. 
In Washington, D.C., Mayor Bowser has declared both a state of emergency and a public health emergency and D.C. Department of Health has recommended the canceling of large non-essential gatherings.
I appreciate the continuous patience and understanding that our community has exhibited during this evolving national crisis. As an alumnus myself, I am deeply saddened that our academic season has been disrupted and I apologize for the inconvenience that these changes have caused. However, the safety of our community is our utmost priority and each hard decision to de-densify the campus is being implemented in an effort to reduce our community's risk to exposure. 
We will continue to share relevant updates for our community as the situation unfolds. As you leave campus, please continue to practice social distancing, self-isolate if you are not feeling well, continue checking the university's COVID-19 page for updates and heeding counsel from DC Department of Health and the Centers for Disease Control and Prevention.
Excellence in Truth and Service,
Wayne A. I. Frederick, M.D., MBA
Howard University President