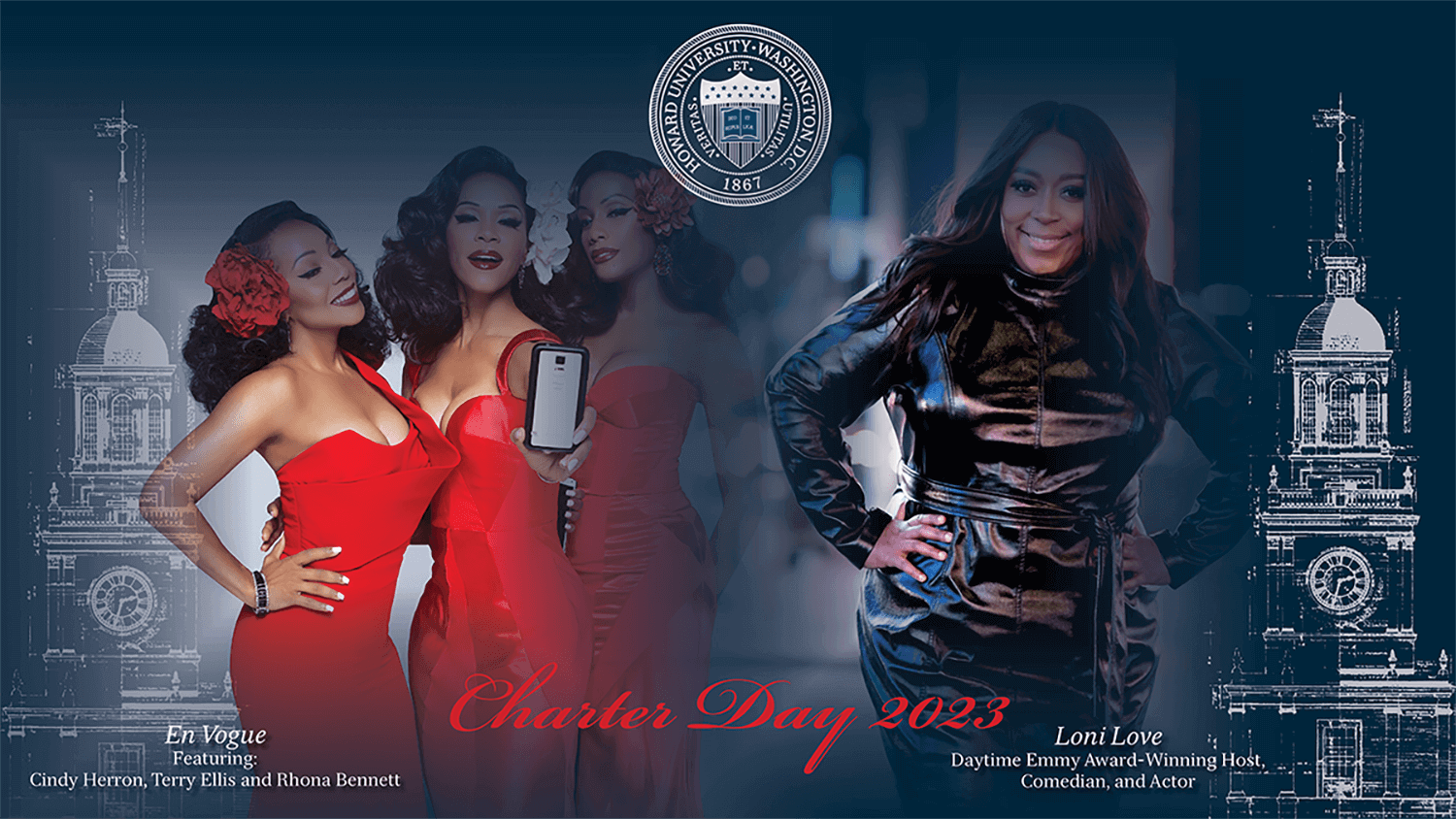 WASHINGTON - Howard University proudly announces Daytime Emmy Award-winning host, comedian, actor, author and philanthropist Loni Love will serve as mistress of ceremonies for the 99th Charter Day Dinner on Saturday, March 4. The entertainment for the evening will be Grammy-nominated vocalists Cindy Herron, Terry Ellis, and Rhona Bennett of singing group En Vogue. The annual black-tie Charter Day celebratory dinner is Howard's premier fundraising event, supporting scholarships for students to ensure they graduate. The event was held virtually the past two years.
"We are elated to have the talented Loni Love as host of our Charter Day Dinner, and doubly so to have the wonderful En Vogue as our musical talent on a night when we can gather in person. This will be an exciting and joyous Charter Day," said Wayne A. I. Frederick, M.D., MBA, president of Howard University.
Love is a co-host of the GRACIE Award-winning SiriusXM weekend radio show "Café Mocha," the only nationally syndicated show of its kind created by women of color. Love was a co-host of the syndicated daytime talk show "The Real" from 2015–2022, co-host for "E! Daily Pop" and guest cohost for "E! Nightly Pop" from 2020 to 2022. In 2019, she became the first female host on the mainstage of the Essence Music Festival in New Orleans and in 2020 hosted Essence's 50th anniversary at its first-ever virtual Essence Festival.
As an actor, Love has appeared in "Mother's Day," "Paul Blart: Mall Cop 2," "Soul Plane," the documentary "Being Loni Love" and "Adopt a Highway." She has written two books, "Love Him or Leave Him but Don't Get Stuck with the Tab" in 2013 and "I Tried to Change So You Don't Have To: True Life Lessons" in 2020. A graduate of Prairie View A&M University with a Bachelor of Science in electrical engineering, Love is a member of Delta Sigma Theta Sorority, Inc. Her accolades include the 2018 Daytime Emmy for Outstanding Entertainment Talk Show Host for "The Real," two NAACP Image Awards and three GRACIE Awards from Alliance for Women in Media.
En Vogue's unique sound defined the 1990s, and their its look and style have remained chic for more than three decades. Starting with their its debut single "Hold On" and continuing to other tunes such as "My Lovin," "Free Your Mind," and "Don't Let Go," En Vogue accumulated a string of hits, solidifying their the group's relevancy and appeal to various audiences. Their Its freshman album, "Born to Sing", went nearly double platinum.
The trio won seven MTV Music Video Awards, three Soul Train Music Awards, two American Music Awards, a Billboard, and Lady of Soul Award;, as well as Grammy nominations for hits "My Lovin' (You're Never Gonna Get It)," the remake of Aretha Franklin's remake  "Giving Him Something He Can Feel," and "Free Your Mind" from their its 1992 sophomore album Funky Divas;, "Don't Let Go [Love]" from the Set It Off soundtrack in 1996, and EV3, their its third album in 1997. 
Howard University's Charter Day Dinner is the culminating event commemorating the signing of the University charter by President Andrew Johnson on March 2, 1867. Traditionally held the day after Charter Day Convocation, the Charter Day Dinner is a time-honored tradition featuring a notable potpourri of speakers, entertainment, and recognition of distinguished alumni and staff. Proceeds from the event support student scholarships.
###
About Howard University
Founded in 1867, Howard University is a private, research university that is comprised of 14 schools and colleges. Students pursue more than 140 programs of study leading to undergraduate, graduate and professional degrees. The University operates with a commitment to Excellence in Truth and Service and has produced two Schwarzman Scholar, three Marshall Scholars, four Rhodes Scholars, 12 Truman Scholars, 25 Pickering Fellows and more than 165 Fulbright recipients. Howard also produces more on-campus African American Ph.D. recipients than any other university in the United States. For more information on Howard University, visit www.howard.edu