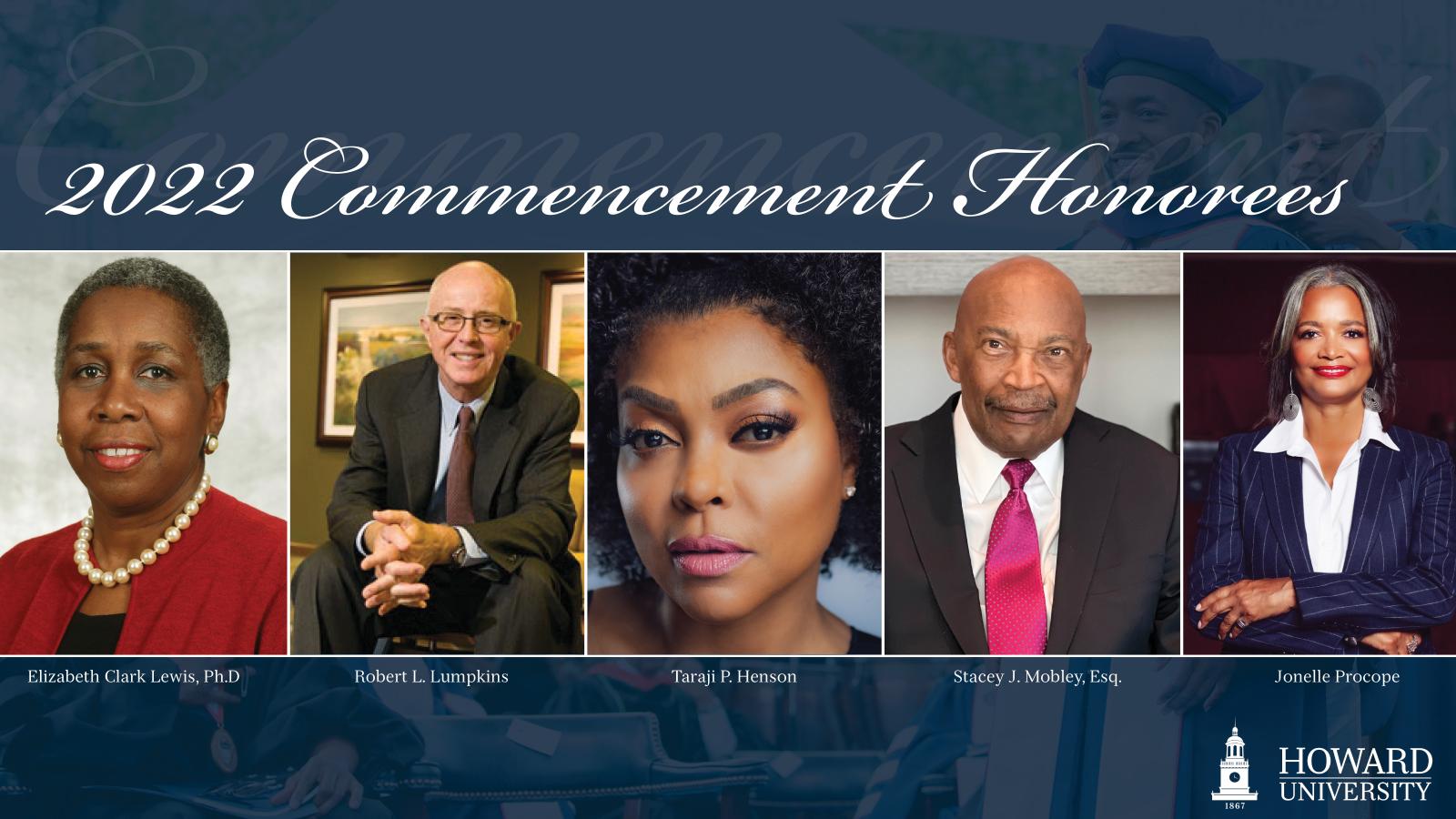 WASHINGTON – The Howard University Board of Trustees today announced the list of recipients who will receive honorary doctorate degrees from the University in 2022. The degrees will be granted during the 154th Commencement Convocation on the main campus of Howard University's Upper Quadrangle at 10 a.m. on Saturday, May 7, 2022.
Honorary recipients include renowned public historian Elizabeth Clark-Lewis, Ph.D.; Academy Award-nominated and Golden Globe-winning actress, filmmaker, philanthropist and entrepreneur Taraji P. Henson; Robert L. Lumpkins, trustee emeritus of the Howard University Board of Trustees and a past vice chairman; Stacey J. Mobley, Esq., distinguished Howard alumnus and chairman emeritus of the Board of Trustees; and Jonelle Procope, president and chief executive of the Apollo Theater.
"Our 2022 honorary degree recipients are individuals whose professional success is measured by the service they've provided and the difference they've made in their respective fields. Just as Howard is guided by our foundational values of truth and service, so are these honorees motivated by their pursuit of the truth and the need to serve and give back to their communities," said Dr. Wayne A. I. Frederick, president of Howard University. "As we celebrate our 154th Commencement Convocation, we embrace and recognize our honorees for their contributions both within and outside of the University. They have dedicated their talents and lives to improving the world – and for that we honor them."
Elizabeth Clark-Lewis will receive an honorary Doctor of Humane Letters. Clark-Lewis serves as professor of public history at Howard University, where she received her Bachelor of Arts and master's degree. She earned her doctorate from the University of Maryland. Clark-Lewis began her career at Northern Virginia Community College before being hired at 
her Alma Mater in 1990. Since then, she has become one of 
the nation's foremost public historians and has been credited for having trained the majority of the Black
 public historians in the field today. Her students have held enviable
 positions at all the Smithsonian museums, Harvard University's Schlesinger Library, the National Underground Railroad Freedom Center, as well as several Black history museums and other important archives. She has written eight books and dozens of articles, including "First Freed: Emancipation in the District of Columbia," which won the Brown Best Book award, and "Living In, Living Out: African American Domestics in Washington, D.C." (1996), one of the most consequential works to be produced on Black women and labor. Clark-Lewis also co-produced a documentary entitled, "Freedom Bags," with Stanley Nelson, which won the highly coveted Oscar Micheaux Award for best documentary. She has won 20 other awards, including the Mary McLeod Bethune Service Award and, most recently, the Living Legend award from the Association for the Study of African American Life and History. She also won the National Council on Public History's Robert Kelly Award.
Taraji P. Henson, a 1995 graduate of Howard University, will deliver the 2022 Commencement address and be awarded an honorary Doctor of Humane Letters. Henson has won multiple industry awards for memorable performances, including her roles in "Empire," "Hustle & Flow," and "Hidden Figures." A few years ago, Henson discussed her rise from Howard drama student to the elite realm of Hollywood television and movie-making. She said Howard afforded her the luxury of portraying anything in the world. "At Howard, I was taught to think and believe that I could play any character," she said. "I went out to Hollywood fearless."
Robert L. Lumpkins served on the Howard University Board of Trustees from 1999 until 2017 and as vice chairman of the board from July 1, 2014 until his retirement. He will be awarded an Honorary Doctor of Humane Letters. He is a retired chairman of the board of The Mosaic Company in Minneapolis, Minnesota, and a retired vice chairman of Cargill Incorporated. He began his career with Cargill in 1968 and served in a succession of line and financial management positions until his retirement in 2006. He was Cargill's chief financial officer from 1989 to 2005, was elected to the Cargill board of directors in 1991, and elected vice chairman in 1995. His service on nonprofit boards has included the Educational Testing Service, Stanford Business School Advisory Council, the Notre Dame Science Advisory Council and TechnoServe Inc. He received a Bachelor of Science degree in mathematics from the University of Notre Dame and an MBA degree from the Stanford University Graduate School of Business.
Stacey J. Mobley, Esq., joined the Howard University Board of Trustees in 2005 and assumed the chairmanship on July 1, 2014. He will be awarded an Honorary Doctor of Laws. Mobley retired from the chairmanship and the board on June 30, 2020. He served as senior vice president, chief administrative officer, and general counsel of DuPont, a global science-based products and services company, in Wilmington, Delaware until his retirement. As a member of the Office of the Chief Executive, he was responsible for legal and governmental affairs as well as strategic direction and operations of all DuPont businesses. He was the 2003 corporate campaign chairman for the NAACP and was named one of America's top Black lawyers by Black Enterprise. He is active in charitable and philanthropic organizations in Delaware Valley and Washington, D.C. A member of the Pennsylvania, District of Columbia, and U.S. Supreme Court bars, he earned both his pharmacy and law degrees from Howard University. Among many honors, he has received the Howard University Distinguished Alumni Achievement Award and the LexisNexis Corporate Legal Times Distinguished Legal Service Award. He has been cited as one of the nation's 100 most influential lawyers by the National Law Journal and received the American Civil Liberties Union (Delaware) Gerald E. Kandler Memorial Award for outstanding leadership in the cause of civil liberties. Other honors include the Association of Corporate Counsel Award for Excellence in Corporate Practice; Lawdragon, Inc. Hall of Fame, "The Innovators"; Appleseed Award for commitment to promoting pro bono and diversity in the workplace; and the Lifetime Achievement Award from The American Lawyer.
Jonelle Procope is president and chief executive of the Apollo Theater, a position she has held since 2003. She will be awarded an honorary Doctor of Humane Letters. Procope earned a Bachelor of Arts degree from Howard University and a Juris Doctorate degree from St. John's University, and is a member of the New York State Bar. At the Apollo Theater, she has been credited for the continued development and expansion of the theater's influence within the United States and internationally as well as its transformation into a vibrant nonprofit institution. In 2009, Coro New York Leadership Center presented Procope with the Lewis Rudin Award for Civic Leadership and in 2010 the Harlem Business Alliance presented her with its Community Service Award. In 2021, Procope was honored by New York Landmarks Conservancy as one of the "Living Landmarks" for her contributions to the city. That year, she was also selected as one of the women visionary leaders for the Forbes 2021 inaugural "50 over 50: Vision" list, which highlights exceptional women who are shaping the future of science, technology and art. Procope has been profiled in The New York Times, Portfolio magazine, and Ebony magazine, and has been honored by The New York Daily News as one of "100 Women Who Shape Our City."
About Howard University
Founded in 1867, Howard University is a private, research university that is comprised of 14 schools and colleges. Students pursue more than 140 programs of study leading to undergraduate, graduate and professional degrees. The University operates with a commitment to Excellence in Truth and Service and has produced one Schwarzman Scholar, three Marshall Scholars, four Rhodes Scholars, 12 Truman Scholars, 25 Pickering Fellows and more than 165 Fulbright recipients. Howard also produces more on-campus African American Ph.D. recipients than any other university in the United States. For more information on Howard University, visit www.howard.edu.
For media inquiries, please contact Sholnn Freeman; sholnn.freeman@howard.edu