WASHINGTON – Their mutual love for Howard fueled their philanthropy. A married couple who graduated from Howard University is gifting $200,000 to the institution in support of academic programs and initiatives within the College of Medicine and the School of Education. With the generous donation, Howard University School of Education graduate Caryn Hobbs, Ed.D., and her husband, James Hobbs, M.D. a graduate of the School of Medicine, have established the Howard University Science, Technology, Engineering and Math (STEM) Summer Enrichment Camp and the Hobbs Family Educational Fund.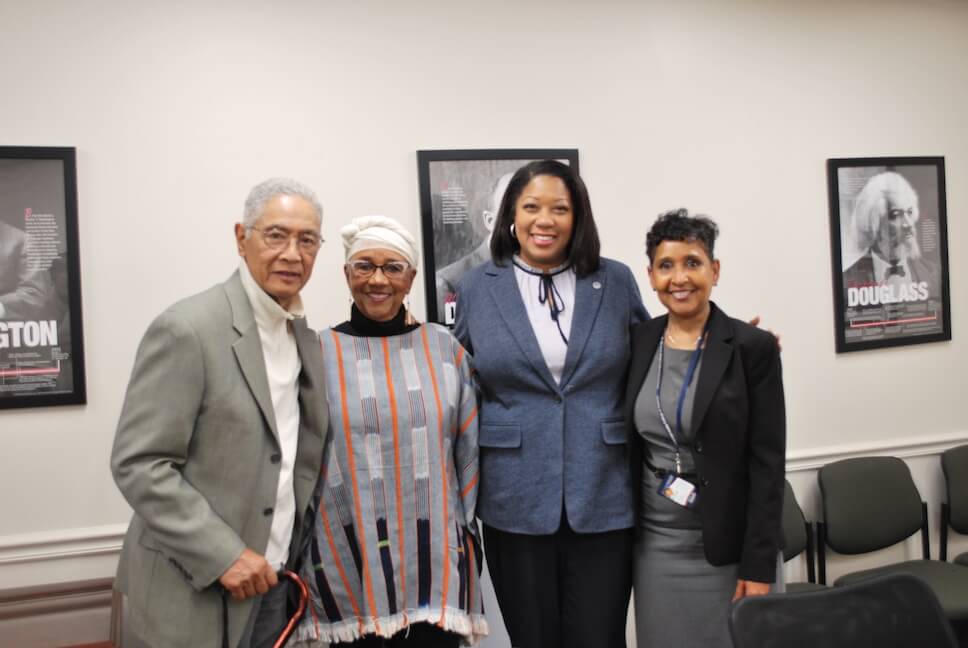 The Hobbs Family Educational Fund is coordinated through the Office of the Dean of the College of Medicine and will provide three students entering the College of Medicine as members of the Class of 2024 with partial scholarships for each year of the program. The scholarship fund was created to provide scholarships for students pursuing their Doctor of Medicine (M.D.) degrees, with preference to African American students who demonstrate great financial need.
"We are thrilled at the gracious support of Dr. James Hobbs, who is playing a significant role in ensuring a quality educational foundation for three of our newest medical students," says Dean of the College of Medicine and Howard University's Vice president of Clinical Affairs Dr. Hugh E. Mighty. "It is always a delight to honor our extraordinary alum for their advancement in the medical sciences, and it is an ever greater joy to witness them uphold Howard's motto of Truth and Service."
Students are required to have successfully completed Preliminary Academic Reinforcement Program (PARP), one of the College's signature Pipeline Programs, before applying for or being awarded the scholarship. Anyone interested in applying for the scholarship, through the Hobbs Family Educational Fund, should contact the Office of the Dean of the College of Medicine.
Premiering this summer, the Howard University School of Education will now offer the Howard University Science, Technology, Engineering and Math (STEM) Summer Enrichment Camp, a free two-week summer enrichment program created to serve African American and minority children aged seven through eleven, living locally in Wards 1, 5, 7 and 8. The camp will include full days of instruction, focused on STEM including age-appropriate science kits and materials, field trips, guest speakers and parent workshops. With the donation, a fund has been established to operate the program for the next two summers.
"Early exposure to STEM content helps students to build confidence particularly in mathematics and science while engaged in a hands-on positive learning environment," explains Dean of the School of Education Dawn Williams, Ph.D. "We have incorporated parent workshops to provide parents with tools to keep their children excited about science.  Children are natural born scientists. They feed their curiosity with observations, questions and experimentation.  We are delighted and grateful to have the support of the Hobbs family and our school partners to prepare the next generation of leaders." 
The program will be structured for approximately 40 elementary-aged students who have completed grades 2, 3, 4 and 5, with 10 students enrolled in each grade category. Students of all grade categories can expect the curriculum to include exposure to and innovation in physical sciences, earth science and mechanical science. Students will be guided by teachers and student teachers, who will also conduct workshops for parents on the many ways to promote scientific inquiry in everyday experiences.
"This is truly an example of the beauty of creating greater opportunities for learning and enrichment through the willingness to share our resources," Caryn Hobbs says. "Howard University is a staunch supporter of progressive, inclusive education, and with the establishment of the Innovation STEM Summer Enrichment Camp, Howard University is able to continue being an immeasurable resource for Washington, D.C., and to underserved families and children sharing its forward thinking environment."
Along with receiving breakfast, lunch and an afternoon snack, students selected, will be provided a camp t-shirt and a WMATA SmarTrip card to assist in their commute to and from the University. Families interested in enrolling their children in the Howard University Innovation Science, Technology, Engineering and Math (STEM) Summer Enrichment Camp must visit http://bit.ly/HUSTEMCamp20 to submit an official application. For more information on the program, visit http://education.howard.edu.  
###
Photograph above (R-L): James Hobbs, M.D., Caryn Hobbs, Ed.D., Dawn Williams, Ph.D., and Rozanna J. Aitcheson, Ed.D., Howard University College of Medicine
ABOUT HOWARD UNIVERSITY
Founded in 1867, Howard University is a private, research university that is comprised of 13 schools and colleges. Students pursue studies in more than 120 areas leading to undergraduate, graduate and professional degrees. The University operates with a commitment to Excellence in Truth and Service and has produced one Schwarzman Scholar, three Marshall Scholars, four Rhodes Scholars, 11 Truman Scholars, 25 Pickering Fellows and more than 70 Fulbright Scholars. Howard also produces more on-campus African-American Ph.D. recipients than any other university in the United States. For more information on Howard University, visit www.howard.edu.
Media contact: Ramzey Smith, Office of University Communications, ramzey.smith@howard.edu