WASHINGTON (December 1, 2017)– The Howard University Men's Basketball team in conjunction with Full Court Press for ALS will dedicate Monday's 7 p.m. match against the University of Pennsylvania to the awareness and fund-raising initiatives around the crippling disease known as Lou Gehrig's disease (also known as ALS).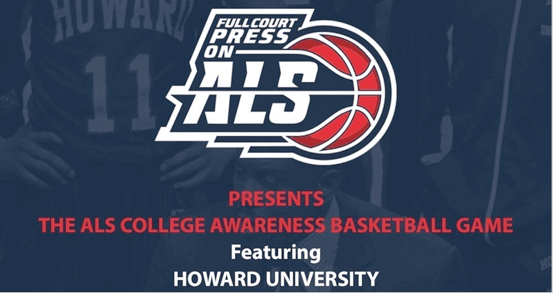 The founder of "Full Court Press on ALS" Dr. Michael Honrychs was diagnosed with ALS in May of 2014 and since his diagnosis, he has dedicated his life to raising awareness to the disease through a sport that he loved dearly, basketball. Dr. Honrychs' passion for basketball led him to create the New Jersey based Gym Rats AAU team – which helped over 200 young men obtain college scholarships, degrees, and even launch a few successful NBA careers. After Honrychs was diagnosed with the disease, he created Full Court Press on ALS, a nonprofit organization formed to help ALS research and funding through educational awareness summits and collegiate basketball awareness games.
"We are grateful for the opportunity to host and partner with Full Court Press on ALS while honoring the men whose influence on the game of basketball has been immeasurable," said Kevin Nickelberry, Howard University Head Men's Basketball Coach. "Monday night's game will be an incredible show of basketball and community for students and fans in Burr Gymnasium and for those watching." 
On Monday, Dec. 4, both coaching staffs and student-athletes will come together in competition to honor Dr. Michael Honrychs and Jeff Capel Jr., who recently passed. Prior to tip-off, Howard will take a moment of silence for those who have lost the fight and honor those present who are still fighting ALS. The coaching staffs will wear ALS "Sock it to ALS" socks, the Burr Gymnasium basketball court with feature the official "Full Court Press on ALS" logo sticker and the teams will warm-up in the ALS t-shirts.
"We are so proud and excited to be a part of Full Court Press on ALS," exclaimed Steve Donahue, John R. Rockwell Head Coach of Men's Basketball at the University of Pennsylvania. "We are looking forward to having a great event around Monday night's game and being able to support the research and eradication of the awful disease is an extremely worthwhile venture."
About Full Court Press on ALS, is a 501 (c) (3) non-profit organization founded to raise awareness and help find a cure for this crippling disease. ALS, formerly known as amyotrophic lateral sclerosis or Lou Gehrig's disease is a nervous system disease that weakens muscles and impacts physical function. In this disease, nerve cells break down, which reduces functionality in the muscles they supply. The cause is unknown. The main symptom is muscle weakness. Medication and therapy can slow ALS and reduce discomfort, but there's no cure. Full Court Press on ALS educates those diagnosed and their families about ALS and raises funds to support laboratory investigators and clinicians in their search for a cure. 
For more information about Howard University Men's Basketball, contact Derek W. Bryant (derek.bryant@howard.edu | 202-336-9022).
For information about Full Court Press on ALS, contact Kari McGhee (202-760-0018).
About Howard University 
Founded in 1867, Howard University is a private research university that is comprised of 13 schools and colleges. Students pursue studies in more than 120 areas leading to undergraduate, graduate and professional degrees. The University operates with a commitment to Excellence in Truth and Service and has produced four Rhodes Scholars, nine Truman Scholars, two Marshall Scholars, one Schwarzman Scholar, over 60 Fulbright Scholars and 22 Pickering Fellows. Howard also produces more on-campus African-American Ph.D. recipients than any other university in the United States. For more information on Howard University, call 202-238-2330, or visit www.howard.edu.